Bridging People and Spaces Through Environmental Graphic Design
Simply put, Environmental graphic design (EGD) is the process of creating environments that communicate. It is an extended portrayal of how people experience your brand in a tangible form through the design of enhanced interior and exterior space. EGD is a multidisciplinary field in which an agglomeration of graphic design, architecture, art, lighting, landscape, among other fields are channelled to portray a visual translation of ideas in the built environment through the orchestration of typography, color, imagery, form, technology and, especially, content.
The Transformation of EGD
In an earlier context, the discipline of environmental graphic design was first known as "architectural signage" and was mainly repetitive of the building's basic needs of identification and wayfinding like room identities, signs to direct traffic, and the application of logos, lettering, and numerals etc. In the 70's when the word "environmental" was more synonymous with "your immediate surroundings", the practice of integrating graphics in a project came to be known as "environmental graphic design."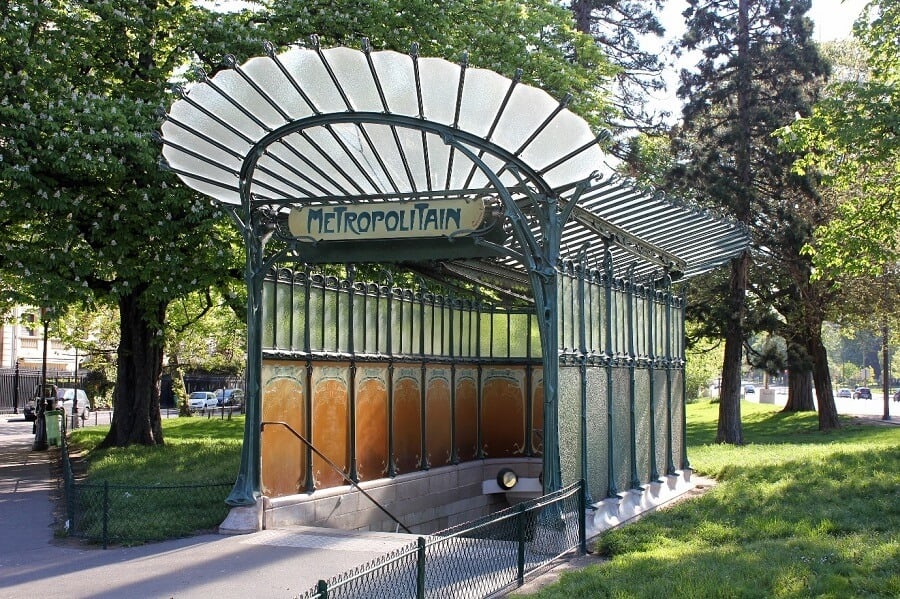 Designed by Hector Guimard in the Art Nouveau style, the graceful gateways of the Parris Metro Entrances (1900) still define the Parisian streetscape with their timeless integration of typography and form.
As time passed, designers identified a variety of creative and synergistic ways of expressing these elements in projects and spaces. Due to the misunderstanding around the terminology, in 2013 the SEGD(www.segd.org) swapped "environmental" for "experiential" to more accurately describe the evolving transformation the discipline had experienced over time. It encompasses a broader notion of all communication in the build environment which includes display content, moving digital text and images with seamless integration of technology.
Technology in EGD
Content is the basic building block for any form of visual communication, be it a physical or digital environment. It a valuable currency in this age and a commodity that is available to everyone. Its power lies not only in the information itself but in the way it is curated, communicated and distributed to the user. This is where environmental graphic design integrated with technology comes into play. EGD no longer means static elements that users view in a traditional manner with simple one-way communication; it has moved far beyond that to incorporate dynamic digital technology elements that elevate interaction of users with information through changing content, kinetics and technology.

Video credit: Moment Factory
The seven experiential media features inside the Tom Bradley International Terminal of Los Angeles International Airport (LAX) were designed to create an immersive environment to helping people see their journey with fresh eyes and re-invent the passenger experience of the terminal.
Intriguing Branded Environments
Video credit: dotdotdash
dot dot dash designed and produced Court Vision, a 3-day experience celebrating the intersection of basketball, cutting-edge technology, art, and culture showcasing commissioned work done with the Tilt Brush by a mix of graffiti artists, sculptors, and painters. Through touch guests could explore captured cinematic movements of curated work and immersed themselves within virtual reality (VR) at one of four custom designed and fabricated stations resulting in an experience driven interactive session.
Maximize Placemaking
Video credit: Float4
The Meraas City Walk in Dubai is a design-inspired neighbourhood in the heart of Dubai with combined retail, leisure and resident developments. It features one of the largest digital canvases in the world with the most elaborate and extensive digital installations ensuing a new destination for tourists and local residents. The digital experiences create value and a sense of place while connecting visitors to shopping, dining and entertainment through engaging, entertaining and ambient visual content that exercises cultural sensitivity.
Engaging Exhibition Experiences

Video credit: One World Observatory
Three floors of experience at the top of the One World Trade Centre offer numerous technology-enabled exhibits presenting a narrative through the past, present, and future of New York City. The Sky Pod elevator features floor-to-ceiling LED technology with immersive virtual time-lapse of 500-year history of the earth from a bird's eye view.
Unique and Innovative Advertising
Video credit: dotdotdash
The Tetracube installation was created as an interactive product drop for Adidas and Prada in pursuit of creativity, innovation and sustainable luxury through a theatrical- kinetic show. The technological installation features two robotic arms of rubix cube-esque LED sculptures that communicate a playful yet premium narrative based on the idea of "play."
Conclusion
These innovative exhibits represent just the tip of the iceberg when it comes to the field of EGD and aptly portray its versatile nature. Environmental graphic design can be leveraged as a strategic advantage with endless possibilities to create a memorable and meaningful experience. It has the potential to transform and activate the full potential of a space and in turn, create positive interaction and engagement with the brand. Irrespective of the type of space, EGD stands to play an important role in many of our everyday modern urban experiences.
For more on digital transformation in the workplace, watch this space for our next blog: 'Elevated Workplace Experiences with Environmental Graphic Design'. Stay tuned!".
Sandhya is a workplace researcher at Zyeta. Through her research and expertise in workplace design, strategy, technology, and human behaviour she helps organizations achieve business excellence by deducing definitive workplace solutions that align with their distinct brand identity and values.