From Dull to Dynamic: Transforming the Office into A Place Where People Love to Be
"To return or not to return to offices?"
Now, that's a dilemma faced by the global workforce every day. People are in two minds about returning to offices since they have experienced the best of both worlds now. While remote working is excellent for heads-down productivity, working from the office enables collaboration, thereby helping people become more creative. Since both kinds of work are vital for a company to thrive, the hybrid working model has emerged as the best possible solution to aid the situation.
A report by Poly Research reveals that 74% of Indian employers agree that hybrid working is the future. Affirming this trend, the same report suggests that 84% of Indian companies are redesigning their offices with more open-plan areas, collaboration spaces, quiet zones, and socializing areas to keep up with the shift to hybrid working.
Why Create Hospitality-Driven Workplaces?
With hybrid working emerging as the future, it is important to understand that employees will now have a choice in selecting their work days and work desks, unlike the pre-COVID times. This implies that employees will have to be charmed into working from the office by repositioning workspaces as more healthy, restorative, and creative incubators. To put simply, workplaces will now have to be more inviting so that employees prefer working from the office rather than working from home.
Employee experience will now be at the heart of creating hospitable office environments that attract, engage, and retain talent. By viewing employees as valued guests, companies will have to create workplaces that are comfortable, rejuvenating, and highly productive. Having a hospitality-driven approach to workplace design will involve the creation of more adaptive, collaborative, and dynamic spaces. With these design strategies, companies can better capitalize on the hybrid working model by capturing a greater share of employee presence, ideas, and creativity.
How to Design Hospitality-Influenced Workplaces?
Keep it flexible, fun, and refreshing, because employees want to work from offices that are inspiring and engaging. Below are the key design ideas through which hospitality can be induced in workplaces.
Creating an Enticing Entrance

Considering the first impression is an everlasting one, the entrance of the workplaces will have to be welcoming. Since the lobby and reception is the first place that employees arrive at in their office, these places can be effectively used as transition spaces. So, lobbies should be designed for comfort to ensure employees feel at ease after a hectic travel to the workplace. The entrance lobby can have a semi-formal vibe, where employees can take a minute to sit down and plan their day, schedule meetings, and engage with their peers. Having a coffee and snack kiosk in the lobby can help employees grab refreshments on the go and seamlessly transition into work mode.
Providing Spaces for Collaboration

Employee engagement is one of the key reasons why people want to return to offices. Hence, it is important to provide spaces for interaction. Create a collaborative workspace ecosystem that is immersive and inclusive. Provide huddle spaces, meeting areas, and war rooms where employees can go to brainstorm ideas. Additionally, plan for cafeterias, terraces, and plazas for employees to engage in informal discussions. These spaces will help boost creativity and allow employees to take a quick rejuvenation break from work. Within large co-working spaces, provide focused work desks and phone booths so that employees feel they belong to a dynamic workplace community.

Image courtesy – Evergent
Blending the Indoor with Outdoors

Image courtesy – Vanderlande
Creating a hospitality-driven environment is incomplete without the incorporation of nature. Having an unobstructed view of nature is considered one of the most healthy and recreational experiences for mankind. For developing hospitality-inspired workplaces, focus on providing exceptional outdoor experiences. Invite nature into workspaces by creating full-height windows, having indoor plants, and green walls in the office. Planning workstations in semi-open rooftop patios, gazebos, terraces, and gardens can be helpful in providing employees a relaxing view of nature while at work. These landscaped areas can be an excellent stress-buster and provide employees with the much-needed access to fresh air.
Developing Diverse Spaces

Image courtesy – Udaan
The primary reason employees get bored of their office spaces is because of their rigid layout. Therefore, hospitality-driven offices should look versatile so that people feel like coming over again and again. Creating holistic work environments will enable employees to select the kind of space they want to work in. Therefore, plan for diverse in-office neighborhoods so that employees have enough opportunities to move around. Every building unit and floor can be designed with a distinct character. Create offices with a range of experiences so that employees feel varied emotions as they move through different spaces throughout the day. For instance, some places can be designed for calm and focused work while others can be designed for high energy collaborative work.
Promoting Company Values and Culture

Image courtesy – Callaway
While the focus on being hospitable is important, offices must still retain their originality. Let your company values, ethics, and culture be the star. Frequently use brand colors and logos across the office as a cohesive element of design. Adorning the wall with brand color and decals of company messaging is an effective way of building affinity towards the company. It will act as a reminder to the employees of the larger vision of the company that they are an integral part. Offices can seek inspiration from the local art and culture to help develop a sense of familiarity with the workplace. Abstract motifs, paintings, color palettes, finishes, and furniture can be included in the workspace design to establish comfort.
Strategizing for Hospitality-Inspired Workplaces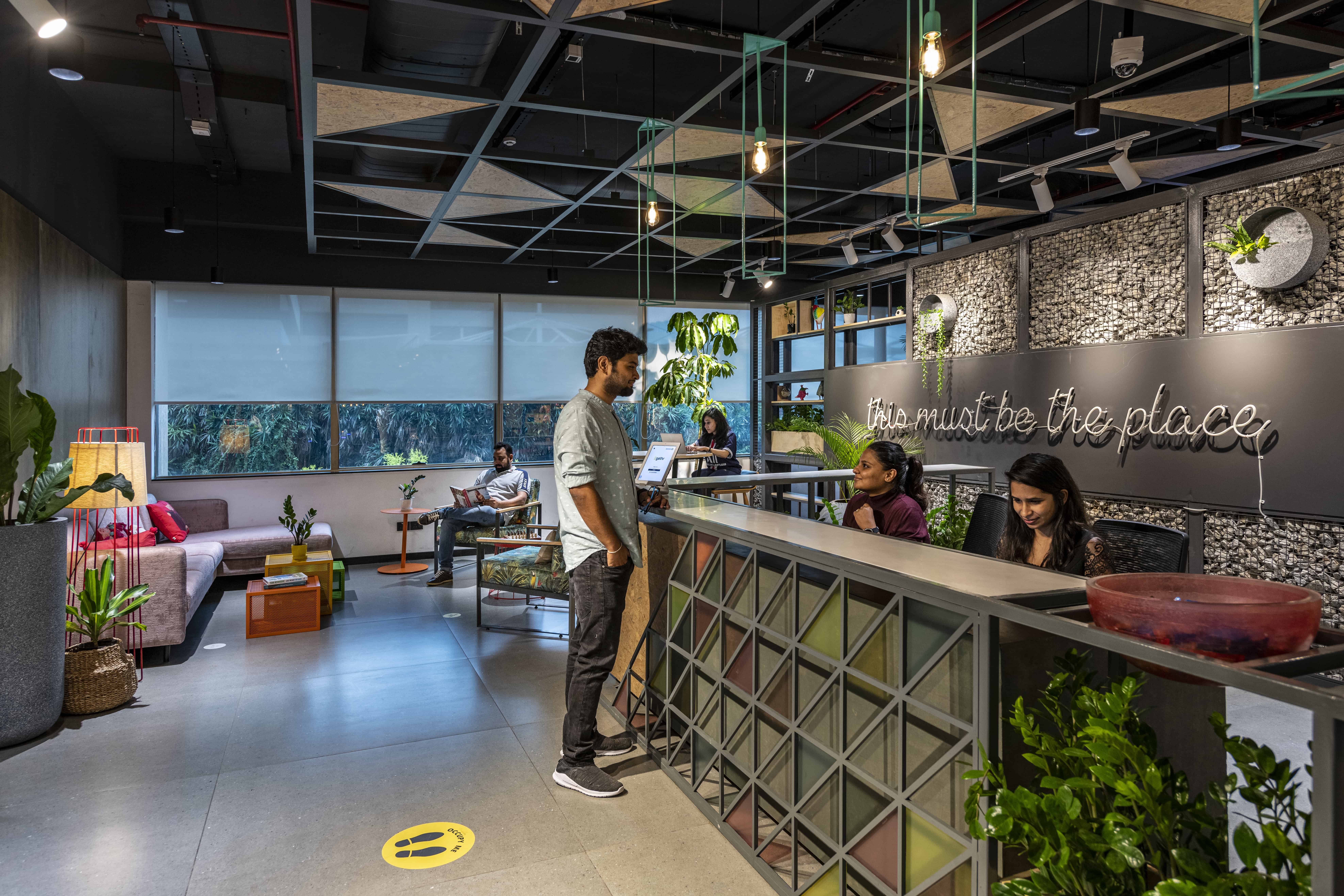 Image courtesy – 2gethr
Create policies and programs to make workplaces more hospitable. Hire hospitality staff who can offer new ideas to engage with employees and the client. They can do initial engagement with the client and make them feel comfortable while the meeting preparations are underway. Further, the hospitality staff can enhance the functioning of community spaces and corporate events.
Offices can also consider offering health-oriented programs to their employees to encourage them to engage in physical and mental wellbeing activities. Analyzing productivity based on output instead of work hours will help identify time slots for offering respite activities amidst hectic work schedules. Hospitality-centered offices can be a holistic agency by allowing employees to nurture their mind and bodies through at-desk meditation programs and physical movement exercises.
Use technology as your mastercard for ease of access and usability of shared spaces. Adopt simplified workplace technology, such as smart building systems and integrated app platforms so that employees can easily navigate through the office. Employees can check the availability of their desired workplace on mobile applications and book them on the go. Companies can use technology to track space usage metrics and use the data to enhance employee experience.
In Conclusion
Hospitality-driven workplace designs have the potential to rekindle employees' relationship with their workspace. By curating meaningful opportunities to connect and work, companies can fuel their workforce to be more productive. Hence, it is time for companies to embrace the change and create experience-centered workplaces so that their employees can vouch for them.
Related Read:
Using Multifunctional Design for Maximizing Workspace Utility
How An Agile and Flexible Design Can Enhance The Hybrid Workplace
Pragya Sharma, is a talented architectural writer and an invaluable content collaborator at Zyeta. She expresses her thoughts and ideas effectively across various mediums like blogs, social media, web content, and workshops. By joining forces with Zyeta, she creates compelling narratives that amplify the evolving importance of design in today's world.