How An Agile and Flexible Design Can Enhance The Hybrid Workplace
Agility and flexibility are currently the trending buzzwords and have taken businesses by storm. Work has evolved in the new normal, with workflows becoming more agile and flexible. Work modes have now shifted to a pattern of working in iterations and prioritizing flexibility and collaboration. This shift in work is proven beneficial in boosting workforce productivity and increasing business innovation. Thus, to help the workforce adapt to these ways of working, organizations need workspaces that are also agile and flexible – physically and experientially.
While we have established the growing importance and need for an agile and flexible workplace, let us now look at the aspects of agile and flexible workplace design.
Agile & Flexible Workplace Design
The core motive of an agile design is to strike the right balance between shared and individual space and the flexibility to transition between public and private workspaces. It provides the employees with a choice and control over their workspace. An agile workplace, thus, provides the workforce to choose what is best for them and the project they're working on at any particular time.
Hybrid Usage Patterns
When it comes to designing an agile and flexible workplace, organizations must first look at the following three user categories in the hybrid workplace to broadly understand the usage patterns:
Highly Collaborative
The workforce with roles that often require engagement with co-workers falls under this category. They often split their time between the desks and the common areas. Thus, their requirement is less of an assigned desk and more of huddle spaces and closed collaboration zones. Moreover, their workspaces can be around common circulation areas for easy access.
Highly Creative
These employees work from their desks and from remote setups at times. They need spaces for deep concentration. The workforce under this category would thus need assigned desks and focus pods more than collaborative spaces. They will need workspaces placed in silos, away from general circulation areas.
Highly Mobile
The workforce under this category usually sits in common areas, though most prefer to work remotely and need to travel for business. They need community spaces, open collaboration zones, and access to a virtual setup.
Types of Agile Spaces
Based on the above usage patterns, an agile workspace can innovate spatial planning by designing spaces under the following categories:
Collaborative Spaces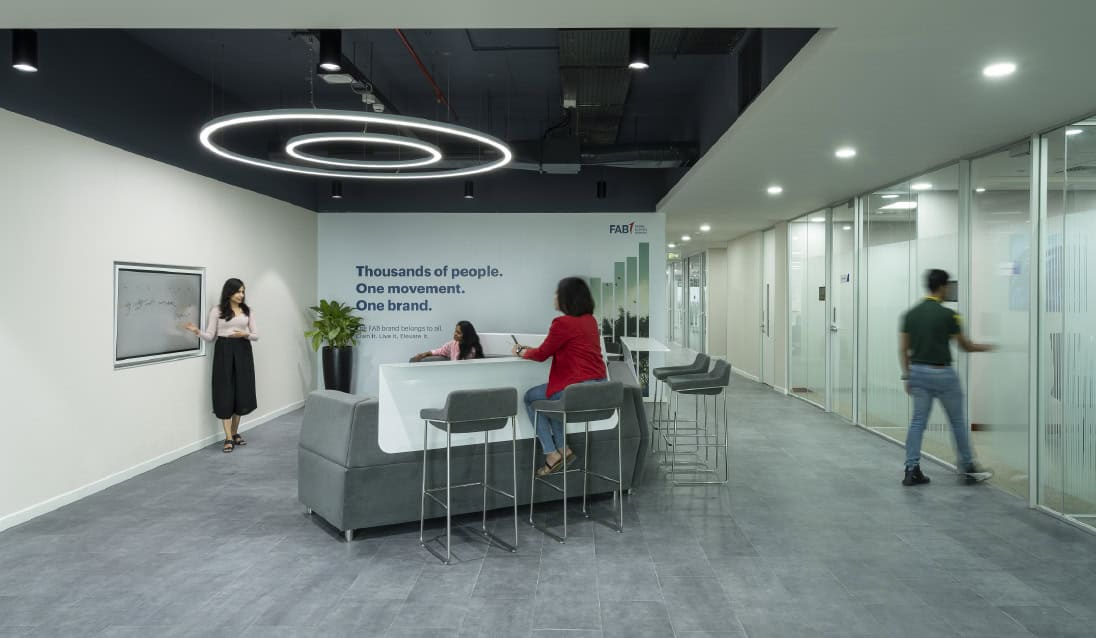 Collaborative zones are the heart of an agile and flexible design, facilitating accessible communication and collaboration between employees. Based on business needs, these spaces can be categorized as open, closed, and semi-open collaboration. These spaces provide the right environment for teams to brainstorm together physically and virtually. The nature of these spaces can be formal as well as informal.
Huddle Rooms
Huddle rooms are small meeting rooms or spaces suitable for two to four employees and often facilitated with a video conferencing setup. Huddle rooms work well for spontaneous brainstorming or quick catch-up meetings among smaller groups, thus optimizing the space otherwise utilized by larger conference rooms. Huddle rooms are more informal in nature.
Touch Down Spaces
Touch-down spaces are informal work areas often designed for quick tasks and visiting entities. These areas help cater to highly mobile users and can be a simple workstation or a standing desk in the lobby area.
Focus Areas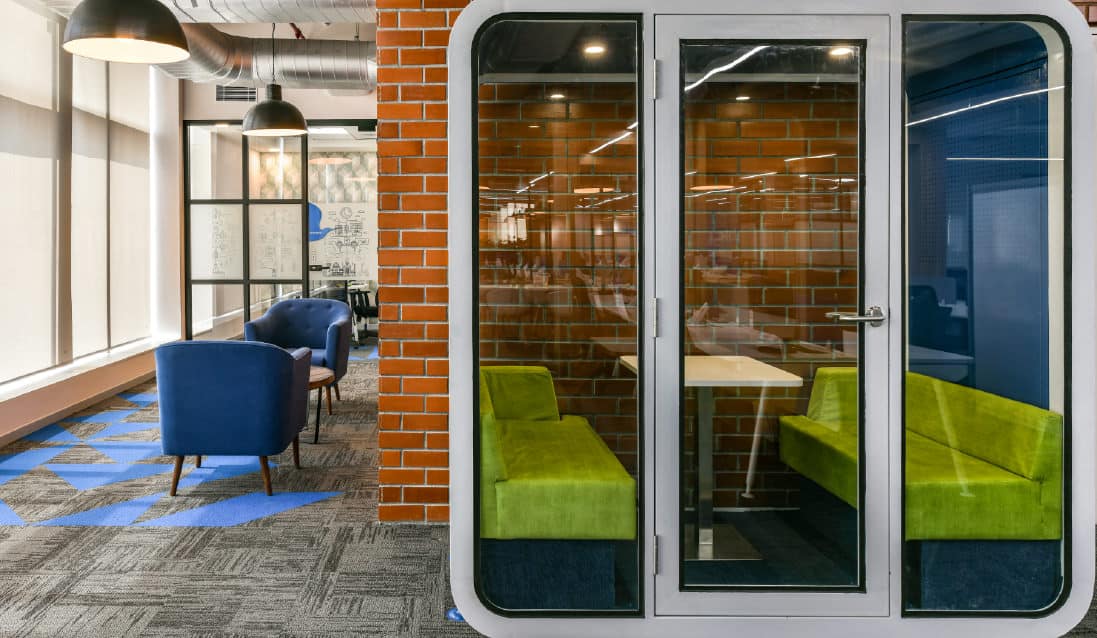 Focus areas are quiet zones designed for privacy and head-down tasks. They often have partitions or enclosures, providing the users a space to detach from the workspace chaos and concentrate on tasks that need the utmost attention.
Impact on Workplace Experience & Business
Now that we have seen how agile spaces can cater to the hybrid workforce, their usage patterns and spatial requirements, let us see its impact on the workplace experience and business.
Enhanced Collaboration
The freedom to choose space and move around helps people break the barrier and communicate better and quicker.
Improved Employee Retention
According to research, 9 out of 10 employees currently view the freedom of when and where to work as the driving factor in a brand. Thus, agile spaces help attract and retain top talent more efficiently.
Increased Productivity
The ability to detach and attach when required as per the task helps employees focus and thrive better in the workplace.
Better Space Efficacy
The shift to an agile workplace helps rethink space usage and fully optimize an office layout, reclaiming unused space and redefining the underused spaces.
Summing it up: Strengthening the Hybrid Workplace
With optimized spaces, businesses can utilize their real estate portfolios better, and with improved workplace experiences, employees can adapt and grow better. Thus, with the benefits of an agile and flexible design, hybrid workplace is becoming stronger and more relatable for today's workforce.
Related read: 3 Strong Facts on Hybrid Workplace That Brands Need to Know Now!
As both an Architect and Architectural Journalist, he thrives on building unique content, with words and thoughts--as his brick and mortar. A natural-born explorer, he puts no limits on things he's passionate about diving into, be it cuisines, cultures or books. An avid fiction reader and a chronic over-thinker, he still finds enough time to be happy-go-lucky and easy to approach.