How the Concept of Third Space Can Transform Workplace Strategies
Improving employee engagement and motivation has always been the core focus among the best thought leadership companies. It is well established by now that a conducive and human-centric workplace helps a long way in winning the workforce. But our workplaces now need to resonate with the evolving needs of the workforce. The influx of different age groups in the workplace, the pandemic led 'Work from home' module and the changing job roles are the challenges that the businesses face today.
Especially the WFH module; how are we planning to ensure comfort and flexibility to a workforce that has worked from their home for more than a year now? Thus, translating the comforts of a residential environment into a commercial space -the office, is the key. A third space is a space that strengthens a community feeling through comfortable, hospitable and interactive spaces. It is a common ground between the home –the first space and the office – the second spaces, thereby promoting a positive environment for collaboration, interaction and relaxation. Using these features of the third space into our offices can help us transform our workspaces for the future.
The Third Space Trend
Home is where the heart is! This is undisputedly true for us all. There's no place more comfortable than that sloppy couch in your drawing room, that easy chair right beside your bed, or the beautiful lamp on your reading table. With work-cultures becoming less hierarchical and more casual, workplace designs are similarly evolving towards a residential feel. Designers are now exploring different aesthetics in workplace interiors to bridge the gap between traditional and new-age office designs.
The Shift in Work Culture
We no longer see work solely as a means to bring bread to our home; today work has turned out to be more collaborative and holistic. With the advent of more creative roles and ways of working, 9 to 5 jobs seem redundant. From casual dress codes to flexible work stations, we have witnessed a remarkable transformation in the workplace environment. This paradigm shift in the work culture has led to the transformation of office spaces into humanized spaces with resimercial comforts – Residential + Commercial interiors.
The advent of Third Space and resimercial furnishings
We are at the dawn of a new era of resimercial real estate design marked by extensive use of comfortable seatings, soft ambient lightings, flexible spaces, durable upholstery, resimercial furniture etc.
Let us now delve deep into workplace design trends 2021, focusing on the concept of The Third Space office design:
Warm Light Fixtures
Lighting has a tremendous impact on our mood and creativity. Several studies validate the positive effect lighting has on an employee's productivity. Optimal performance is achieved by maximizing the use of natural light and augmenting it with artificial light from a variety of light fixtures. The conspicuous use of pendants, wire lamps, and down-light fixtures into collaboration and reception areas promotes a hospitable vibe.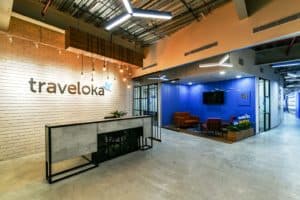 The use of warm downlights and brick-clads add a homey vibe to Traveloka's reception
Comfortable Furniture
Gone are the days of rigid chairs and dull tables at the office. Collaborative work culture has brought in resimercial furniture to the commercial spaces. These include lounge seatings, wooden chairs and tables, coffee tables, bar stool chairs, comfy couches etc. Moreover, these are ergonomically designed to maintain the physical well-being of employees. Resimerical office furniture thus induces a sense of warmth, comfort and familiarity.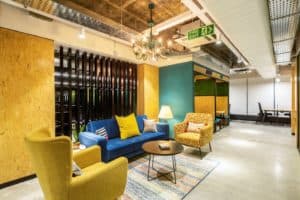 The inviting drawing room couch and lounge chairs bring an element of home to the collaboration area of 2gether's office
Homelike Textures and Finishes
From natural fiber rugs and wood-panelled walls to inspirational wall art and paintings, office interior designs are focusing on storytelling than creating an austere, regimented space. The use of residential-inspired accessories and furnishings fosters creativity by adding vibrancy to workspaces. The third space or Resimercial design thus makes workplace environments more relatable and accessible like a home, boosting employee engagement and comfort.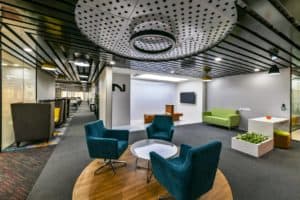 The cool design palette provides contrasting background for the warm wood-floored informal meeting area in Noodle.ai's new office, imparting comfort in every sense
Sustainable and Flexible Elements
Another evolved design aspect in today's office interiors is the arrival of sustainability and flexibility. Just like our home allows us to be flexible and free, workplaces are following suit. Sitting in front of computer screens for hours on end has become the new-age side-effect of knowledge workers. Employers are responding by adding sustainable design elements in the workplace. These include improved office ventilation, and flexible work hours, well-connected workstations, & healthy food pantries.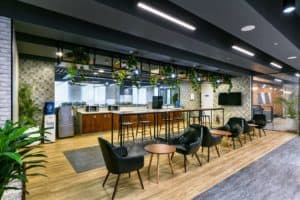 Ecolab's office cafeteria defies the traditional industrial canteen by creating a casual restaurant aura, featuring counter seating, wooden tables, and warm, earthen tones.
To sum up
Any space that helps people to relate and express themselves to the fullest has the potential to evoke a sense of contentment and motivation. Home is one such space. Making workspaces as relatable and welcoming as a home is a stepping stone to employee well-being and happiness. The office is no longer a place to accomplish rote tasks but an environment to innovate and create — where you feel a sense of affinity, connection and inspiration. With the distinct lines between home and work blurring, designers are increasingly exploring different ways to make offices more people-centric and resimerical.
Thus the concept of the Third Space marks the dawn of getting back to offices safely and happily!
As both an Architect and Architectural Journalist, he thrives on building unique content, with words and thoughts--as his brick and mortar. A natural-born explorer, he puts no limits on things he's passionate about diving into, be it cuisines, cultures or books. An avid fiction reader and a chronic over-thinker, he still finds enough time to be happy-go-lucky and easy to approach.