In Conversation with Ritesh Kumar Singh, Head of Facility, Udaan
With the completion of Udaan's new Bengaluru office, their Head of Facility, Ritesh Kumar Singh, shares how their new office helps in achieving the company's goal and vision.
Mehnaz: Tell us a bit about Udaan.
Ritesh Kumar Singh: Udaan is an emerging unicorn in the network-centric B2B trade platform, designed specifically for small & medium businesses in India. The company is represented by its young and vibrant workforce that forms the pillar of the entire organization. We are a group of young hearts who are working hard to form a place that resonates with good work. We are constantly trying to not just help our users through our business but at the same time, we are trying to build a workplace that cares for its people.
Mehnaz: How big is your organization?
Ritesh Kumar Singh: We have 3000 employees and we are expecting to grow more.
Mehnaz: Ritesh, could you describe the culture of your organization?
Ritesh Kumar Singh: As I mentioned, Udaan is led by a workforce that is young and vibrant. That brings an uber-cool work culture in the office space. We have built an environment that looks out for its people while giving our best at work every day.
Mehnaz: What was the main reason for the new workplace?
Ritesh Kumar Singh: As Udaan is growing every year, we wanted a one-stop big place that could accommodate around 1500 employees. We specially chose this location for the new office, as it is well-connected to Udaan's other offices. We required a place where our employees could be together and collaborate, thus bringing unison inside the organization, instead of being scattered in different offices. We wanted that the new workplace becomes a platform for our employees to be able to work, interact and have fun all together.
Mehnaz: Tell us about the new workplace and how you liked the new design.
Ritesh Kumar Singh: The new workplace has come out great. There are enough collaborative spaces on every floor that allow our employees to walk, sit, and discuss freely outside their work desks. Every floor looks different and yet connected, thus making the space look non-monotonous.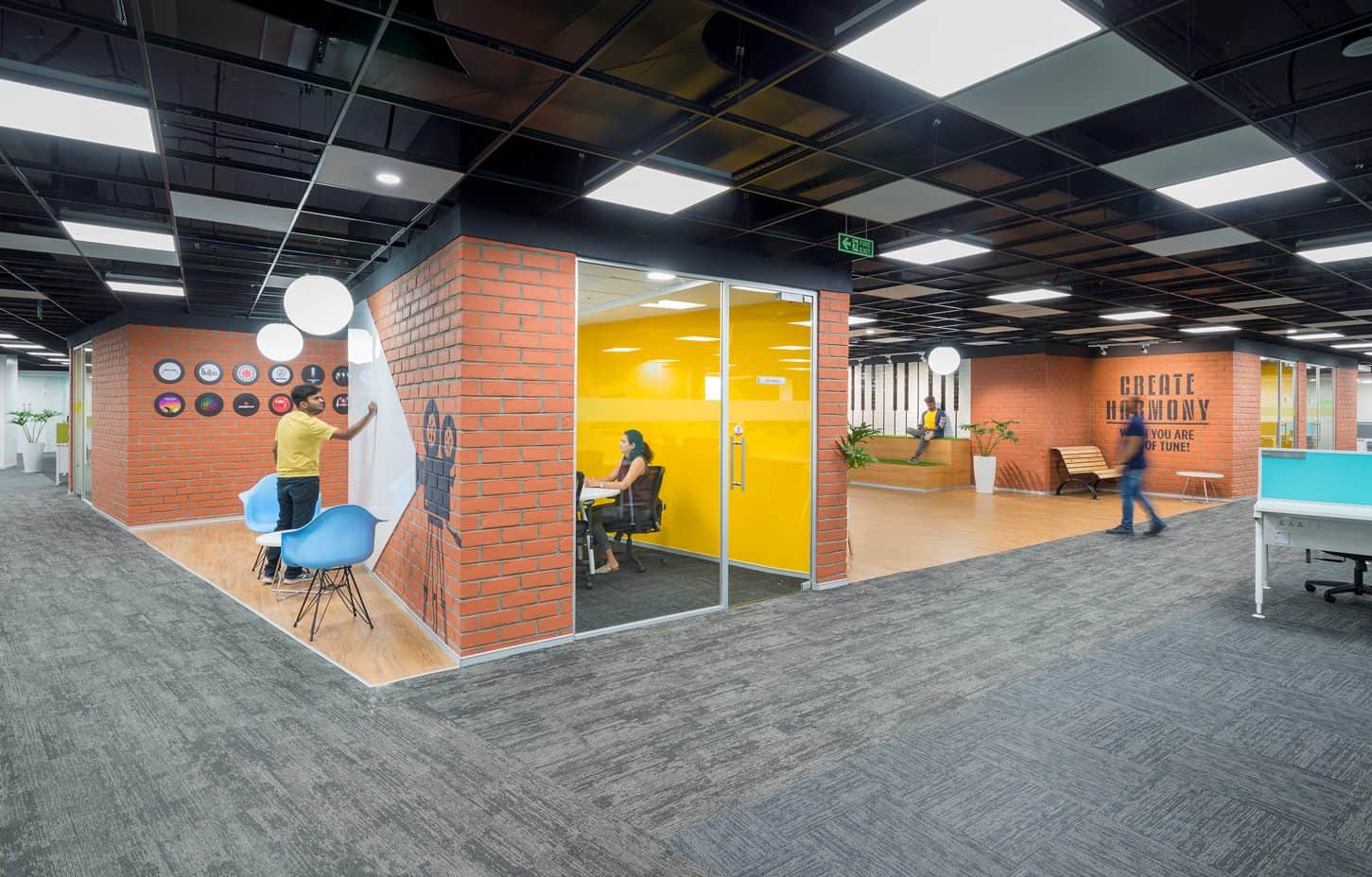 Mehnaz: As an employer, what were your expectations from the new workspace? Do you think it is helpful for the employees?
Ritesh Kumar Singh: We wanted the space to enable our employees to work efficiently. At the same time, we wanted the workplace to look upbeat and dynamic. Udaan has always invested in making the workplace better and functional. Therefore, we wanted the new workspace to be more and more people-centric. We wanted each of the floors to accommodate as many employees and yet give them enough room for individual space. We were very particular about the space not being compact.
Yes, the new workspace will be helpful for our employees to not just work, but also to form a community-like environment.
Mehnaz: What was the thought that came to you when you first saw the place?
Ritesh Kumar Singh: That's a very good question! (Sigh)
To be very honest, when the site work was going on for the project, I got a little worried about the brick cladding. I wasn't sure if they would look okay in an office space. I, in fact, arranged a call with the team for this saying, "I guess they're a lot of bricks here." I was, however, assured by the team that it will come out good and I took their word for that. When it was all done, I was surprised to see how incredible the space looks now. The lights, the colors and of course, the brick cladding– they all look great and in sync.
"I think Team Zyeta has done a great job here."
Mehnaz: So, how would you describe the new workspace of Udaan?
Ritesh Kumar Singh: In today's times, it is very important to have a workspace that stands still on the scale of sustainability and flexibility. And I'm glad that this new workplace gives us a place that is aligned with employees' well-being factors. There is enough light, enough flexibility for each of the employees and that makes the place really amazing.
Get in touch with us to ensure your people and their needs are a part of your workplace strategy.
Naturally gifted with creative abilities, an ever-evolving fashion sense, and an infectious positive attitude-- she brings her best to work every day. When not brainstorming ideas at work, she loves to wax eloquent shayeris about old ghazals, travel and romance. She is a great conversationalist who finds peace in poetry and among the mountains.