Innovate. Create. Inspire – A New Era of Workplace Designs
To err is human and so is to innovate.
Breaking conventional walls and building inventive ideas are the basis of any design. By bringing in new concepts in every project, our team strives to push the design envelope by going beyond where we have been. More than that, Zyeta delivers to its clients a unique workplace experience that resonates with its people and business demands. Office space is more than a place to execute business. It can also be an effective marketing tool. Like a business card, it creates a positive first impression which fulfills the pressing need of attracting and retaining top performing employees. It is a functional enabler that positively impacts workforces. This brings us to our topic of inspirational office designs – a way of transforming workplaces.
The new era of workplace design combines modern aesthetic with high function. That's why organizations are making incremental investments in creative thinking to maximize workplaces. With over a decade of expertise in this industry, team Zyeta has observed how human psychology has transformed in terms of work and work culture. From start-up offices to co-working places, workplaces are morphing — this gives us opportunities to innovate workplace design ideas, developing offices that are far beyond basic cubicles and walls.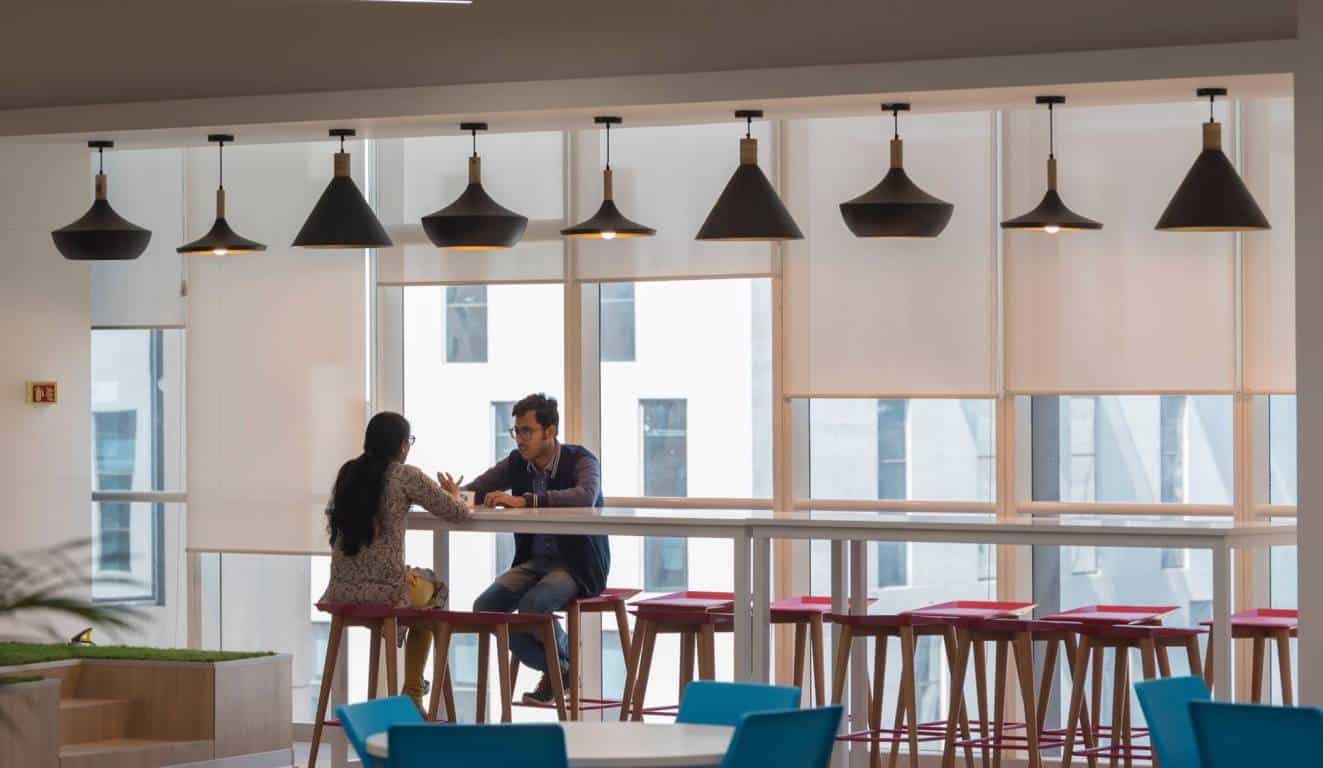 The beginning of a new era of workplace designs
With design technology evolving at breakneck speed, staying relevant in the market is a must. To attract the best and the brightest, businesses need to provide unique and contemporary workplaces. This is especially true for early-stage organizations' intent on building a new brand. An open palette of original design themes is available for us to explore and implement for our clientele.
Our Design Thinking
Though workplaces are broadly divided into open-plan and traditional offices, there is great latitude to actualize concepts. For team Zyeta, the first and foremost step is to discover the client's requirements. We carry out a variety of needs assessments and other surveys that include a thorough analysis of the client's employees' needs, and its vision, aspirations, as well as requirements.
The next step in our thinking is formulating the design concept and mapping it to the survey data. To keep up with ever-changing trends and to foster productivity, innovation and collaboration among the employees, we come up with a cohesive office design that reflects all facets of the company's specific business needs. Hence, every project is unique.
Conception of Design
How can a workplace design fulfill the evolving needs of its occupants?
Workplace design is about understanding people's sensibilities and giving them spatial solutions that match their ethos. As an example, in one recent project, we applied the Eudaimonia Machine concept for our client Ecolab's new office in Bengaluru. The company required a space that mirrors the lively spirit of its employees and its strong sustainability philosophy. The result is a biophilic, open-plan office that promotes Ecolab's flat organizational structure in the most contemporary way.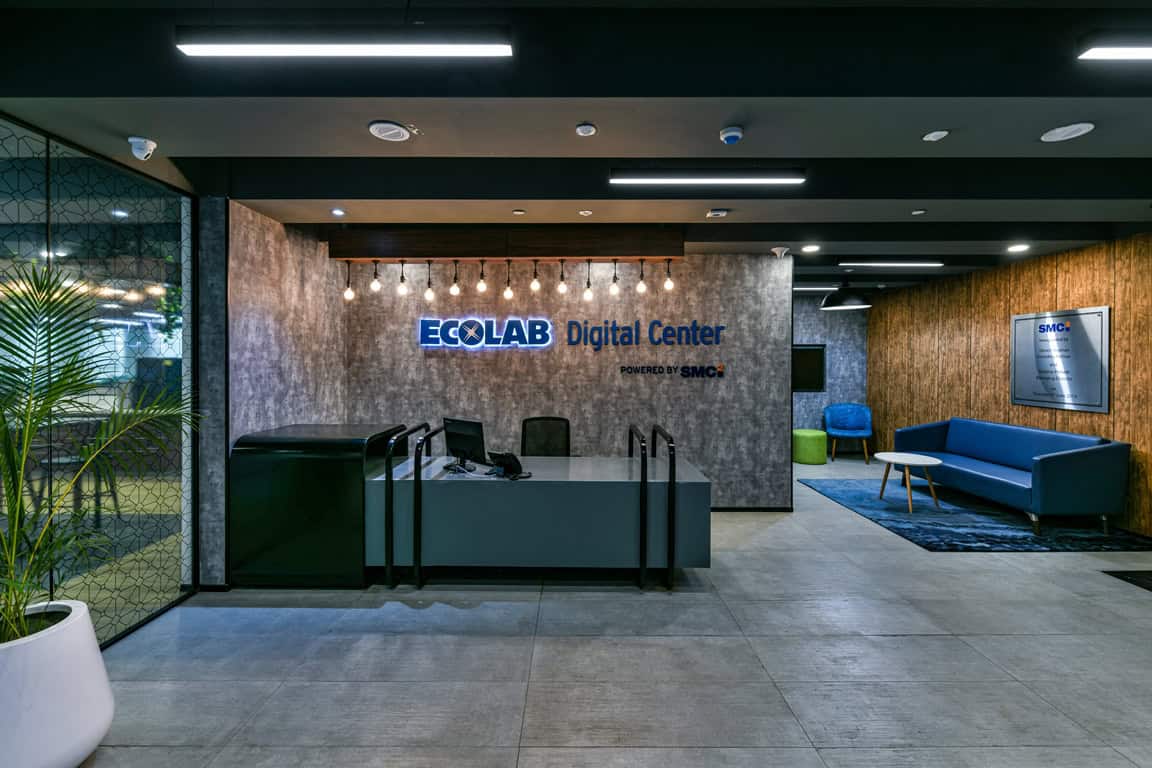 Ecolab's new office reflects the lively spirit of the company's work-culture
When it comes to inspiring office designs, WSP's new office in Noida is another relevant example. WSP, one of the world's leading engineering professional services firms, wanted a workplace design that reinforces its brand and its workforce's creative vibe to not only boost the office culture, but also encourage spontaneity and fresh thinking.
Our design team created a 'Work Street' concept for this project. The design inspiration behind this concept was to highlight an employee's typical urban day and integrate that into the central office design. The workplace represents a metaphorical city, where an office corridor appears as a local park, an activity-based space resembles a bus-stop, and the overall workplace vibe utilizes earthen touch design elements that reflect the land, air and sea.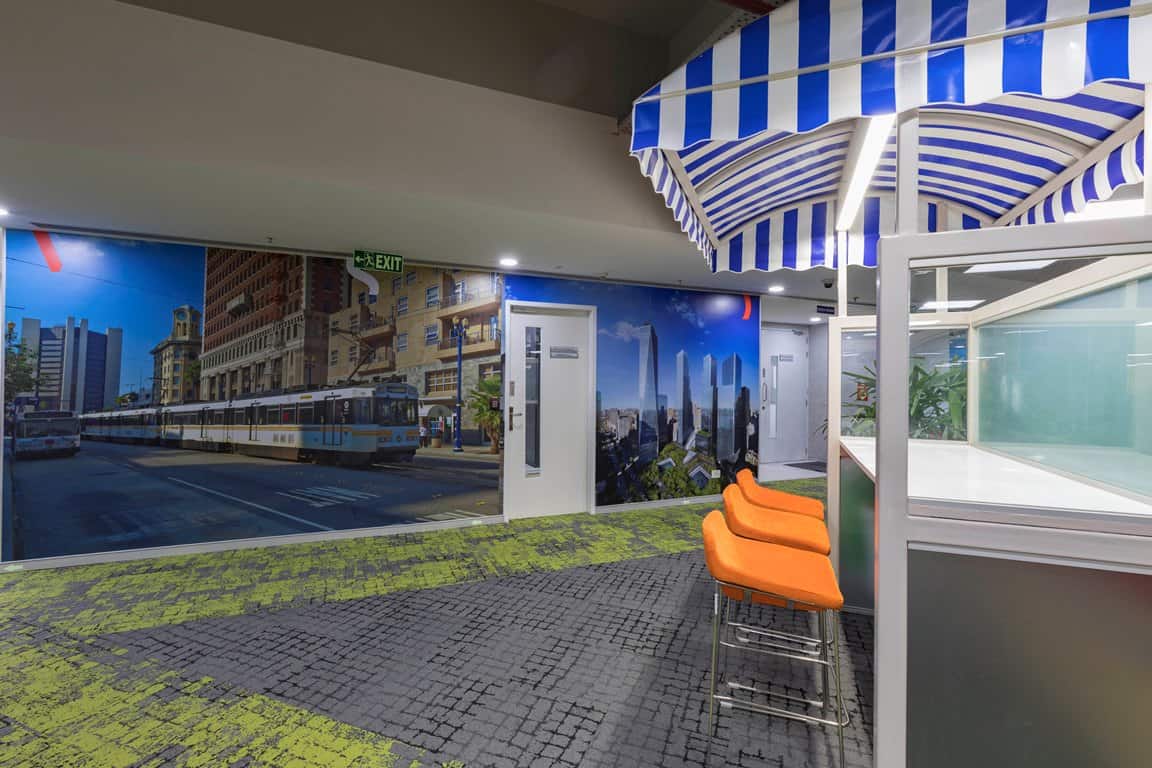 A glimpse of WSP's activity-based area with the 'bus-stop' theme
The concept is an indispensable part of the designing process. It is the philosophy behind the project, the common foundation that connects the disparate design elements. So, the application of design is an important pillar, but the inspiration for a design is where it all starts.
Naturally gifted with creative abilities, an ever-evolving fashion sense, and an infectious positive attitude-- she brings her best to work every day. When not brainstorming ideas at work, she loves to wax eloquent shayeris about old ghazals, travel and romance. She is a great conversationalist who finds peace in poetry and among the mountains.