Is Employee Engagement the New Workspace Amenity?
Here's a billion-dollar question.
"Which amenities would charm employees to return to their workplace?"
Yes, we used the word "charm", because the workforce has enjoyed more comfort, flexibility, and productivity while working from home. This has enabled them to maintain a healthy work-life balance which has made remote working more desirable. In spite of all these perks of working from home, if there is something that employees crave, it is the physical interaction with their colleagues. In every survey conducted across the globe, evidently, the workforce misses one-to-one engagement while working remotely. As it turns out, people themselves and the resulting interactions are the most important amenity that would enable a return to work.
Why Physical Employee Engagement is Crucial for Organization Growth?
Research by Gallup states that disengaged employees are 63% more likely to call in sick. Additionally, burned-out employees are three times as likely to be on the lookout for new jobs. In comparison to this, organizations that focus on initiating employee engagement experience 20% greater sales, 21% higher profitability, and a 17% productivity boost. Yet another report by Hallio suggests that high employee engagement makes companies 21% more profitable and according to The Workplace Research Foundation, employees who engage with their co-workers are 38% more likely to have above-average productivity.
As people now make the big return to offices, making room for workforce engagement poses a win-win situation for both the employee and the employer. Engaged employees are often happy employees who are inspired to make more meaningful contributions at work.
Levels of Employee Engagement and Its Impact on Organizations
Interaction among employees governs how they feel toward their organization. The more people engage and feel affectionate toward each other, the better is their possibility of being aligned with their organization's larger purpose. Highly engaged employees have an excellent growth curve that helps them and the company to thrive together.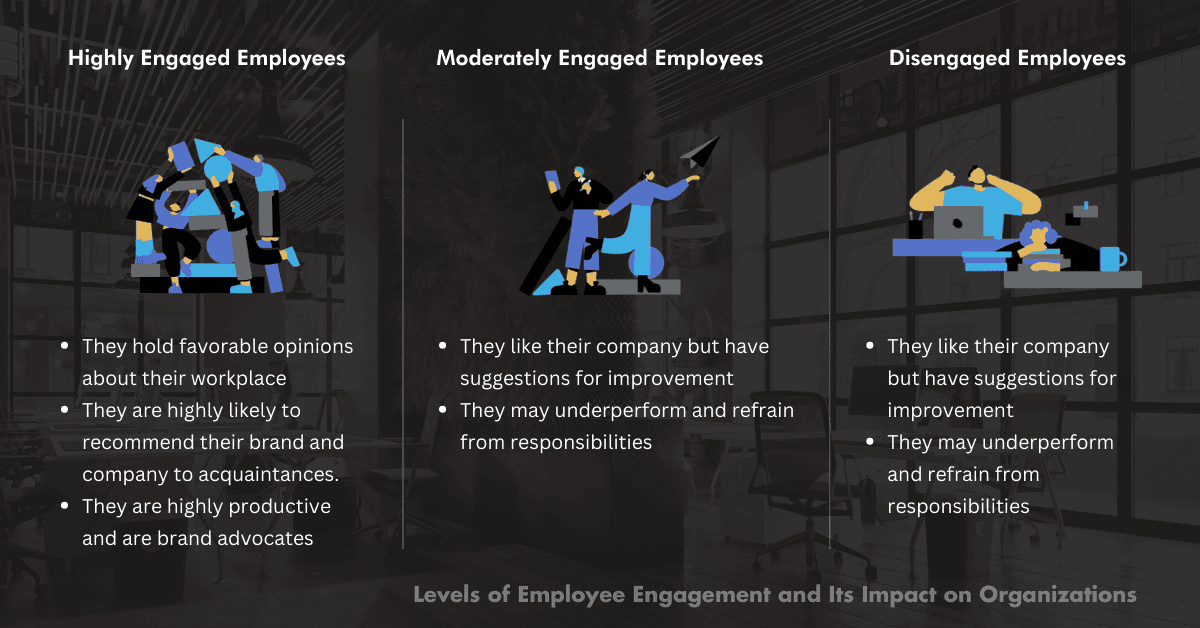 How to Create Interaction-Driven Workplaces?
Creating an engagement-centric workplace requires an empathetic outlook at office design. It should provide employees with sufficient space to focus, collaborate, and work. Below are the key ways in which workplace designs can be centered around the collision.
Multifunctional Design
Fluid, engaging, and dynamic offices have held the power to captivate employees. Free-flowing workspaces make it easier for people to maintain visual contact and easily communicate with each other. Multipurpose office spaces provide employees with the freedom to create their own work zone. This empowers people to engage out of choice and collaborate when the need arises. Companies can blur the physical boundaries between spaces by leveraging the mobility provided by technology. Furniture on casters and movable screens add value and advantages for in-office as well as remote workers.
Interaction-Driven Furniture
Let the furniture layout be such that it encourages employees to talk. Allowing employees to sit face-to-face will provide them the opportunity to interact with ease. In spaces such as lounge areas and lobbies, companies can create multiple engagement zones using different furniture arrangements. Making provision for couches, rotating desks, co-working desks, and sit-to-stand desks along with the traditional workstations will provide sufficient opportunities for employee engagement within teams. Companies can also make space for collaboration by organically placing furniture along the corridor and unused spaces on the floor.
Breakout and Huddle Spaces
Employees like to engage with each other and that involves work as well as life in general. For this purpose, it is important that companies create break-out spaces for informal employee interactions. Workplaces can be designed to accommodate terraces, gardens, rejuvenation areas, lounges, and games rooms so that employees can bond with each other. Further, offices can be designed with long corridors and lobby areas so that people get the opportunity to cross each other's paths more often. These long corridors are also great for initiating small talk and conducting on-the-go meetings with a small team.
Space for Individual Use
While engagement is associated with speaking to others, it also involves interacting with oneself. Employees should have sufficient time and space to work on individual projects and produce focus-driven outcomes. Incorporating work pods, cabins, phone booths, and individual work desks in office design can empower employees with the ability to choose their time for collaboration. Companies can also provide meditation pods in outdoor areas so that people can realign themselves with work and be more productive. Making provision for these spaces will allow employees to think with clarity and be more creative with individual assignments.
Case In Point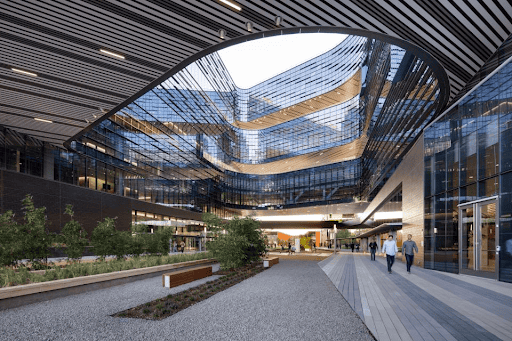 Source: Great Place To Work
Samsung's headquarters in the United States is designed in juxtaposition with its original hierarchical work culture. The workspace provides a vast expanse of outdoor areas sandwiched between vertically stacked floors to lure the workforce into public spaces. This space is used by the employee to mingle irrespective of their hierarchy to allow creativity to thrive. Quoting the executives at Samsung," The most creative ideas aren't going to come while sitting in front of your monitor, and the building is really designed to spark not just collaboration but that innovation you see when people collide."
Key Takeaways
Companies should create an ecosystem where employee experience becomes key for organizational growth. It is time for workplaces to shift the focus from heads-down work to collaborative work and allow employees to enjoy their work and the environment in which they work. A "people first" approach to managing workspaces will help in building a relationship of trust, affinity, and shared responsibility towards the organization.
By promoting inclusion and equity, employees will feel safer and healthier in their workspaces which will encourage them to put their best foot forward at work. Amenities that bring people together and allow them to engage with ease will be the most sought-after amenities in compelling future-relevant workspaces.
Related Articles: Why Coming to Office Is Essential for You
Pragya Sharma, is a talented architectural writer and an invaluable content collaborator at Zyeta. She expresses her thoughts and ideas effectively across various mediums like blogs, social media, web content, and workshops. By joining forces with Zyeta, she creates compelling narratives that amplify the evolving importance of design in today's world.