Making Way for The Next Generation Conference Rooms
A conference room is a heartland for collaboration and decision-making in an office. It is a shared space meant for strategizing and delivering ideas, both, to the team and the client. Today, irrespective of the enterprise scale, conference rooms have become an integral part of every business- fostering creativity in secured work environments. However, while the purpose of a conference room remains the same, its perception has undergone a fundamental change. The conference rooms of today are considered to be more inviting, dynamic, functional, and impressionable, unlike their traditional image of being restrained. The two primary reasons for this change are the shift in workforce demographic and the impact of the COVID-19 pandemic.
The Impact of Workforce Generational Shift on Conference Rooms
The manner in which a Baby Boomer or Gen X employee would perceive a conference room is different from their Millennial or Gen Z counterpart. The table below depicts a generation-based comparison of how employees interpret a conference room.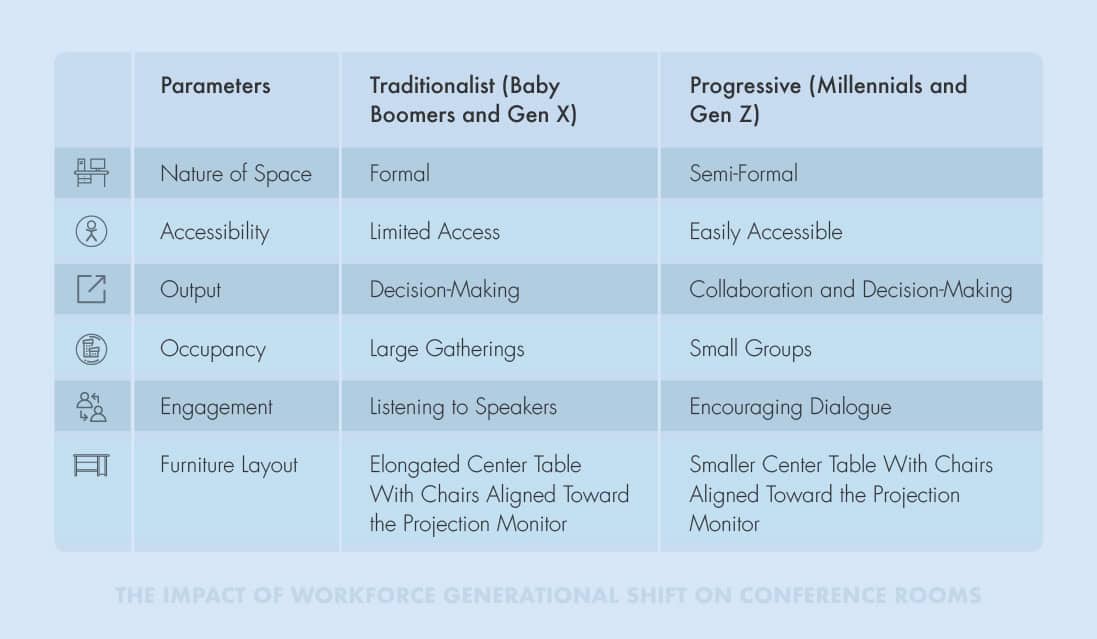 From the above table, it is evident that the face of conference rooms is becoming more dynamic, prioritizing employee experience and choice. Speaking of spatial design, the focus is shifting from providing one large conference room to providing multiple mini-conference rooms.
Source: Today's Systems Corporation
A classic example of this is the growing popularity of standing conference rooms for conducting scrum meetings. A standing conference room consists of a heightened table with audio-visual aid. The absence of chairs motivates people to keep the meeting precise. Another case in point here can be made with the growing number of huddle spaces- a variation of the conference room. Huddle spaces are supported with digital aids and are meant for interaction between smaller groups. These spatial innovations are beaming evidence that conference rooms are changing for adapting to the needs of a diverse workforce.
The New Normal
The demand for flexibility and agility in workspaces has increased post-pandemic. While social distancing has become the mandate in a post-COVID world, collaboration in the workplace is integral to the success of a business and is therefore unavoidable. Hence, it is necessary to rethink conference rooms as a secure and healthy collaboration area.
Space Efficient Conference Rooms
Conventionally, employees have the tendency to occupy the conference room for non-essential reasons. The table below describes certain situations where employees can underutilize the conference room.
To avoid the above situations, managing room occupancy and achieving space optimization should be the goal. Post-COVID, identifying the ideal size of a conference room depends upon the following considerations:
The percentage of employees working on site
The number of remotely working employees
The frequency of remote employees visiting the office
The average number of meetings per day
Workplace density
In high-density workplaces with flexible (open) floor plans, the average ratio of a conference room to employees is 1:10. In offices where employees have dedicated work desks, the average conference room to employee ratio is 1:20. This ratio is generic and will vary based on the type of industry and the nature of the business that a company is involved in.
A survey conducted by HOK, a global architecture, and design firm, affirms that "conference rooms, in general, are too big." Their survey suggests that today about 73% of meetings involve only 2 to 4 people, but 53% of conference rooms are build to accommodate seven or more people. These statistics imply that the size of conference rooms needs to be reduced while adhering to the social distancing norms for achieving maximum floor plan efficiency.
"With increased flexibility in the workplace, there is a demand from the workforce for spaces of engagement & productivity. Thus, large conference rooms which can get converted into smaller meeting spaces with a sliding partition can be a wonderful solution. These spaces can also double up into smaller collaboration rooms for ideation, war rooms for brainstorming, or focus spaces to finish tasks at hand quickly and efficiently.
To summarize, Conference spaces have become agile too, and companies are refraining from parking these spaces for only one particular purpose thereby optimizing their real estate for efficient use."
-Smitha Naik Deshpande, Principal & Director, Zyeta- Pune
Effectively Ventilation Conference Rooms
Health and hygiene have become the top priority of employees working from the office. While companies are undertaking various initiatives to ensure social distancing, physical interaction in conference rooms is inevitable. So, to avoid infections, it is important to regulate indoor air circulation in the conference room. Naturally ventilated conference rooms are preferable but in the case of centrally air-conditioned offices, it is advisable to install HEPA filters for effective air circulation.
Providing sufficiently long breaks between meetings will help in effectively cleansing the air of any contaminations. It will also aid the sanitization routine by providing a sufficient window for cleaning surfaces with disinfectants.
Hybrid Conference Rooms
Gone are the days of offices having a single conference room. It's the age of multiple conference spaces. The need for flexibility and individuality has encouraged the creation of multiple conference rooms. Meant for use by smaller groups and individuals, these conference rooms are safe, healthy, and focus-driven. Offices are now experimenting with a combination layout of the classic conference room with "conference-like" spaces such as meeting pods. This empowers the employee to choose the collaboration space that best suits their way of working.
Source: The Meeting Pod Co.
A conference pod is the latest addition to this next-gen experimentation. These conference pods are sound insulated, visually secluded, and audio-visual equipped to support the primary purpose of remote collaboration. The employee sitting in the pod connects with the remotely working employees using digital tools and softwares, thereby achieving real-time interaction.
The Role of Technology, Artificial Intelligence, and Extended Reality
Digitization has been a key player in shaping the future conference room. As hybrid working becomes the new norm in offices, leveraging the power of digitization will be vital for remote collaboration.
Technology can enhance the design of the conference room by managing how employees engage with each other. In addition to the installation of AI-enabled microphones, speakerphones, and webcams in conference rooms, offices are considering the adoption of digital booking systems. Sensor-based screens can be installed on the entry and exit points of conference rooms to ensure that the space is not crowded. Documenting the conference room occupancy and meeting timeline will help in assuring that social distancing is maintained at all times. To further improve efficiency, offices can equip conference rooms with interactive whiteboards and touchscreens for real-time engagement.
Source: Microsoft Teams
In 2021, Microsoft Teams launched the future meeting rooms to bridge the communication gap between employees working remotely and in offices. Their meeting room setup is targeted toward an inclusive and immersive collaboration experience for effective hybrid working. The company has proposed 3 models of conferencing, depending on the number of physical and virtual meeting attendees. These models include namely:
The Focus Room- for closely knit discussions
The Medium Space- for medium-sized group discussions
The Large Space- for larger teams to establish authentic connections
Office Design Credits: Zyeta
These conference rooms will be equipped with larger screens enabling employees to work from the office to sit face-to-face across life-size remote colleagues. The feature of spatial audio will help in listening to the feedback from remote employees from their on-screen position. Collaboration will be seamless through the provision of digital meeting notes and actionable items.
Further, using Extended Reality (XR) tools such as AR and VR in conference rooms can enable the virtual transition of employees to various scenarios. This can help in better delivery of ideas thereby speeding up work productivity.
Summing it All Up
The future of conference rooms is flexible and technology-driven. It eliminates any physical barriers to communication and movement, thus promoting workplace equitability. Using conference room data analytics derived from space usage and occupancy can help in further enhancing the employee experience.
Pragya Sharma, is a talented architectural writer and an invaluable content collaborator at Zyeta. She expresses her thoughts and ideas effectively across various mediums like blogs, social media, web content, and workshops. By joining forces with Zyeta, she creates compelling narratives that amplify the evolving importance of design in today's world.