The Correlation Between Design and Mental Wellbeing at Work
People spend one-third of their waking time in their workplaces, which is why office environments play a major role in employees' lives as well as health. A workplace can contribute to a person's physical and mental well-being in several ways. Work-culture, job role, office settings, and design materials; all play vital roles in influencing the staff's well-being.
However, workplace design plays a key, but often an underlying role, when compared to the other factors. Studies reveal that a workplace can directly impact the mental health of employees in different ways. The light exposures in the office can influence circadian rhythms, the absence of outdoors can produce stress, unfiltered materials and finishes used in office interiors may not be human-friendly, even the design aesthetics can affect the at-work mood!
Even though the importance of mental wellness in workplaces has found a new light recently, the topic has indeed been left underrated for an awfully long time. Perhaps, people believed that stress at work was more about job roles rather than the work-environments. But, of late, these dynamics have changed, and now we see that both employers and architects are trying to utilize the role of design in mental well-being at work.
7 aspects of Employee Wellness
To integrate wellness in the culture effectively, companies will have to take into account the following 7 factors:
Purpose
Employees won't be engaged in the long run if their purpose is not defined. Workplace culture and practice that induces a sense of purpose and motivation is, therefore, needed to achieve this dimension of wellness.
Social
Social wellness is attained through culture and design that sets a ground for interaction within the global community and network better to build a winning community.
Emotional
Emotional wellness can be achieved by a culture that encourages and inculcates optimism, self-esteem and self-acceptance in the people making them feel safe to share their mental state of mind.
Intellectual
The intellectual dimension refers to a work environment that helps people with resources to learn, improve and grow in their roles professionally and personally.
Physical
Physical wellness is where the workplace experience induces a healthy behaviour including adequate scope for exercise, balanced nutrition and healthcare.
Environmental
Environmental wellness is achieved by encouraging socially responsible habits and creating a culture that's sustainable and aims to do good for the environment.
Financial
Financial wellness is the well-being of financial status. Underpaid people can never outperform at work. A culture that believes in rewarding people to their full potential will always do better in attaining financial well being and retaining the best talent.
How Can Design Positively Impact the Mental Wellness of Employees?
Firstly, addressing the several aspects of design that can and do contribute to people's mood and psychosocial behaviors is very important.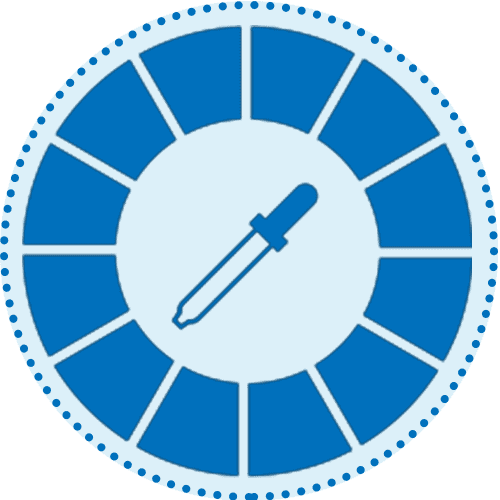 Colors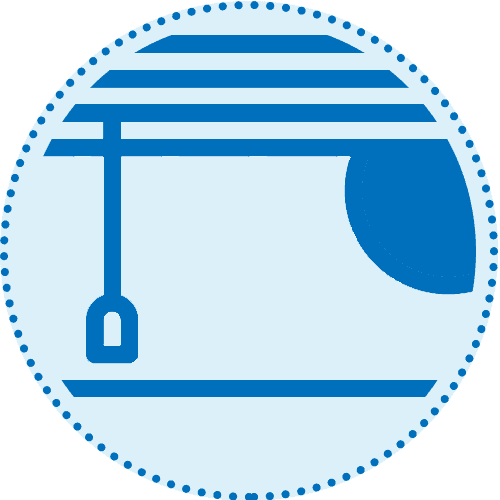 Light Exposure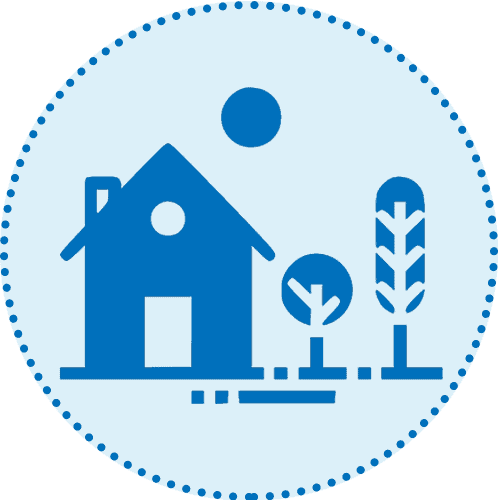 Contact with Nature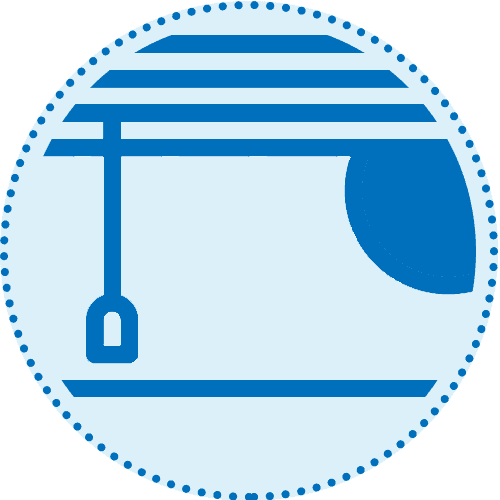 Availability of Space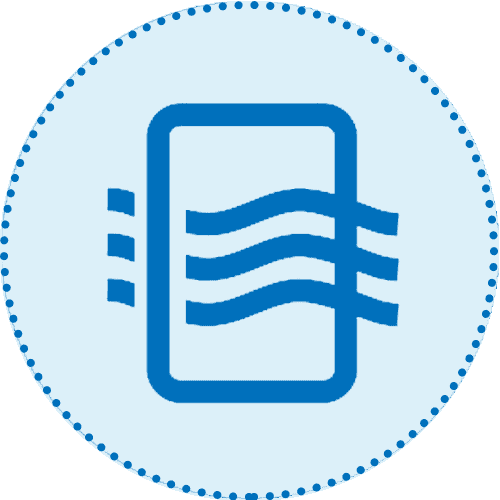 Air Quality
These are the most notable elements of workplace design that directly affect people's health and wellbeing.
Access to natural elements like sunlight and biophilia at work creates better productivity among employees. [1]The same result is observed when people get the right quality of air inside their office premises. Similarly, including enough room for collaboration and interaction can bring in healthy creativity among employees and remove their mental inhibitions that often occur due to monotony and social limitations at work. But besides these apparent factors, several subtle design aspects can contribute to workplace wellness.
Here's a collection of those underlying aspects that create well-being-centric workplace designs.
Art Around the Corners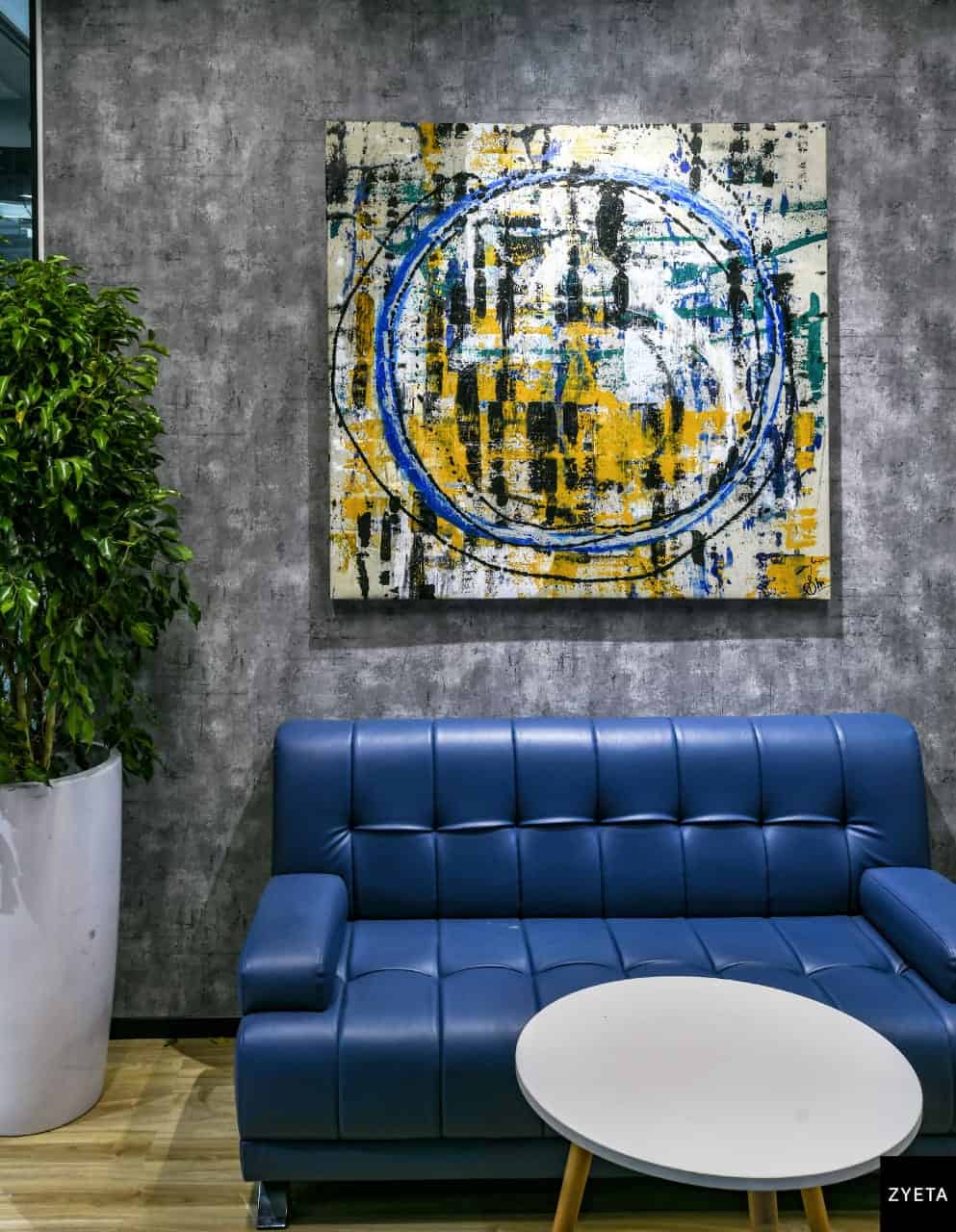 Installing thoughtfully chosen art around the corners of a workplace can immediately promote both conscious and unconscious creativity in employees. Art not only connects people to the place but imbues a sense of unity among people too. A piece of local art on the wall can highlight the culturally inclined side of an organization.
Art can also give directions and identity to the intertwined allies of a workplace that are often visualized as mundane office corridors. Art in the workplace also generates a reinvigorating sense among employees who can heal, feel better, and even get inspired through aesthetically-engaging art. In one of Zyeta's recent projects for Ecolabs, the designers decided to go for hand paintings throughout the workplace, especially in the community areas. These pieces of art in the office channel a positive aura among the occupants, that results in low-stress, less- aggressive, and peaceful work behavior among the staff. These kinds of art tend to connect people on an emotional and creative level that inspires human minds to do things differently.
A carefully chosen piece of art can also highlight an organization's liberal and innovative work culture.
However, while choosing art for any workplace, it is important to select pieces that can be easily understood. Too complex paintings can generate negative feelings. Hence, a lot of work is also required to choose suitable art for your workplace.
Position of the Work-Desks
Mental stress arises from workload, as well as from the pressure of working in unsuitable environments. Therefore, assuring a workplace that inspires people to work, and not discourage or distract them, is the first criteria of a healthy workplace design. In a typical working week at a traditional office, people spend on an average of 5 hours and 41 minutes per day sitting at their desk. [2]Hence, placing them strategically is crucial for their mental health wellbeing.
Work desks' position plays a great role in user satisfaction that in turn, improves mental health. Several studies suggest the right work desk position, which is defined as the distance of the desk from the window. Among these studies, recent studies of Kong et al. suggest that a location which is 2.3m from the windows can protect the building users from the direct sunlight and give satisfactory comfort to the occupants. Desk position also plays a vital role in choosing the most suitable position of work settings that can access the outside view. It's an open secret that a great view by the office is one of the most amazing features of a human-centric workplace. The outside view helps employees to untether from the screens to enjoy the world outside. Therefore, placing the work stations in a position that gives every employee their acre of an inspiring view is an underrated aspect of wellness-centric workplace design.
Avoiding the Busy Office Aisles
Diverging office crowd to different directions is a workplace design factor that may have come to the forefront post-pandemic times but is important for mental wellbeing as well. Placing the work settings away from crowded aisles especially is always the right thing to do. Today's workplaces exhibit open cultures that at times may become distracting, contributing to unconscious stress at work. Thus, designing the work areas away from popular corners is vital. This way, a stress-free zone is maintained around the workstations.
Including glass chambers or acoustic huddle spaces can also help in avoiding the noisy and distracting allies without compromising the transparency and collaboration of open-work-cultures.
Environmentally Conscious Designs
Generally, a good deed makes us feel good. That's the underlying benefit of creating a space that makes people feel good. Designing a sustainable workplace doesn't just add a plus point to the surroundings but also uplifts the mental satisfaction of the people inside the workplace. Psychologically, belonging to an environmentally conscious place imbues a sense of responsibility among the occupants. This results in a work environment that feels safe for the world, as well as for the people.
It is seen that working for a company that carries values of humanity can positively impact the mindset of the employees. That is why working in a sustainable environment projects a stress-free work life, compared to working from a place that is ignorant about their social responsibilities.
The mental wellbeing of employees is imperative in today's work lives. By providing the best environments through design, organizations build a positive work culture. This, in turn, helps the employers to gain payback in terms of work efficiency. After all, healthy employees are the truest assets of an organization. Therefore, building places where people feel healthy and included should be a priority for every workplace designer.
Naturally gifted with creative abilities, an ever-evolving fashion sense, and an infectious positive attitude-- she brings her best to work every day. When not brainstorming ideas at work, she loves to wax eloquent shayeris about old ghazals, travel and romance. She is a great conversationalist who finds peace in poetry and among the mountains.