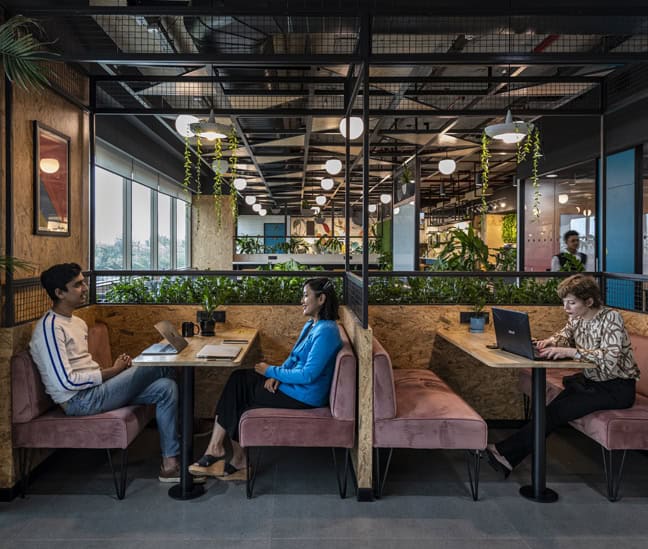 An overview of the project
First WELL v2-pre-certified co-working space in India.
Design supports and promotes holistic wellness of employees and members.
Incorporation of design, innovation, and flexibility in the workspace.
The 2gethr campus at Outer Ring Road has incorporated most of the WELL- compliant elements in its design. The space has been designed to optimize employee and members' productivity and work-life balance. Each element of the workspace — right from the raw materials used to the furniture — radiates positivity and well-being.
The Design Objective
The goal was to inscribe all the various elements of wellness in 2gethr's overall design. And to make those elements come together in a way that provides a tangential, beneficial environment to everyone housed within the innovative, creative milieu of the coworking space. Everyone working on building their dreams each and every day, are provided an environment that actively facilitates the possibility of that.
" Everyone working on building their dreams each and every day, are provided an environment that actively facilitates the possibility of that."
The design serves a multi-functional purpose. It provides a strong framework for learning and collaboration, creates an unbeatable protective shield of wellness, builds a security blanket from external discrepancies–and helps create a vibe of creativity and vibrancy.
Although clean indoor air plays an important role in an individual's health, it is often overlooked. At 2gethr, steps have been taken to ensure that the air flow is clean and healthy. The AQI (Air Quality Index) is always maintained below 50 at 2gethr. UV lamps installed inside the Air Handling Unit (AHU) are used to treat the air inflow. Also, ASHRAE (The American Society of Heating, Refrigerating and Air Conditioning Engineers) standards are followed at 2gethr to maintain a healthy indoor environment.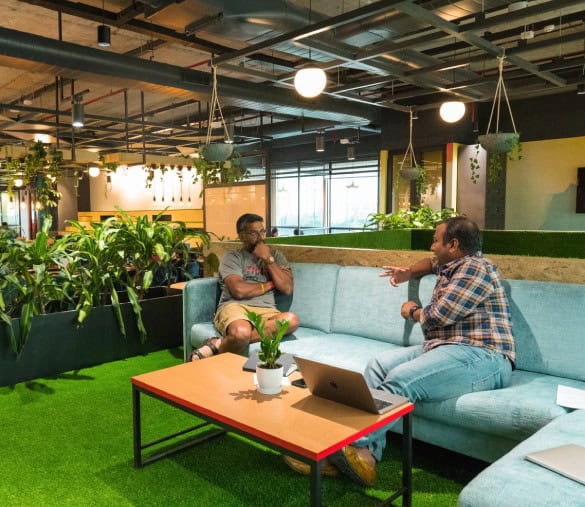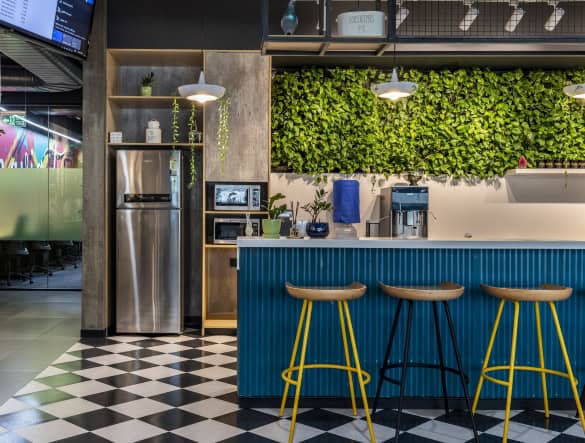 A global standard of drinking water is maintained through RO+ and UV filters along with regular tests that are conducted every quarter to monitor the water quality. Water dispensers are installed at a distance of 30 meters from any given point in the workspace. A neutral taste is maintained in the available drinking water. Strict measures are taken to make sure the water is turbidity free and the legionella plan too has been implemented for this purpose.
Workstations have been placed strategically for the maximum retention of natural light. The workspace has been designed using glass panels, especially in case of meeting rooms, that help in the direct inflow of natural light. Lights with optimal lux levels have been implemented throughout the campus to enhance productivity of the members. They have been used in meeting rooms and work areas with the undertone of white while the common areas use an undertone of warm light to enforce warmth and coziness amongst the members.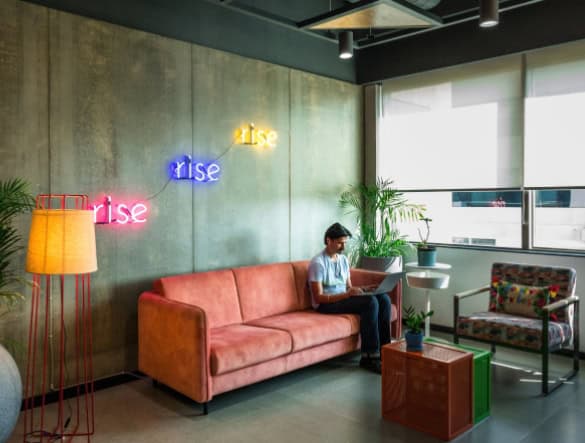 The space houses provisions for healthy food that are rich in nutrients. All available food options indicate macro nutrients, calorie content, allergens, artificial sweeteners for the benefit of the members. Healthy and mindful eating habits are promoted through regular workshops, talks, print literature, etc. educating the members on nutrition and health.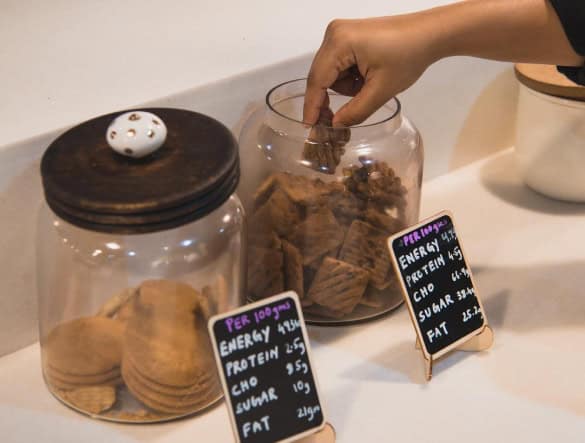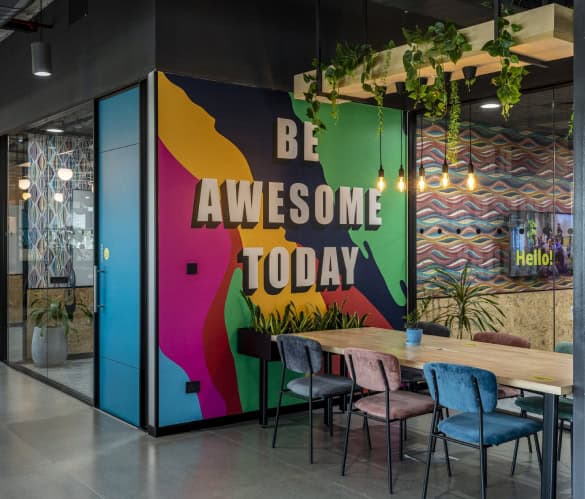 Materials and paints used in the campus are that of the highest quality. Toxin-free, nature-inspired design and low VOC materials have been used to minimize and restrict emission of carcinogenic fumes. Trained housekeeping personnel follow certified procedures for the cleaning and maintenance of the interiors. Only certified products have been used during the construction of the space and the same clean standard is followed for the cleaning products and equipment.
Each room in the campus has a thermostat setting for optimal comfort levels. Thermal support is maintained through an improved HVAC system which is designed to provide overall human satisfaction. An average of 30%-60% of optimum relative humidity is maintained throughout the space. Also, an average temperature of 23 degrees is maintained.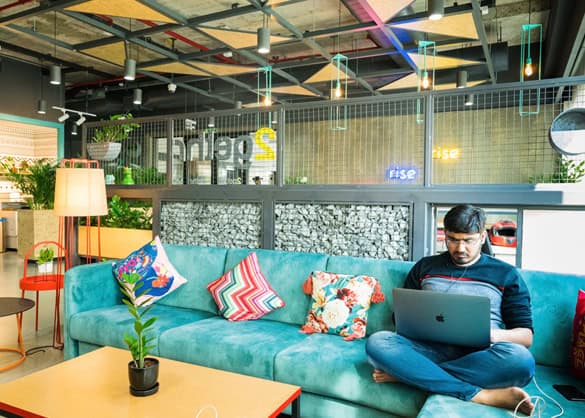 Sound consultants were brought in during the designing stage of 2gethr to ensure acoustic standards as per the WELL v2 guidelines. Double gypsum partitions and thick glass has been used for partitions to minimize ambient noise.
Mental health support through regular mental health workshops and literature related to mental health throughout the common areas as well as yoga sessions. Restorative opportunities like sleep pods, gaming zones, and jacuzzi are available to all members and employees which help avoid burnout and provide relief from daily stressors.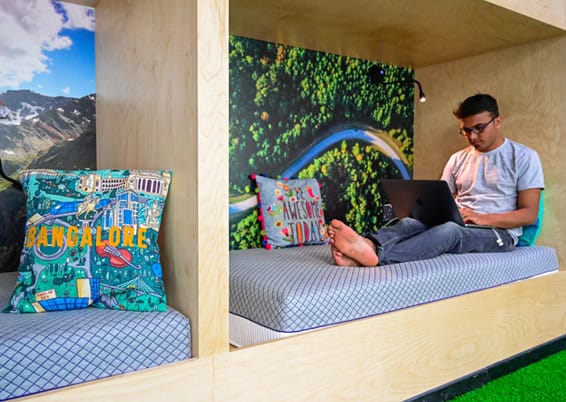 The workspace design encourages physical activity and movement by encouraging members and employees to use stairs instead of lifts for aesthetic circulation. This has been done by maintaining well-lit staircases and fitness literature available throughout the community. Posturing-improving devices like monitor arms, height-adjustable tables, etc. are available for free for 2gethr employees and to the members at an additional cost.
2gethr is an IoT-enabled workspace that supports CO₂ sensors, sensor taps, sensor-controlled HVAC systems, and sensor-controlled electric lights.
Communal seating areas have been designed to celebrate culture, place and art. These events are organized to encourage collaboration amongst the community members. To facilitate more member-driven events, the communal area is designed following an open plan that encourages large gatherings.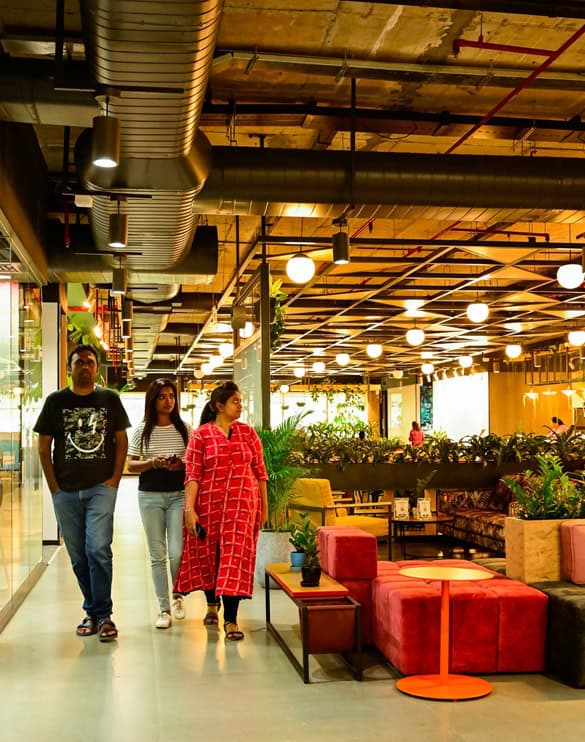 The Design Journey
2gethr's design is built on inculcating an overall vibe of well-being—that envelops the building, and inscribes an all-round positive atmosphere—one that helps bring out the best in everyone. Each and every aspect is considered, and provided for. The space is calibrated, measured and designed in such a way so as to provide direct, tangible benefits to their employees.  Each and every day. The workplace remains a springboard for bright, talented individuals to do their best work and reshape themselves into their best possible version.
The Honors and Recognition
The proof of the workplace's excellence and achievement is consolidated in the  multiple noteworthy honors it has received for its design.
Each and every day, the 2gethr workplace provides safety, security and sanctity to everyone housed within and proves an iconic place for some of the most creative, productive employees to emerge from within it.