2021 Workplace Design Trends: The Age of Better Workplaces
2020 was a year full of changes. It was a time that made us pause and reflect on our choices and priorities. And although the year was about several struggles, it was also a year of new chances to make better decisions. On a personal level, we all are still getting along with a new kind of normal, but on a professional level, we have already begun our journey of a future that will be resilient above all. This is particularly visible in the post-pandemic workplace design trends with which we are witnessing a new wave of offices that are futuristic, people-driven, and evolved.
Technology, changing job roles and needs were anyways leading workplace design on a path of evolution; the pandemic is just being a catalyst to the future workplace design trends. However, there's more to these changing standards of workplace design thinking. When we talked to one of our workplace architects at Zyeta, Janani Chitra Kulothungan, she helped us understand the several evolving aspects of workplace design trends that will be ruling the coming year.

Workplaces will have revolutionary changes in the coming times, and the processes have already started. The goal is to create spaces that are resilient towards current and future crises with a lot of importance to human health and environmental consciousness, says Janani.
Though many companies are going for a remote work option, it is imperative to know that workplaces can't just disappear from the system. Every company would require a place and eventually, people will again work from office and hence, creating workplaces that are ready to enable employees is the need of the hour. With factors like wellbeing and technology, 2021 will be a year of the emergence of a progressive workplace design era.
Moreover, the need to get back to the office post-pandemic will require a strategic safe return plan. This will in a way influence the workplace layout. Workplace interior design will evolve and there will be an influx of design trends in response to Coivd19-led safety norms aiming towards building resilience.
Workplace resilience
Workplace resilience is the key to foster employee engagement, especially in these tough times. Building a resilient workplace will help businesses to adapt, evolve and optimize in order to sustain the Coivd19 uncertainty.
Building workplace resilience is a bi-fold process:
Designing employee wellbeing

A safe return to the workplace post-pandemic will require the workforce to be in the right state of mind. Designing spaces aiming towards the holistic development of the workforce will thus be an upcoming trend.

Developing a workplace habitat

To build resilience, the focus must be shifted on fostering a workplace habitat- an ecosystem of spaces that will add more meaning to the work and the work culture.
Workplaces will be more humane
If workspaces were the ultimate destinations for work-oriented conferences and projects, then this year workspaces will see a new dawn of design thinking that will create equally human-oriented spaces. This means equal importance will be given to the design aspects of a cafeteria, a sleeping pod or a collaboration zone just as much as we give importance to work-oriented spaces like meeting rooms and workstations. Workplaces will enable each and every user to feel at home. The health and safety standards of every space and zone in workplaces will increase multi-fold. Workplaces will be designed to make them more welcoming and user-friendly.
There will be increased attention towards bringing in inclusivity in the designs so that every type of employee finds it easier to connect with their workspace. 2021 will also see a lot of inspiring design ideas to make offices feel more encouraging for the employees. There will be conscious decisions of creating places that will help motivate employees to return to their workspaces.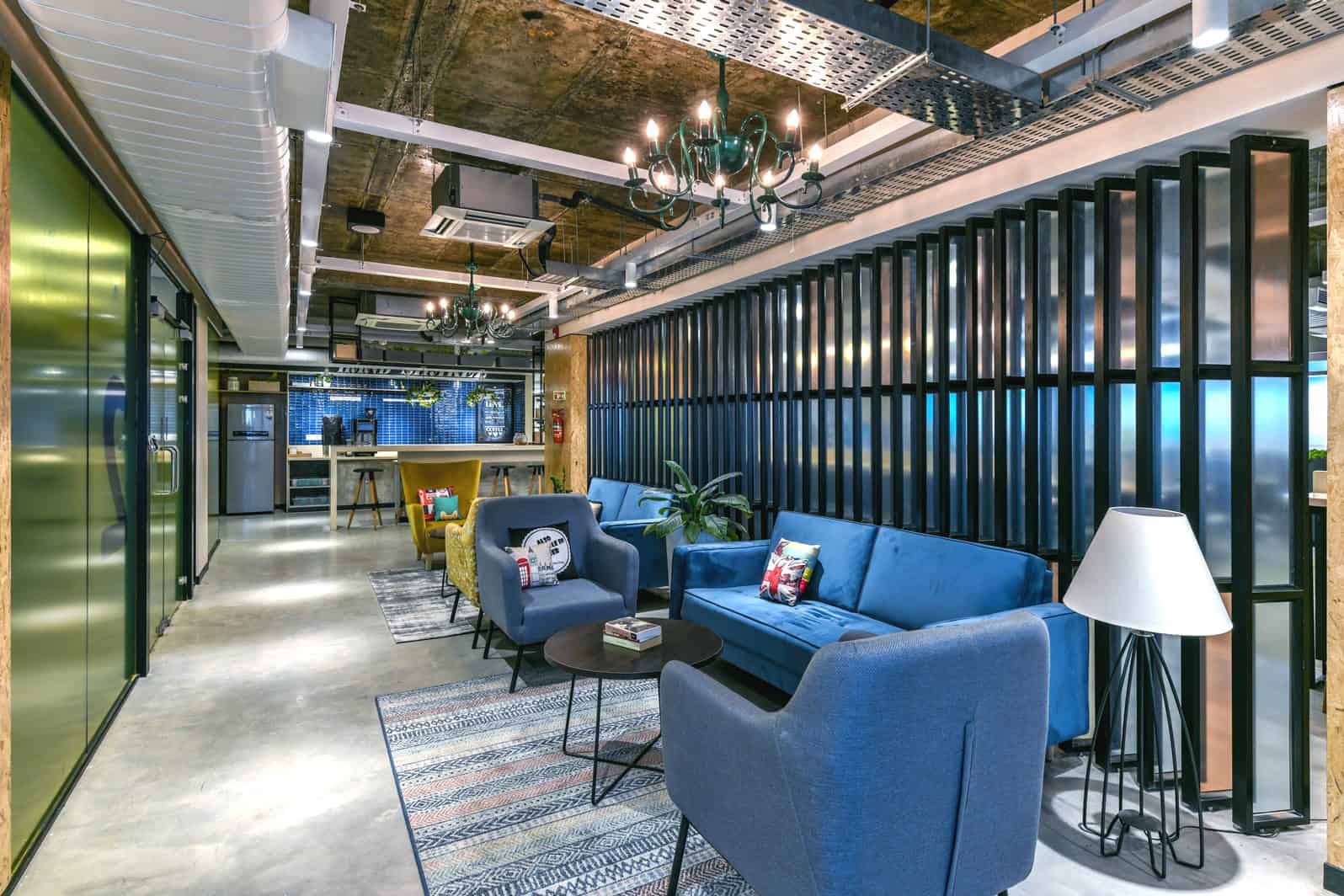 There will be the advent of homelike offices
With almost a year of remote working, it is only imaginable that employees would want to find the comfort of their homes in their workplaces. While creating an ambiance of work in pyjamas may not be possible in the workplaces, there can be some interesting design arrangements to make workplaces feel more like home. This means 2021 will also see a lot of resimercial spaces, just like the previous year. Homelike materials and finishes will dominate the workspaces along with the influence of residential furniture like lounges, wooden chairs, coffee tables, etc. There will also be ergonomically inclined furniture in workplaces that will be comfortable to work and rest, just like at home. Leading furniture companies like Steelcase are already manufacturing furniture that responds to body movements to offer personalized experiences to users to make them feel comfortable and relaxed like at home.
2021 will see smarter spatial planning
Now the pandemic has taught us about social distancing, and this has also been directly interpreted into workplace design. The result is, workplace designers are emphasizing creating spacious workspaces to give every user their inch of freedom and safety. Although such spatial planning will require bigger real estate arrangements, designers are coming up with smart plans to solve that problem too. For example, creating Double Decker spaces in office floors can increase commercial building shells up to 1.5 times of existing spaces (for each floor of 5 meters height) to hold mezzanine floors to save space. This kind of spatial arrangement will let companies allow bigger space allotments for each user within their limiting space boundaries. Besides, a double-decker spatial arrangement will look amazing for open-plan offices.
Acoustic focus pods
One of the upcoming future workplace design trends is an Acoustic focus pod. The new normal will demand adhering to social distancing norms and have diverse spaces for diverse needs. Acoustic focus pods facilitate safe distancing and noise cancellation at the same time for a safe and focused work environment.
Acoustic pods are designed in 4 basic forms:
Cocoons – Offering a private sheltered environment with resistance against ambient noise.
Wings – A combination of an enclosure and an open approachable space, wings are attached to the ceilings to mellow the disruptive noise and help to segregate spaces visually as well as acoustically.
Wall flaps – Wall flaps are usually mounted to walls and ceilings, can be rotated and tilted as needed. They allow excellent acoustic insulation and double up as wall art as well!
Modular panels – These act as a shield against noise and are usually used to segregate clusters of work desks.
The advent of futuristic technologies
Workplaces in 2021 will be way more advanced than its previous years. And this sudden advancement is due to the pandemic that has forced us to acquire technology at a rate like never before! People had to learn online working overnight, and although it was rough at that time, it led us to learn more about technology. Similarly, workplaces will also need to grow technology-wise. From innovating touchless design aesthetics to creating mechanized spatial arrangements; technology will go hand in hand with design thinking for workplaces. Health, safety and security in the workplace will also greatly depend on technologies. Touchdown introverted spaces, interactive technologies for remote collaboration among employees, user-centric light, sound, and air circulations, modular rotational floor arrangements to create enclosed/open spaces as per requirements, etc. are some of the trends that will be governing in the coming years. While overall, the aim will always remain to enable people to work better, technology in workplaces will now also find its way in securing the health and wellbeing of the users.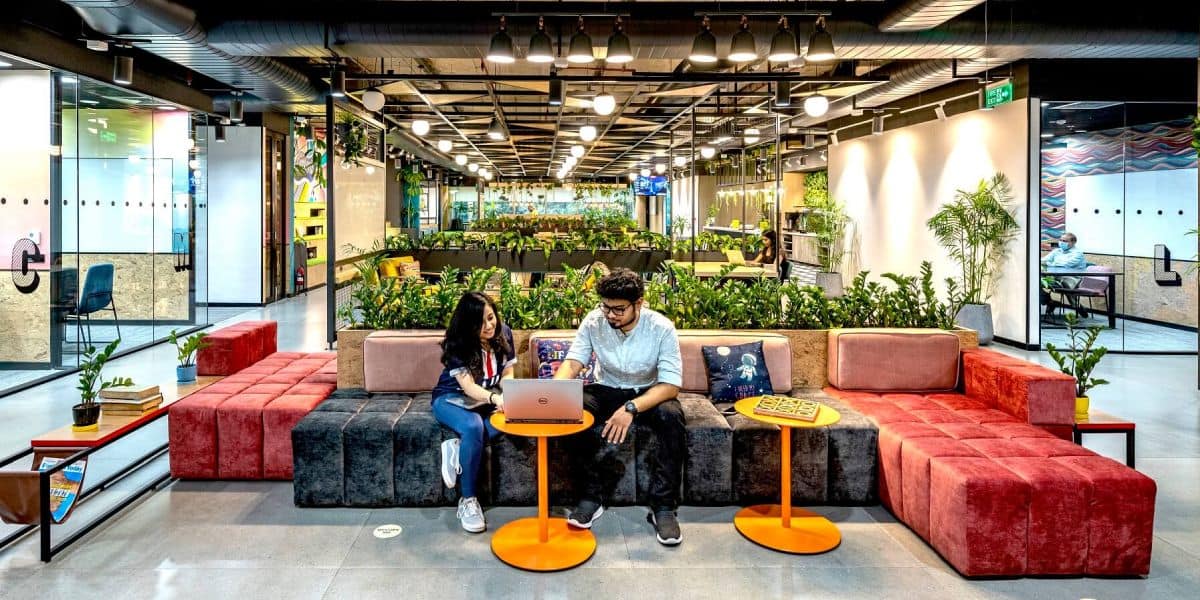 Touch-less technology will take the centre stage with 5 major futuristic trends:
Gesture recognition – The most simple form of touch-less technology enabling users to interact with devices with simple gestures.
Touchless sensing – Probably one of the widely used technology in the workplace, this negates the need for physical touch by sensing motion and the presence of users.
Voice recognition – A speech recognition and interaction technology aiding users to be at safe distance and yet use the space effectively.
Facial recognition – Facial recognition not only aids in safety but also ensures security and has the potential to ace up the technology game in future workplace design trends.
Personal Devices – In context to personal safety and hygiene, accessing amenities and facilities through smartphones and personal devices enables users to have personal control over the environment without being in physical contact with public surfaces.
A redefined connection with nature
Biophilic workplace designs have already been established over the years. However, after the pandemic, there will be a deliberate step in including nature as a part of the design thinking. This is because people have realized the importance of health during the pandemic and how everyone is reliant on nature. Therefore, employees will see more than just plants in their workplaces in the coming year. There will be an inclusion of outdoors in office spaces, garden areas at work will be trending as well, and there will also be more involvement of natural light and view inside workplace premises. Workplace architects will be highlighting natural surroundings in designs and workspaces will look less concrete and more natural with raw and organic design aesthetics. There will also be an advent of environment-conscious designs in the mainstream workplace interiors. Therefore, people will be expected to become more alert towards nature through their workspaces.
Prioritizing health goals in workspaces
Health in workplaces will be more than just a dedicated wellness room. Designers are coming up with new-age materials that are human-friendly. They are also planning sustainable designs to make offices come closer to the comfort of employees' homes. Also, companies will grow more attentive towards the health of their buildings in the coming years. Global workplace wellness standards like WELL, LEED ratings will become more frequent. The coming year will also see the emergence of wellness designers in workplaces. Well-being will no more remain a luxury standard, and instead, it will become a traditional guideline for workplace design and architecture. We will see companies becoming more open to the health-security-investment of employees to encourage them to return to work. Therefore, 2021 will see a positive evolution towards building healthier workforces and offices.
All in All
As we begin another year, we will see how the dynamics of working and workplaces have changed. We will see how design thinking advances to create places that are safe and ready for any kind of future. And beyond any trend, 2021 will be the start of a new age of workplaces that will encourage health, innovation, and the betterment of people.
Related read:
Post-COVID-19 Workplace Design Trends that May Stay Permanently
An Introduction to All-Inclusive Design
Naturally gifted with creative abilities, an ever-evolving fashion sense, and an infectious positive attitude-- she brings her best to work every day. When not brainstorming ideas at work, she loves to wax eloquent shayeris about old ghazals, travel and romance. She is a great conversationalist who finds peace in poetry and among the mountains.