Digitally Enhanced Experiential Design for the Workplace
Digital media in Experience Design
In today's workplace scenario, users crave for a dynamic and engaging experience to keep them motivated and productive. Reimagining and reinventing the normal becomes instrumental in crafting one-of-a-kind environments that make a difference. This is where digitally enhanced experiential design comes into play through the dramatic transformation of spaces, making them more impactful and futuristic.
Experiential design takes a human-centric approach to architecture, prioritizing user interaction with the built environment to create a memorable engagement that evokes emotion. This approach addresses the psychological aspect of the user by formulating multi-sensory navigation through spaces, making it more than just functional space planning. Taking a technology-fronted approach to experiential design through the holistic integration of digital media with the built environment plays an important role in curating such customized experiences that are innovative and interactive.
Experiential design in the workplace with digital media at its forefront.
Digital media in collaboration with experiential design in the workplace serves as a powerful mode of communication, not just in the form of screens, but as a digital skin woven into the built form. This morphable digital skin can be harnessed to communicate an ever-evolving story that magnifies the employer's brand identity and culture. It serves as an innovative method to promote learning and social collaboration among the employees through interactive and immersive applications. This makes the workplace extremely versatile and multifaceted, while keeping the users refreshed and recharged.
Transforming the built environment
Multi-sensory design helps in creating the most memorable experiences in this age of digital interaction. Thus designing for all the senses can transform even mundane day-to-day activities into an enriching and curiosity-provoking experiences that are lasting in one's mind. This can be done by siphoning light in all its forms, kinetic surfaces, and sound as an amalgamation with technology to stimulate sight, touch, and hearing.
Content can make or break any experience. With the innumerable methods available to incorporate technology with design, formulating and creating appropriate content becomes pivotal in successfully creating invigorating multi-sensory experiences.
To make the most of digital – multisensory design, it is essential to create an experience that is seamless in a way that it becomes one with the built environment, rather than an addition to the physical form of the building. The whole built form can be transformed into the body of the experience by integrating both horizontal and vertical planes to form a unified canvas for the digital environment to materialize.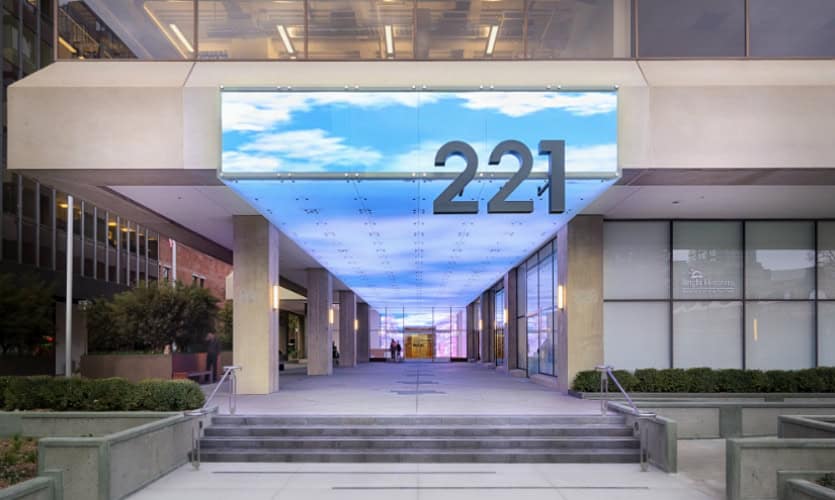 Beacon Capital Partners – The digital façade at 221 Main Street is an integrated architectural element that reflects the dynamic nature of the neighborhood. Photos: Courtesy ESI Design.
Crafting captivating digital environments
Data-driven media environments tether data to digital surfaces, providing an ever-changing content stream that is versatile and can be easily updated. This type of generative media that is composed of a combination of real-time and pre-rendered content, presents an active narrative to the user.

The Infinity Wall at Nexen's R&D Center – Video credit d'strict
"The Infinity Wall" designed by d'strict at Nexen's R&D Center Lobby in Seoul features a massive 30 meter long LED display that relays custom creatives and real-time data ( weather, time, news ) through different modes. The Story mode communicates with the audience by telling the story of Nexen Tire's core value and management philosophy, while the Mood mode crates a highly emotionally charged atmosphere.
Reactive media environments take it one step further by utilizing the presence of a user to generate varied effects. At the YouTube Lobby, the double-storeyed digital installation with natural materials, intuitive design, and multi-purpose functionality evoke creativity and exploration among visitors and employees. Multiple floor medallions that describe YouTube's core values encourage users to interact with the digital installation, integrating YouTube content with architecture and fostering a share-worthy experience.

The YouTube Lobby. Video Credit- Valerio Dewalt Train
Interactive media environments represent the user with a narrative of their own interaction with space. This does not always have to imply large and expensive LED screens, the vibrant sign board at the lobby of Google NYC Office is one such example that encourages tactile interaction. The permanent installation features 5880 arcade buttons integrated with AnyPixel.js, an open-source software and hardware library that makes it possible to use the web to create big, unusual, interactive displays of any size and scale. This interesting combination of analog and digital technology results in an engaging insertion that encourages tactile interaction.

Arcade installation at Google NYC.
Video Credit: Google Creative Lab (video editing), Mixtape Club (video music)
Conclusion
The collaboration of digital media and the built environment can only mean endless possibilities with the constant advancement in technology. Media Architecture and Experiential Design can definitely alter the way we look at the workspace. It has the ability to create a stimulating environment, weaving together physical and digital elements. This creates innovative, exhilarating and transformational workplace design that promotes productivity and enhances user experience. We can look at the office through fresh eyes as a place that elicits curiosity and discovery while strengthening professional culture with a well-rounded brand experience.
Related read: Coca-Cola's Workplace Digital Transformation- An Interview by Zyeta
Sandhya is a workplace researcher at Zyeta. Through her research and expertise in workplace design, strategy, technology, and human behaviour she helps organizations achieve business excellence by deducing definitive workplace solutions that align with their distinct brand identity and values.