How Design Products Have Evolved During COVID-19
In the midst of COVID-19, workplaces are in an evolutionary phase. They are beginning to reform their place and importance in the employees lives—albeit with completely different paradigms. With safekeeping being the primary function. This is demonstrated in the various elements of workplace design. To react to the dire situation that COVID-19 represents, the design elements that we knew and were familiar with intimately, are beginning to transform with it.
Office Furniture
To start with, office furniture is getting a makeover. In fact, absorbent furniture—or any sort with similar fabrics—is on its way out. So is soft furnishing, for the time being, due to how hard it is to adequately clean and sanitize. Office furnishing, which is functional and easy to wipe down, is coming to the forefront, instead. Cleaning, in itself, is gaining more emphasis than ever before. Bleach cleanable material is going to be adopted for furniture by prominent vendors all over.
Sustainable furniture will also gain more prominence. Due to their ergonomic and sustainable capacities, and their eco-friendly design. In fact, they will provide an added layer of safety and security in office meeting rooms.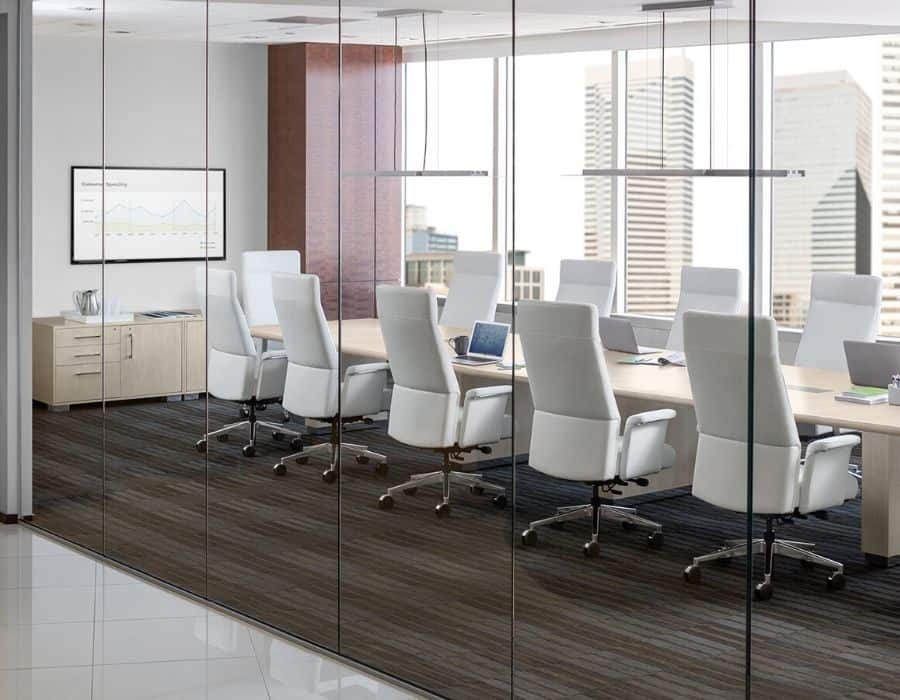 The 'Siento' Chairs From Steelcase Will Be a Vital Part Of Meeting Rooms (Image Credit: Steelcase)
Office Flooring
Office flooring also naturally, has begun to evolve. Biophilic flooring, which helps define space, through 'zoning, transitions, and wayfinding' will come into prominence. This will further enforce the need for spatial boundaries and distance between people in the workplace. Usually, spacing is associated with actual physical objects. Now, it is clear, that flooring and ground surfaces, will also, in themselves—play a major role in making the required space.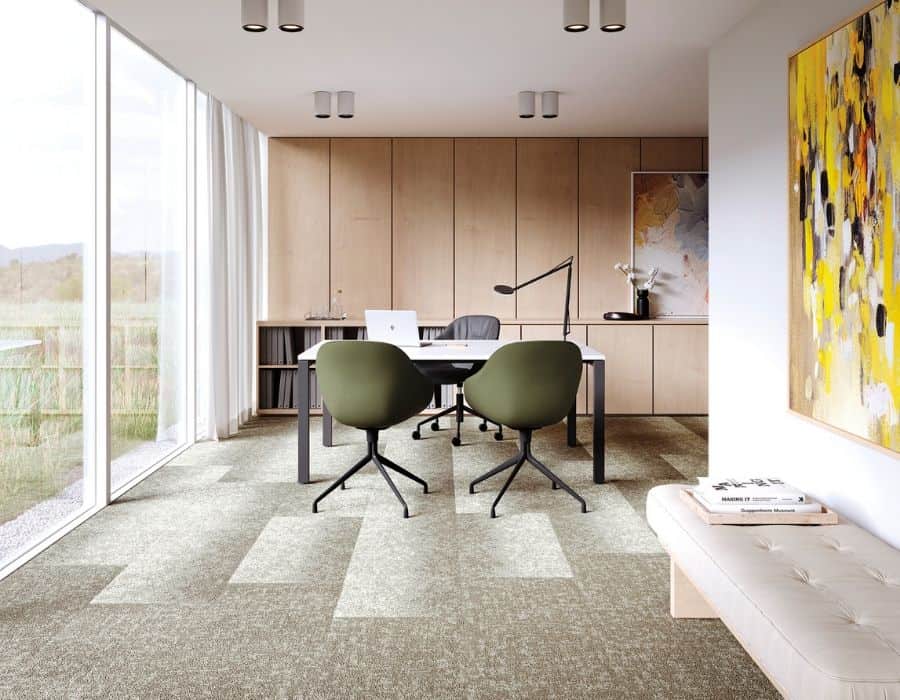 The 'Shifting Fields' Carpets tiles from Shaw Contract (Image Credits: Shaw Contract)
Perspex Screens and Office Glass
Spacing in itself, will play a vital role. There will be Perspex screens between workplaces and public areas—all in order to protect the staff and general public from the risk of cross-contamination. Workplaces, even while they are not in full occupancy, will have a 2 meter space in between them. They will also always be decluttered at all times. Organizations will, also, integrate top hygiene practices in the culture to support the new measures. Glass will often play the catalyst for these particular boundary walls.
Office Lighting
Then there is the matter of lighting–which will also grow in prominence. In fact IoT-powered lighting will gain more prominence in this period than ever before. The 'smart-lighting' market, even after COVID-19 estimation, is projected to reach $24.2 billion by 2025—from its already formidable standing of $9.4 billion in 2020—as estimated by marketsandmarkets. Hence, products from prominent names will remain center stage. Aside from its usual functions of efficiency and conservation, IoT will also add safeguarding its employees to the mix. UV lighting will also play a vital role in the mix–due to its capabilities as a disinfectant that can stop the spread of the virus. It can be used in places in the office where there is an increased probability of it to occur.
Eric Rondolat, CEO of Signify (Formely Phillips Lighting) detailed the power UV can have in various segments–including the commercial sector.
COVID-19 Related Office Equipment
To help in employees further maintaining a safe and accountable environment in the workplace, product manufacturers have also done their best when it comes to the most up-to-date safety equipment. All of them being readily available in the workplace means that there is enough incentive for employees to do whatever is required to keep themselves and their colleagues. This equipment includes safety masks, hand sanitizers, temperature devices etc.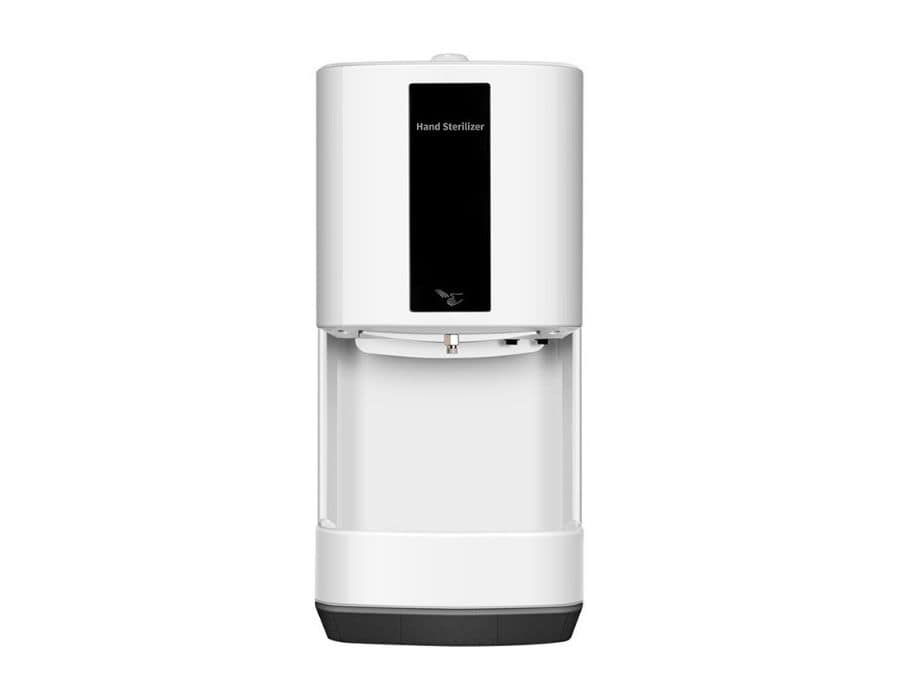 Automatic Hand Sanitizers will Help Employees in Keeping Safe (Image Credit: Euronics)
A Connecting Web
Lastly, elements would be individually isolated, unless there is a web that connects all of them. The design will act as a solid framework for the various disparate elements to connect—with proper space management and utilization playing an important role in it. Elements like proper spacing and smart scheduling times will play a vital role in creating an added level of safety that was not there before.
In overall terms, this is only the tip of the iceberg. Design is, and has always been evolutionary. The strides it is making in the crisis, will leave their mark for long. But it is still worth noting the power and value it can bring to organizations, even in rapidly changing times.
Similar Reads
How Private Working Spaces Can Boost Productivity
How Data Will Majorly Impact Post-COVID-19 Workplace Design
An information sponge since time immemorial, taking up writing was a natural career for him. He's often found absorbed in his laptop, trying to cram as much detail as he can into his content. He's found to be a relaxed, collaborative individual when he does finally decide to show his face to colleagues. Obsessive by nature, he loves building PC's, collecting old albums, updating his knowledge, and going on long natural treks.