How Can Workplace Design Help Businesses Align ESG Goals Better?
ESG (Environmental, Social, and Governance) is a framework used to evaluate a company's sustainability and ethical impact on the environment and society. Over the years, ESG has gained traction among investors and business owners who have realized its potential to create long-term value for their businesses. The scope of ESG has expanded from a sole investment focus to a set of guidelines employed to assess a business's dedication to environmental and social causes.
The workplace has evolved as a significant platform for businesses to showcase their ESG commitments. Thus, workplace design has now become a crucial tool to assess, enhance and regulate the ESG goals of businesses.
Let's have a look at the relationship between ESG & workplace design:
ESG & Workplace Design
Workplace design & build has become a critical benchmark for assessing a company's level of responsibility and determining investment worthiness. Progressive brands have resorted to sustainable, environment-conscious workplace design methodologies to improve ESG commitments, and thereby gain public trust and secure good investment opportunities.
But businesses must be aware that there is no one standard of workplace design to achieve ESG goals. Achieving optimum ESG goals involves a cohesive workplace design strategy focusing on sustainable design practices like climate-responsive design, usage of low carbon impact materials, adherence to WELL and green building standards, etc. It also includes the design's ability to encompass factors like health, well-being diversity, inclusion, and technological compatibility.
Now that we have understood the connection between ESG and workplace design, let us analyze how different elements of workplace design aid in meeting ESG goals: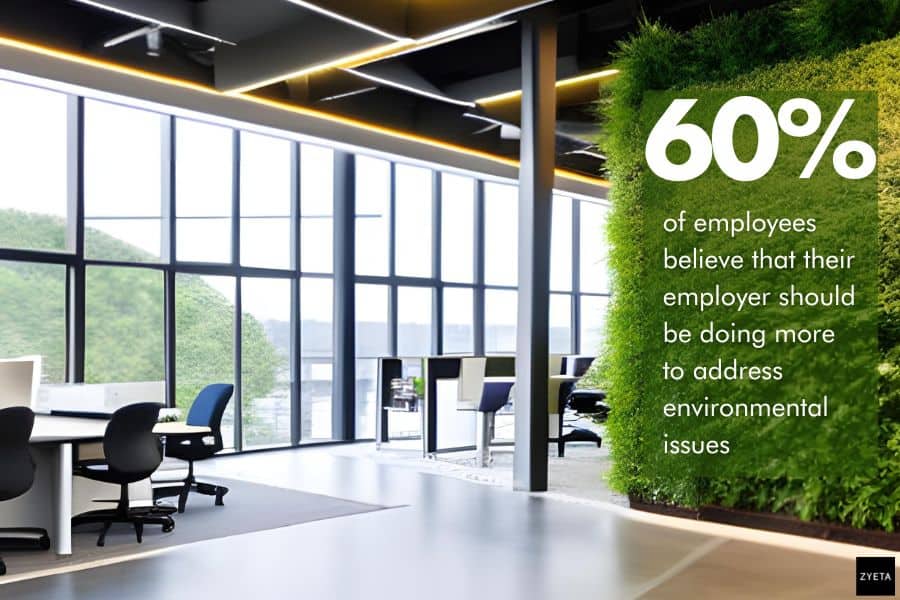 Environmental
According to a survey, 60% of employees believe that their employer should be doing more to address environmental issues. Thus, sustainable workplace design techniques that focus on reducing carbon emissions, recycling construction waste, procuring locally available materials, incorporating low carbon impact and low VOC finishes, and reducing the load on energy resources by the usage of sustainable HVAC and harnessing natural light, can majorly help companies reduce the environmental impact of their business and maximize the environmental aspect of their ESG goals.
While the above-mentioned techniques help reduce the carbon impact in general, research suggests that major carbon emissions are recorded through day to day operation of the business. Around 28% of the carbon emitted is in the form of operational carbon. Thus, here are some workplace design techniques to offset operation carbon:
Recycling and Upcycling- Switching to design practices that focus on repurposing existing furniture and fittings.
Certification- Choosing a design and build company with sustainable office certifications and credentials can help ensure that your office is set up for low emissions and environmentally responsible day-to-day operations.
Smart Office Design- Embracing technology, such as automatic HVAC and motion-sensing light bulbs, can significantly reduce carbon emissions while simultaneously reducing operational costs.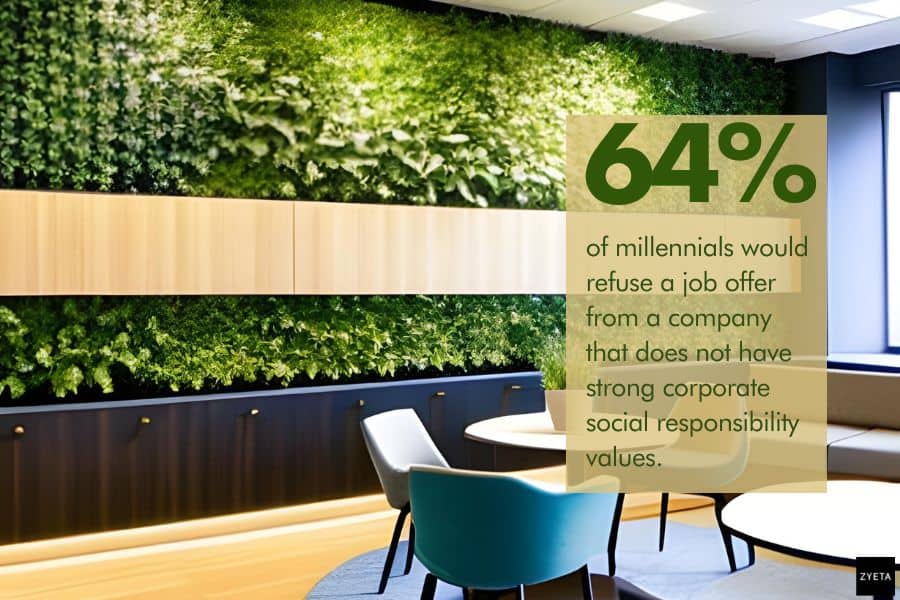 Social
Social responsibility is another critical aspect of ESG. As per research,64% of millennials would refuse a job offer from a company that does not have strong corporate social responsibility values.
Incorporating social responsibility in workplace design can lead to a positive work culture, increased employee loyalty, and improved employee engagement. This will in a way help businesses to improve the social aspect of their ESG goals.
The following are the factors that workplaces design can cater to, helping brands enhance their social commitments:
Adaptable Work Arrangements
Ergonomic Furniture
Equity and Diversity
Engaging Office Environment
Employee Health and Well-being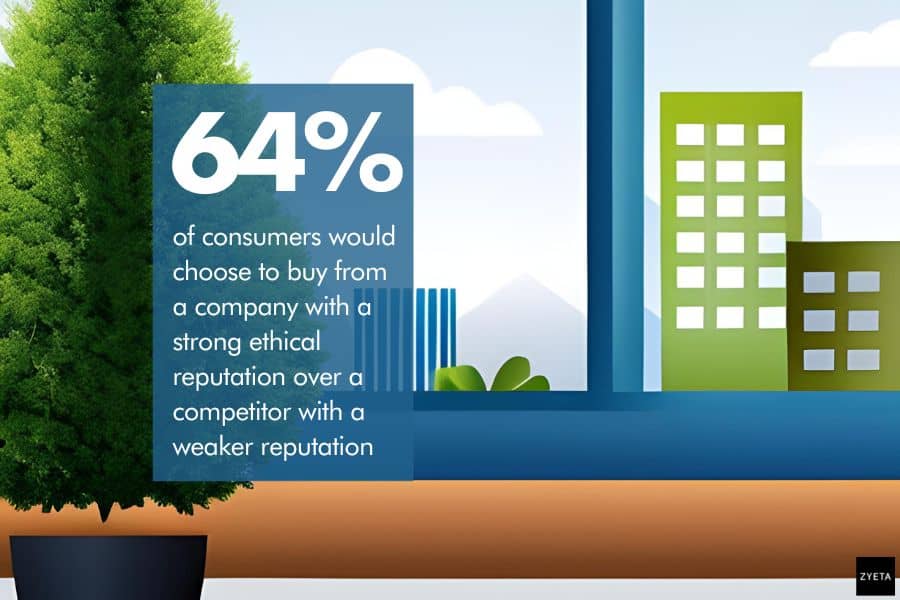 Governance
According to a survey, 64% of consumers would choose to buy from a company with a strong ethical reputation over a competitor with a weaker reputation. Thus, by incorporating transparent and accountable decision-making processes, as workplace designers, we can promote ethical behavior and design a positive work environment and reputation for the organization. This can lead to increased investor confidence, improved brand reputation, and ultimately, increased profits.
To Sum Up
ESG is becoming increasingly important in shaping workplace design, with benefits not only for the environment and society but also for financial gain. Moreover, according to a study by Harvard Business Review, companies with strong ESG performance had a lower cost of capital and higher profitability compared to their peers.
Thus, it is evident that workplace design is crucial in defining the ESG commitments for a company, whereas ESG is also becoming increasingly important in shaping workplace design for the future.
Related Articles:
The Sustainable Workplace
Are Net Zero Office Designs the Future of the Workplace?
As both an Architect and Architectural Journalist, he thrives on building unique content, with words and thoughts--as his brick and mortar. A natural-born explorer, he puts no limits on things he's passionate about diving into, be it cuisines, cultures or books. An avid fiction reader and a chronic over-thinker, he still finds enough time to be happy-go-lucky and easy to approach.