Re-utilization and Optimization of the Workplace
The COVID 19 pandemic brought the world to its knees and for a moment there seemed like there would be no recovery. But the resilience of human strength persisted, and the world sprung back with a call for action to control the pandemic situation.
Predictably, the workplace went through a radical change in terms of both flexibility and adaptability. Most organizations established an entirely remote workforce while the more optimistic continued to operate out of the physical workplace with mandatory regulations in place.
The truth remains that the workplace cannot be completely replaced. People, policies, and protocols[1] have been deliberated on and prepared to combat the uncertainty of the risk of infection. Health and well-being, until last year just prerequisites for certification, are now paramount factors in bringing back a shift-based workforce into the office.
A shared purpose of task heightened by social and virtual connections has been a major constituent in planning the step-by-step re-opening of offices. This involves a small percentage of the workforce physically present in the building. Building and facility managers play a huge role in ensuring that energy efficiency is kept in check while catering to such a staggered workforce.
Built environment management solutions require a coordinated approach between building features and optimizing operations such as lighting, ventilation and air conditioning that differ from the sustainable standards maintained prior to the COVID-19 crisis. These along with certain re-occupancy recommendations- ensuring six feet between people, sensor-controlled occupancy of collaboration areas, physical distancing, wearing masks and specific hygiene practices – will be the high stakes in guaranteeing that buildings do not pose a further threat to the environment even at 40% occupancy[2].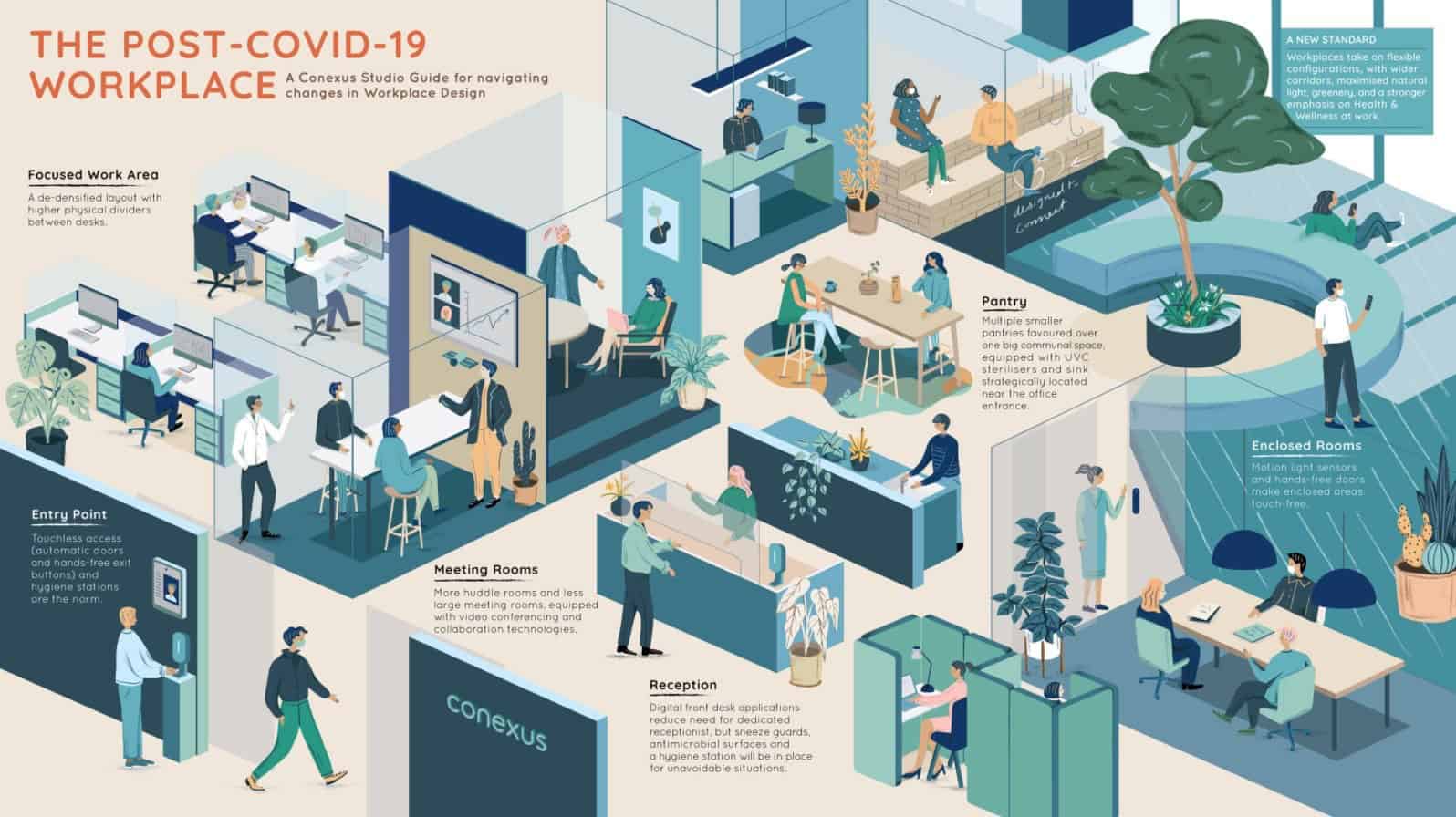 The Post COVID 19 Workplace as visualized by CONEXUS, a design firm based in Singapore.
The future poses for the additional advanced digital transformation of organizations facilitated by automated control systems, advanced digital communication, reworking of design systems, enhancing space utilization, and health care facilities centered around health, safety, and welfare of the employees.
Combating the current and any future crisis is now a singular objective of building managers, facility managers, technology experts, green building consultants and architects alike.
Follow us on Linkedin to explore more about "Workplace Sustainability Drive".
Through my role as Head of Research, I aim to be a catalyst in the dynamic process of design thinking by integrating the theory and practice of architecture, closely collaborated with data and analysis. I strongly believe in the power of design and its elements to both amaze and delight and in its true potential in creating humane work environments. These principles are reflected in my writing and the way I envision a space.