Quick Resolutions to Help Offices Get Back to Work
As we get back to offices with a newer work style, there is a rising concern of how we can typologically maintain the workspace to suit the need of the hour. We reached out to our team of design ninjas to help us understand the several changes that we can make in our existing workplaces.

"We need to provide a transformation that is flexible and spontaneous; enabling users to choose how they want to work, best in terms of physical and mental wellness. Mobility, scalability and future-proofing will also be important factors in redefining offices." says Kishore, a lead designer at Zyeta.
In recent years, workplace design has been more about creating collaborative places for people to share and interact freely–which led to the emergence of open-plan offices. But, due to the pandemic, a lot has to be changed in terms of design planning to take care of the newly formed constraints. Although this means there will be restrictions and boundaries to overcome the fear of people gathering in workspaces, workplace design still needs to prioritize people collaboration. When we spoke to one of our designers who has recently published a researched article on the Paradigm Shifts at Workplace post-COVID-19 with his team, he remarked that the transformation of workplaces don't have to be about creating walls and should be instead about creating space pockets like neighbourhood areas or immersive spaces to maintain team collaboration, while keeping up with distancing.

"It's about segregating people physically and integrating them virtually!", remarked Shafeeq Mohamed, a Senior Architect at Zyeta, on his recent article, while explaining about Immersives Spaces.
To help you recreate the existing design settings in your workplaces for long-term purposes, you will have to go for detailed space assessment and planning processes with proper consultations. However, for some quick fixes in your office, here are some ideas that you can include in the immediate remodeling of your workplace.
Rearrange the Work Desks and Bring on the Partitions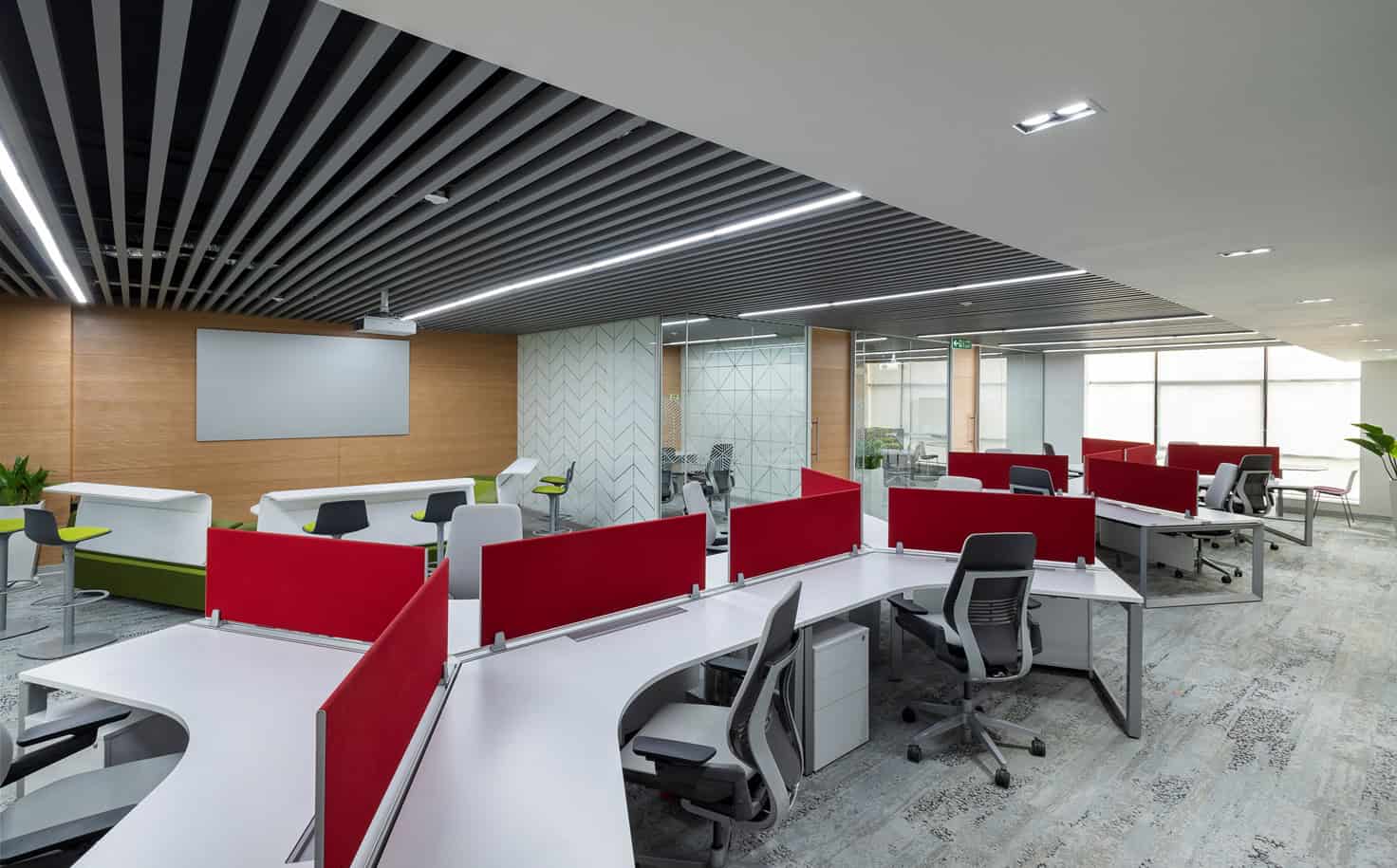 In this particular workstation arrangement, each work desk is separated and covered with partitions to create distance between employees. Here, the employees who sit in front of each other need not worry about infection transmission through accidental coughing and sneezing. Since the most populated areas in workplaces are the workstation zones, rearranging them would be the first step in making the most immediate changes.
Introduce individual Zones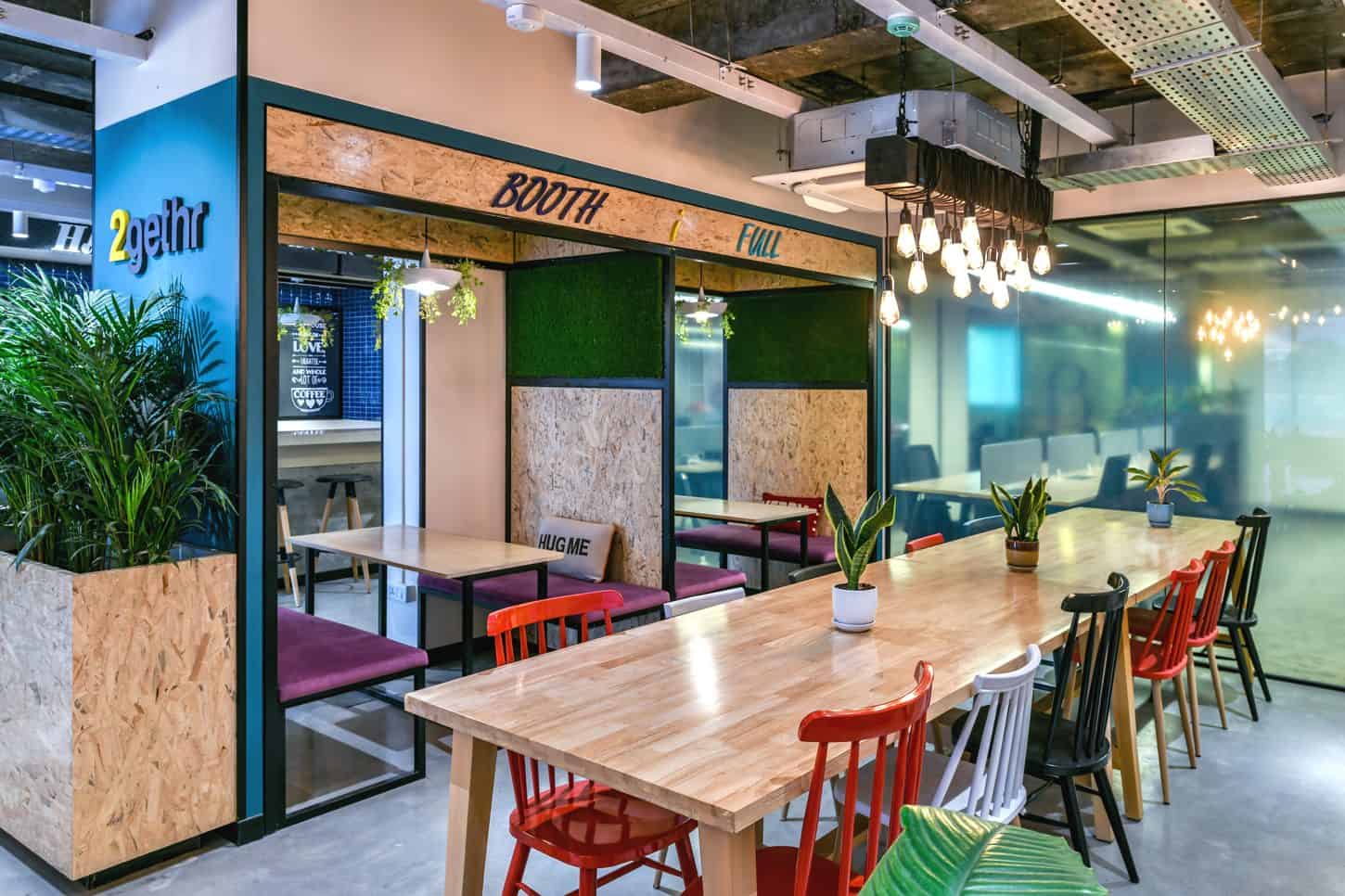 If accommodating the workforce in the dedicated work desks becomes difficult, you can include booths that work like individual pods, giving enough space to each employee to sit by themselves and work. To not make it look monotonous, you can distribute these booth zones throughout the office and not just clutter in one area. These booths can be semi-closed or fully closed as well, depending on the requirements of the employees.
Include a Variety of Seating Arrangements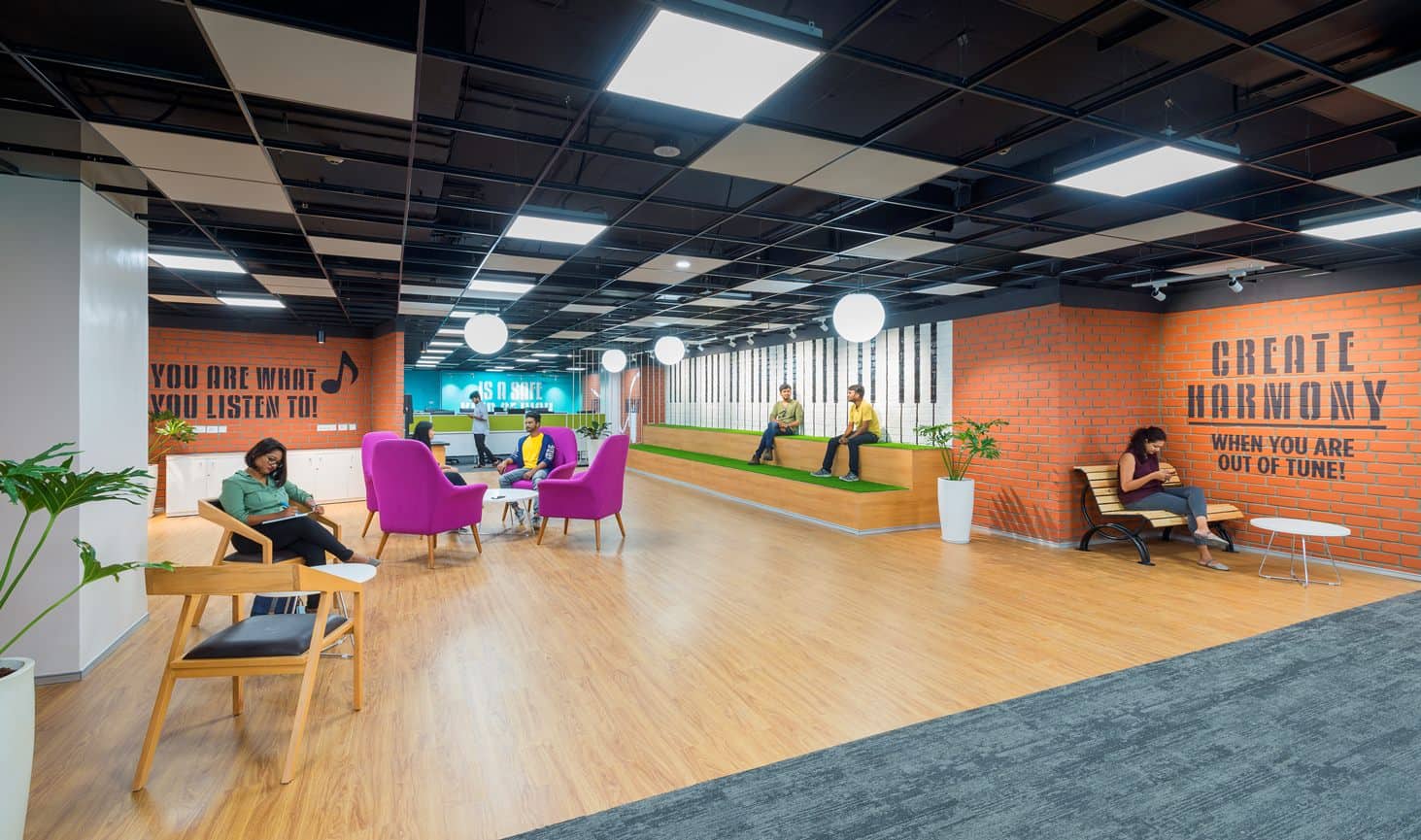 Not just the workstation areas, there has to be a change in the way hot-desking or social places are arranged. While it is important to maintain employee density in the workstation areas, it is also important to bring in more varieties in seating arrangements to make distancing possible. Here, you can see how seatings are arranged in a way that allows the employees to maintain isolation and yet stay together.
Avoid Big Meeting Rooms and Create Smaller Ones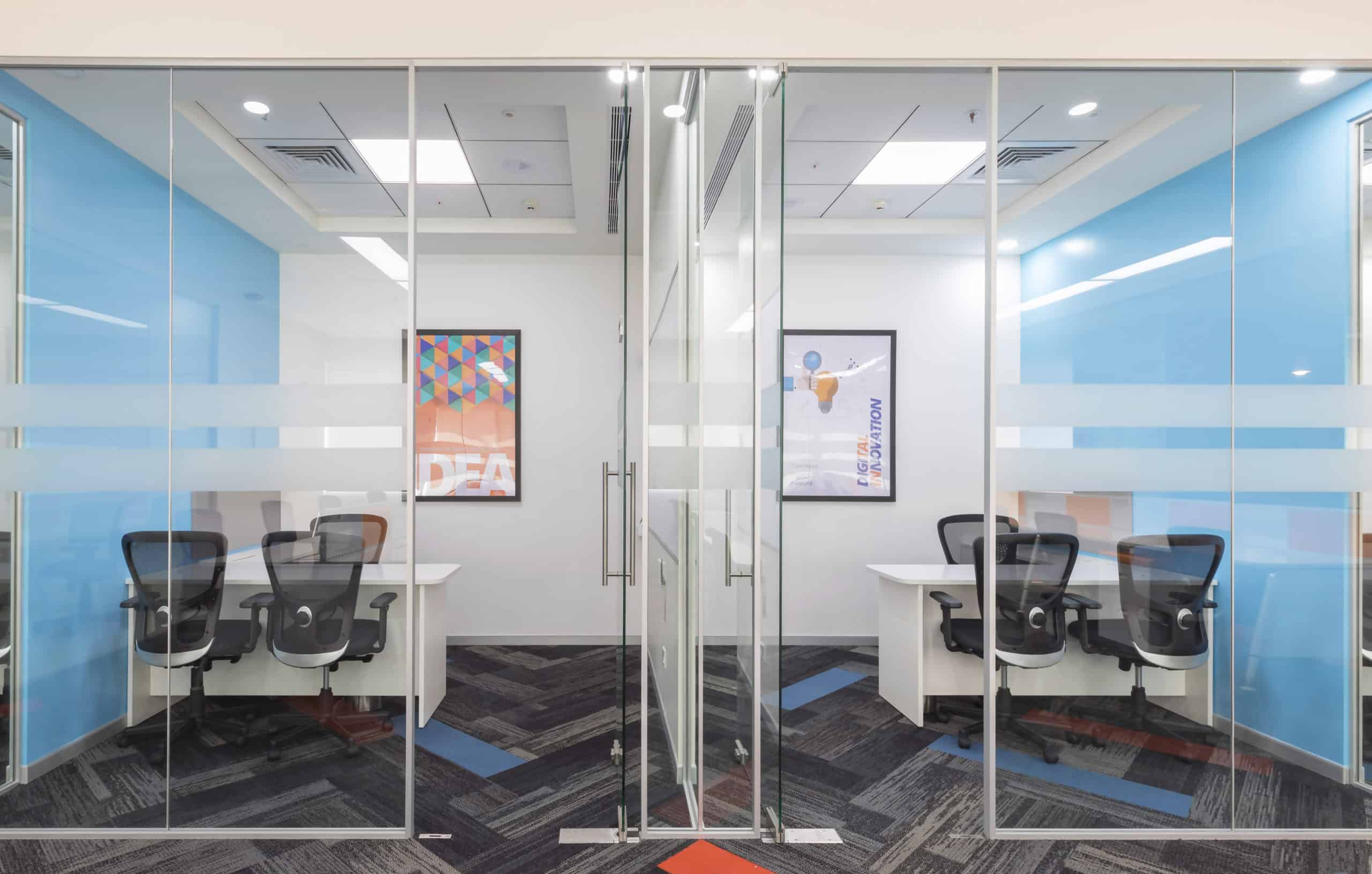 As gatherings will not be possible anytime soon, it is advisable to create smaller cabins or meeting rooms instead of larger ones. This way, the number of people inside the meeting rooms can be controlled and diversified across multiple rooms. These rooms can also work as individual cabins whenever needed. The point to take care here would be to maintain proper air quality inside such rooms, along with the right use of materials and finishes. While the current situations are alarming, it is advisable to use open places for meetings. For this, movable semi-closed partitions can be included in collaboration areas to create semi-closed meeting rooms, team discussion rooms or huddle spaces.
Maintain One-Way Flow in Corridors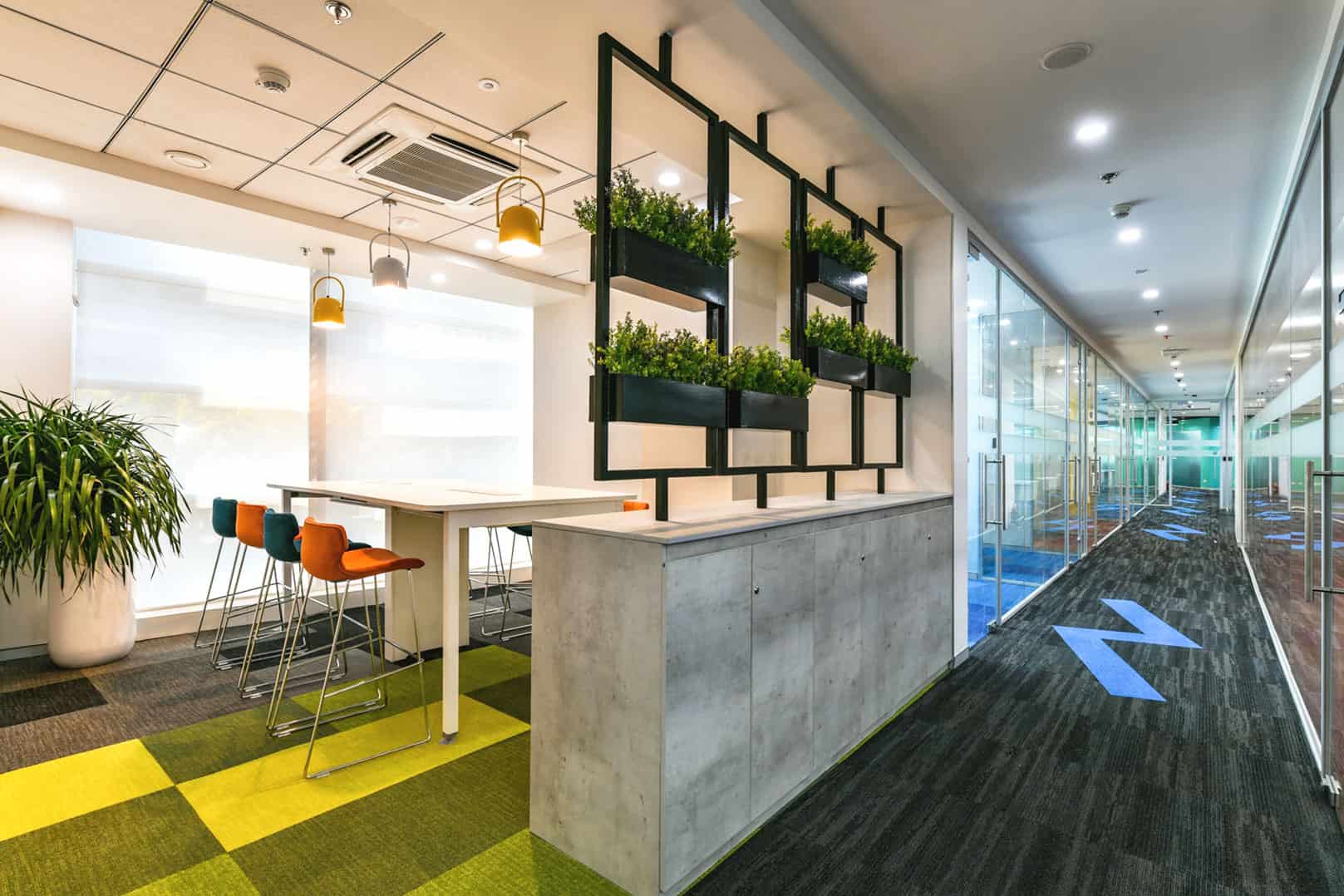 Another way to control employee gatherings inside the office premises is to maintain one-way traffic flow through the corridors. This way, people can avoid unwanted interactions and the traffic can be managed inside the office. This one-way flow is particularly important in areas like cafeterias and meeting rooms that usually remain crowded at their entrances. To help with the navigation and to avoid bumping into one another, directional arrow labels can be placed on the floorings of these corridors.
Returning to offices will be challenging; however, extending the trust and reliability to employees by reconfiguring existing offices will help your staff. The changes aren't just required to initiate physical safety in these situations, but also to safeguard the mental security of the working people so that they can come to the office and work freely. COVID-19 isn't just targeting the trembling economies, it is also targeting the emotional security of people to go out and live normally. Hence, changing the office space is essential to rebuild the trust in employees. And we're here with all the expert action plans for you.
Naturally gifted with creative abilities, an ever-evolving fashion sense, and an infectious positive attitude-- she brings her best to work every day. When not brainstorming ideas at work, she loves to wax eloquent shayeris about old ghazals, travel and romance. She is a great conversationalist who finds peace in poetry and among the mountains.