Data, Design and Technology: Building New Kind of Offices
With so much being said and so much being written, it appears as if we've cracked the solution for offices. However, there is still a hesitance to go back to work and resume the normal. This is because the world has seen a huge change in the last few months, and now everything has to start afresh. So, when we spoke to our designers, they told us how workplace design is changing from the concept stage itself. While earlier, design thinking was based on certain factors like health, function, space limit, now there are two new factors- Data and Technology-that have become almost indispensable for design.
"The future of offices looks very technical and data-driven," says Janani, a Senior Architect at Zyeta.
So, we went deeper into this statement and tried finding out how data and technology would help create safer workplaces that would be reliable for the employees to come back. The first thing we noticed is that curating data is essential for spatial planning. By studying the overall occupancy data, an area can be re-designed to maintain social distancing without keeping alternate workstations unoccupied. By leveraging the data in the workstation area, designers can now create different patterns of desks to keep up the distance. Usually, workstations maintain 125 -225 usable square feet of office space per person. However, we can rearrange this allotted area and create a wider space sectionalisation for each employee.
Data suggests that IT firms, call centres, law firms usually exhibit densely populated workstation areas. In fact, to reduce real estate costing, space per employee is reduced to 60 sq ft from 100 sq ft, making it impossible for employees to breathe freely in their space. These are the industries that will have to go for prominent changes in terms of spatial planning. They need expansion over floors to accommodate new spatial standards to not just meet the '6 feet distancing' but also to give employees their acre of freedom to work and sit comfortably.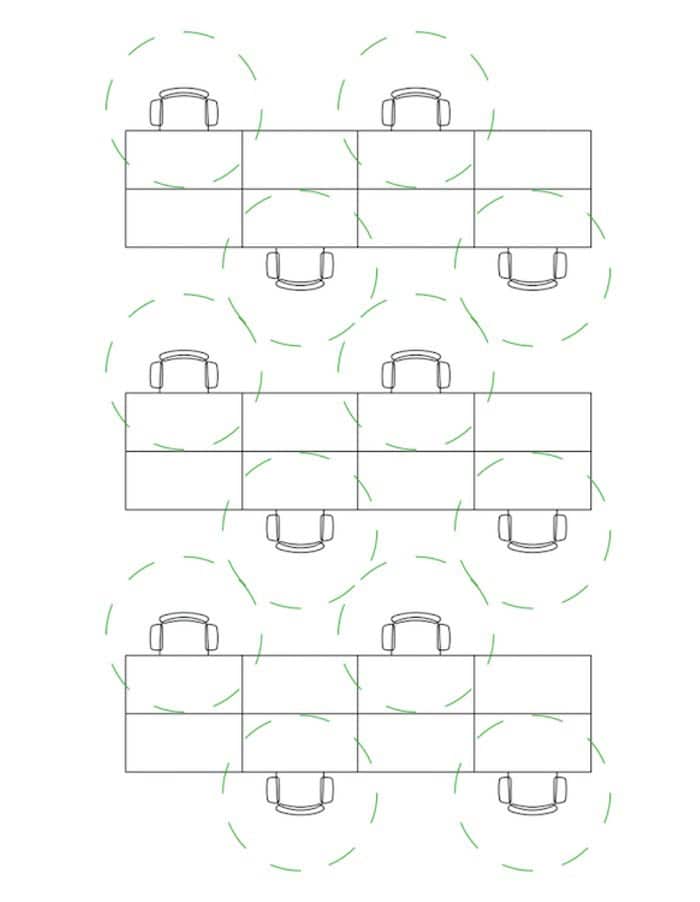 Work zone with alternative Linear Workstations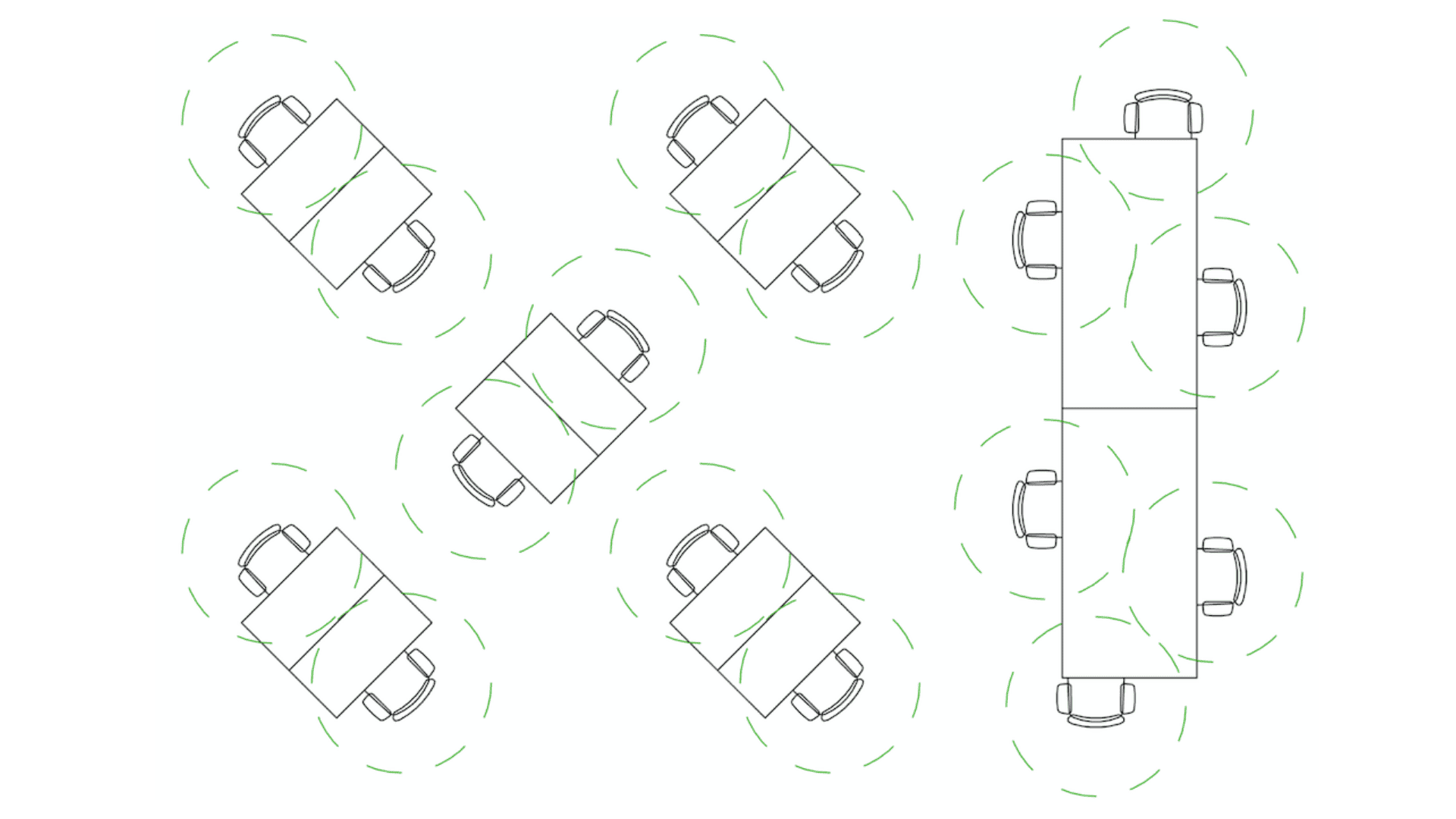 Workspace with Interactive setup
Not just that, density is also a problem in common areas like cafeterias, galleries etc. To maintain a spacious environment, new roomy cafe tables have to be arranged to give a safe space to the employees.
Data will also play an integral role in suggesting the occupancy and availability of areas, especially the meeting rooms. Hence, to curate real-time data of people-occupancy, new technologies have to be installed from the design phase.
Another aspect of data gathering is collecting unanimous data to track if any person is showing an anomaly in overall body temperature, respiratory rate, and heart rate to secure disease transmissions. This kind of data will help notice fluctuations from the usual ratings and alert workplace safety personnel to take necessary measures.
How Can Technology Help Design?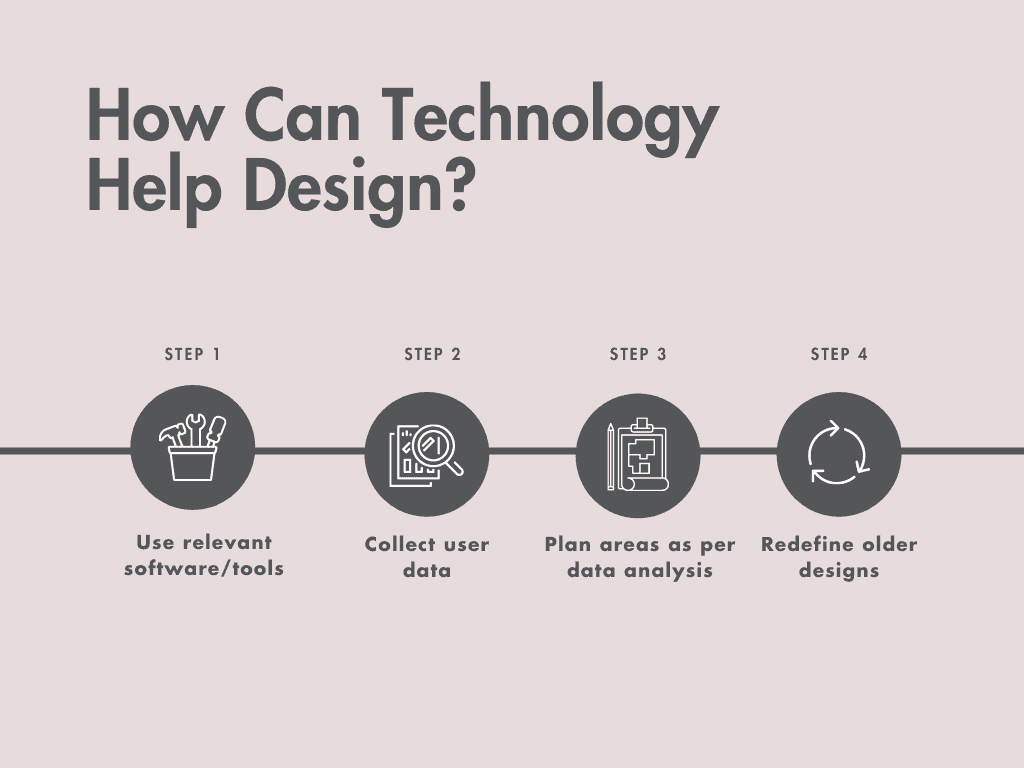 With various tool analyses, different layouts can be checked for viability across different floors of an office. These tools usually use AI algorithms to account for parameters like natural light availability, fresh air, movement of people within spaces, to come out with the best liberal and yet connected solutions for design. These tools are integrated into the inception phase of design to understand every area and design accordingly. Several tools will run different permutation and combinations to give better space planning to avoid cramming and make the optimum use of space.
These tools can also help in understanding the positioning of desks to get the most communication among employees without stepping in anyone's safe space. That way, neither employee collaboration would be compromised and nor their safety.
Technology can give access to data that in turn, will help designers to create better places. Tools like wearable trackers, occupancy apps, in-house online maps will help in facilitating a crowd-free office.
Tools and Data
Tools like IoT sensors, trackers, badge data and phone apps are giving real-time data on the behavior of occupants in a building. These data help in making design decisions to either extend a place or check if a space is used in an optimized way or not! These type of tools are similar to apps like Facebook, Google that use user data to give a personal experience to their users. Similarly, these workplace technologies will help in gathering occupant's data and understand the feasibility of space planning, designs, furniture etc. They help designers to improve the future designs and re-planning of offices– an essential aspect of post-COVID-19 workplace design.
Then there are other tools like 3D rendering tools, advanced VR and AR tools that help in creating and visualizing yet-to-be constructed space designs. These technologies help both designers and employers to comprehend the efficiency of future designs.
New Kind of Office
Until COVID-19, workplace design directed towards sustainability, productivity and health of the employees to an extent. But, with the aftermath of COVID-19, health has become the epicenter of the workplace. In 2002, chronic diseases were responsible for 46 per cent of all deaths in developing countries, a figure that will grow to 59 per cent by 2030, or to more than 37 million lives a year.[1]This means with COVID-19, the world has opened to a new age where human health will be affected adversely. Which is why it is of utmost importance to create office designs that are accountable to human-health. With technology, there is now a possibility to design healthy buildings and impact employees' lives in ways that weren't possible. Gathering data, analyzing them and then taking the necessary actions through planning and designing can only help us design human-centric workplaces.
Post-COVID-19, there is an urgency to create places that are foolproof. This is only possible through a constant data analysis. With new tools and software, it is highly possible to not just comprehend workplace design dynamics but also create and iterate design versions until the perfect solution is found.
To create offices that are mindful of their occupant's everyday lives, we need to create designs that integrate predictions, analyses and new changes. Otherwise, we'd be left with halted concepts of workplaces that wouldn't stand the test of time. Design with data and technology can simplify the complex process of workplace design and align it with human-health to create people-centric offices— which has been our goal since the beginning.
Related read: A Technologically Enhanced World
Naturally gifted with creative abilities, an ever-evolving fashion sense, and an infectious positive attitude-- she brings her best to work every day. When not brainstorming ideas at work, she loves to wax eloquent shayeris about old ghazals, travel and romance. She is a great conversationalist who finds peace in poetry and among the mountains.