The Future Forward for IT Companies
The outbreak of the COVID-19 pandemic made 'work-from-home' the new normal. Though the transition from an office-based workspace to a remote workspace was difficult, the IT industry set a shining example. The industry's versatile work culture, tech-driven data systems, and progressive workforce made this switch feasible. Considering such agility of the IT industry, their return to office workspaces was expected to happen seamlessly. However, unfortunately, the prevailing state of 'work-from-office' reflects otherwise.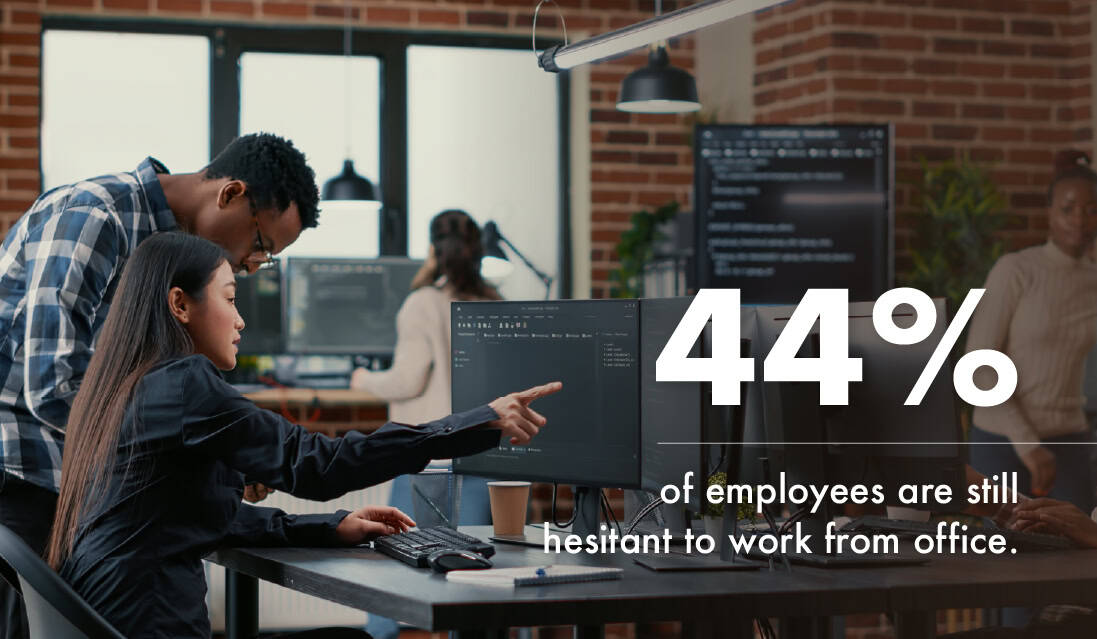 The re-opening of workspaces received a lukewarm response from the IT sector. The Future Forum reports that only 17% of employees, as opposed to 44% of executives, want to resume working from the office daily. Such contrasting preferences have established the need to address the 'executive-employee disconnect' caused by working in isolation. Two and a half years of remote working enabled IT employees to work from anywhere, anytime. Cloud computing and IoT helped them share data, host events, and innovate. Remote working also reduced the possibility of physical interaction, thereby limiting health challenges posed by COVID-19.
However, with all that freedom and flexibility, a considerable section of the IT workforce misses the physical team bonding activities that take place in an office. An office also allows for better collaboration between employees, better motivation, and a reduced TAT in the decision-making process. A survey reports that 45% of employees miss physical meetings while 73% of employees miss socializing with their colleagues in person. These numbers suggest that IT employees long to be back in their workplace and work culture but are hesitant to return to offices just as yet. This implies that people want to work from the office, but they also wish to continue enjoying the comfort, flexibility, and health security offered by remote working. To find a midway between the two, the hybrid work model emerged as the most viable solution.
How to Design Hybrid Workplaces for IT Industries
Workspace design is a fundamental element that impacts employees' work experience. Therefore, in today's changing work landscape, it is vital to rethink IT office interior designs to fit the hybrid work model.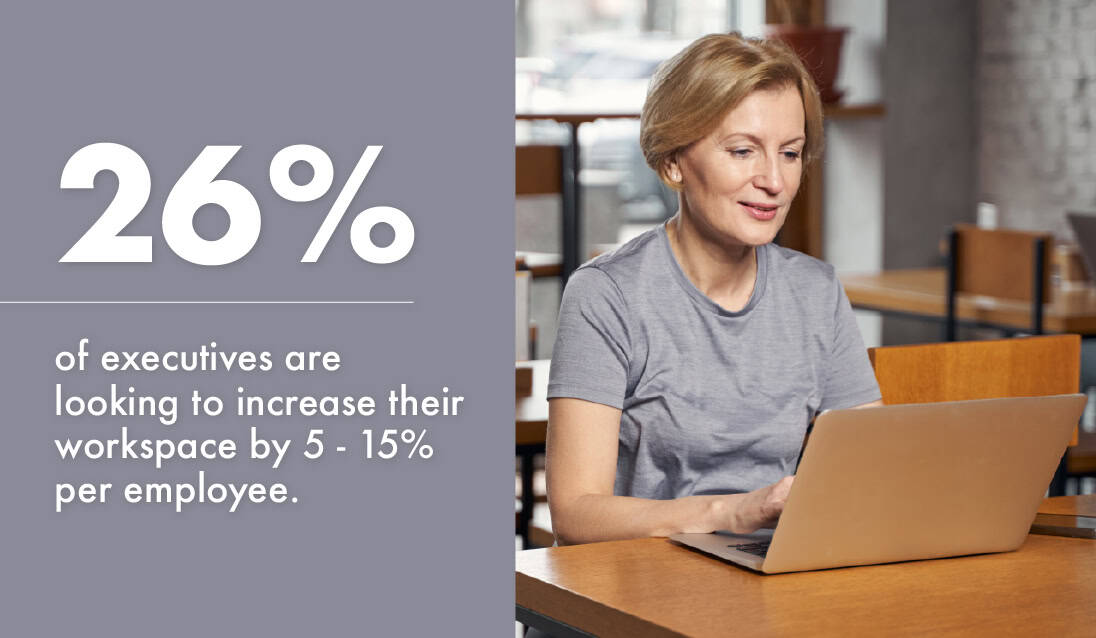 Workstation Arrangement
Initially, the design and layout of workstations in IT offices can be re-conceptualized to keep up with the social distancing norms. Since fewer employees will be occupying the office at a time, workstations can be placed at a 6 feet distance from each other to make it more feasible. While some predict that fewer employees in the office would mean a reduced need for workspaces, a survey reports that 26% of executives plan to increase the workspace by 5% – 15% per employee. The spaces between these workstations can be utilized for effective circulation and the creation of team huddle spaces. Incorporating such co-working spaces would help boost employee productivity owing to their want for physical interaction. Additionally, providing transparent plastic or glass for the workstation enclosures restrict the transmission of infections.
Employee Movement Pattern
The installation of smart sensors can help maintain social distancing in offices. PointGrab, an Israel-based smart building technology company, has developed a technology that helps workplace executives optimize their employees' use of the office. In 2021, Deloitte invited PointGrab to install these smart sensors in their London office to record the exact number of people and their location in the office to curb the spread of COVID-19. This helps maintain their employees' mobility and privacy as representative circles record their movement. Installing smart sensors has helped Deloitte fit 30% more people into 3% less space. Other leading IT companies, namely Facebook and Dell, have also deployed PointGrab to install smart sensors in their offices.
Healthy and Resilient Offices
The creation of healthier work environments in IT offices requires workspace optimization. This can be achieved by evenly distributing open spaces within the office. Although IT offices require centralized air-conditioning to maintain optimal machine temperatures, introducing natural light and ventilation through open spaces can be useful. Regular circulation of air will ensure that indoor air quality is monitored and well-maintained. Installing HEPA air cleaners will help reduce the risk of airborne pathogens.
Spaces for Co-Working
As collaborative working has gained impetus during the COVID-19 pandemic, flexibility and resimercial interiors will be governing factors in workspace design. A feeling of belongingness, similar to that of a home, can be created in offices by fostering interaction. In a recent interview Carolyn Beyer, head of HR at Microsoft, mentioned that "Microsoft is focusing on making sure the employee experience when employees are in the office is so good, they'll keep wanting to come back for more." Designing meeting pods and breakout spaces in IT offices will ensure that employees return to healthier and more resilient workspaces.
While collaborative working has become more desirable in IT offices, maintaining data privacy from third-party employees working in coordination with in-house teams will be challenging. To ensure data security, installing individual work pods, mobile and height-adjustable, and sound-insulated glass partitions in ODCs can work wonders. Placing indoor plants can also help in noise cancellation and sound absorption, which helps in reducing the risk of any data leaks.
How Workspace Policies Can Make a Difference?
The future of work is hybrid. Therefore, along with optimizing workspace design, the work culture should also be conducive to the hybrid way of working. Developing clear communication channels and bringing down accessibility barriers can go a long way in re-aligning the workforce with the company's goal. Furthermore, understanding employees' needs and psyche can help make the workforce feel acknowledged and secure. Understanding workforce pain points can allow IT companies to ease employee challenges by providing incentives.
Google has set an interesting example of getting employees back to the office through incentivization by giving free scooter rides to work. According to a report by The Verge, Google has partnered with Unagi to launch 'Ride Scoot' — a program directed towards easing employees' commute to work. As part of the initiative, Google will reimburse the employees for their monthly subscriptions to Unagi motor rides.
Key Takeaways
The IT industry is a dynamic space with varying demographics of people working in the domain. Conducting company-wide surveys will help understand employee needs and ultimately help create a work culture and workspace that promotes well-being, productivity, and growth.
This blog is the first part of a two-part article series that covers global trends about the future of work, design, and culture of the IT industry. The second part of this series will reflect on the need for technological upgrades in workspace design and workforce skills. We will extensively speak about the future of workplaces in light of the metaverse.
Pragya Sharma, is a talented architectural writer and an invaluable content collaborator at Zyeta. She expresses her thoughts and ideas effectively across various mediums like blogs, social media, web content, and workshops. By joining forces with Zyeta, she creates compelling narratives that amplify the evolving importance of design in today's world.