What Is Your GenZ Talent Looking For in the Workplace?
The influx of millennials in the workforce brought a wave of changes to the workplace design genre. Cubicles were replaced with open collaborative workspaces. There was a rise in the infusion of outdoor spaces in the offices, open pantries, phone booths, and quirky artworks that took place on the mundane office walls. Now, it's time for GenZ to further transform the workplace and the rapid integration of Gen Z into contemporary workplaces suggests that their influence will be significant.
The Rise of GenZ
Research suggests that by 2023 GenZ will account for 30% of the world's workforce. Moreover, a Study by Dell revealed that 80% of Gen Z individuals have the desire to work with cutting-edge technology, while 91% state that technology will be among their top priorities when it comes to choosing their workplaces. Hence, to create a forward-thinking and adaptable GenZ-friendly workplace, it is essential to have a contemporary perspective and strong strategic abilities to understand its far-reaching impacts on the workplace.
Designing a GenZ-compatible Workplace
This new generation is known for its technological savvy, adaptability, and unique perspective on what they want from their workplaces. As an employer, it is essential to understand what GenZ talent is looking for in the workplace to attract and retain the best employees.
So, let's discuss the top three design methodologies to design workplaces for the GenZ workforce: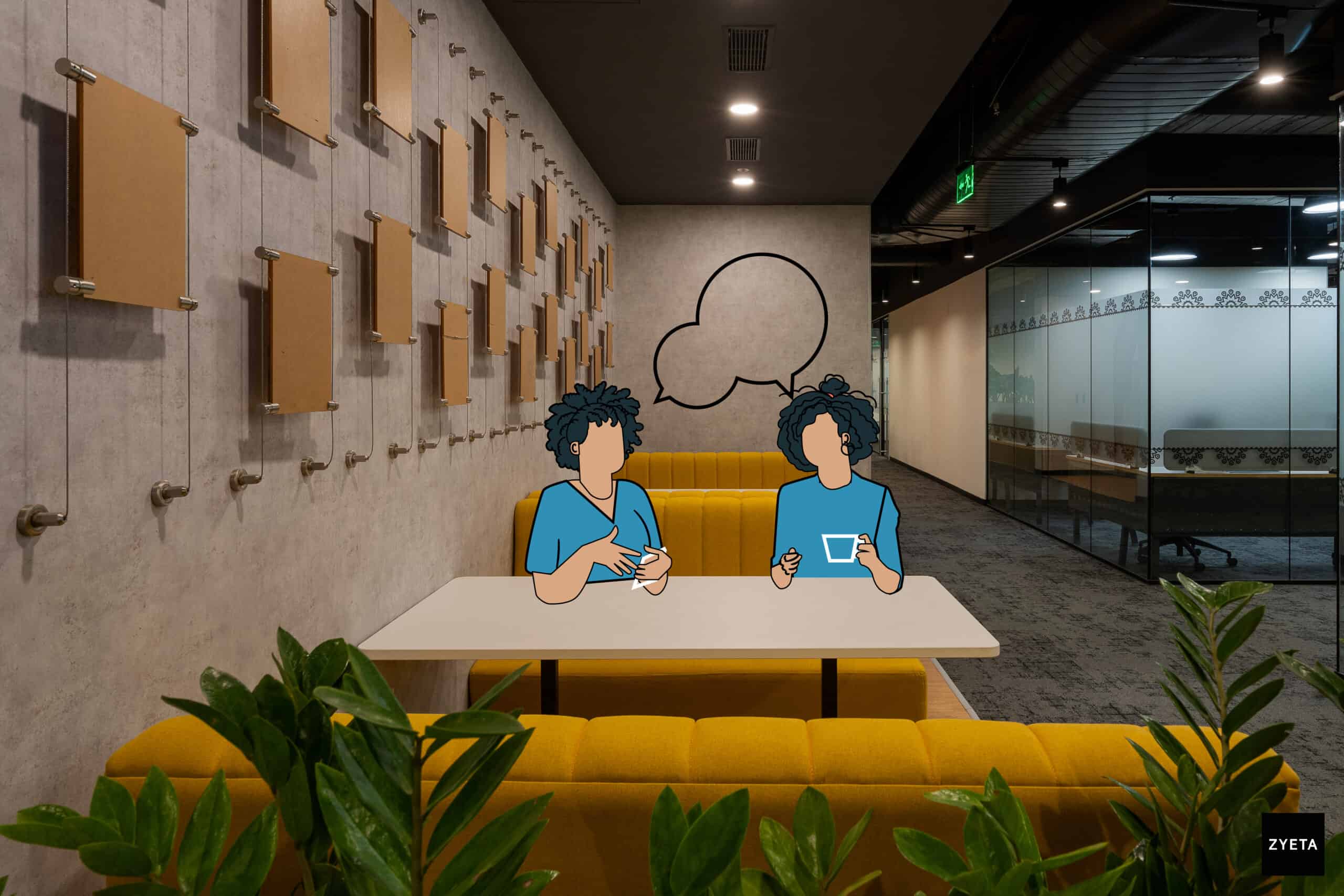 GenZ Talent Craves Flexibility
Gen Z values a healthy work-life balance and the freedom to express their creativity at work. They often opt for workcations and enjoy working from unconventional locations such as coffee shops. It is crucial for companies to acknowledge Gen Z's preference for a more laid-back environment and flexible workplace, as they prioritize integrating work into their lives rather than letting it consume them entirely. As per research, approximately 75% of Gen Z consider workplace flexibility as the most crucial employee benefit they seek.
How Workplace Design Can Help?
GenZ talent prefers a workspace that allows them to work remotely, collaborate with their colleagues, and change their working environment to suit their needs. Flexibility in workplace design can be achieved through a hierarchy of open, closed, and semi-open agile workspaces clubbed with amenities that help them achieve a conducive work lifestyle. Effective ways of inducing flexibility for GenZ in the workplace involve:
Carving out multipurpose hybrid work modules that offer a choice and control over their work activity-based planning.
Flexible setups like ergonomic height-adjustable desks, private spaces focus pods, and shared spaces like huddle spaces give them a variety of workspaces and help them break away from the monotony of workstations.
Infusions of movable walls, writable surfaces, etc can further add value to the enthusiastic and prompt working styles of GenZ.
Integration of pivot spaces like open cafes, stadium-styled seating, and American-style dining seating to help them integrate work, collaboration, and socialization at work better.
GenZ are Tech-savvy!
Gen Z, being introduced to the internet from their earliest days, is heavily reliant on technology. They are exceptionally proficient with technology, are more tech-savvy than any previous generation, and are considered true digital natives. As a result, a workplace that is technologically advanced is high on their list of priorities when it comes to their ideal organization. With Gen Z poised to dominate the workforce by 2023, organizations are expected to provide higher levels of digital dexterity to meet their expectations.
How Workplace Design Can Help?
Smart systems like automated lighting, temperature control, and security can significantly enhance the workplace experience for GenZ by automatically adjusting the environment based on occupancy, light levels, and temperature.
Some of the more tech-based design solutions are:
IoT-integrated spatial planning with multi-modal work bays with provisions for virtual collaboration as well as digitally inclusive working styles.
Integrating virtual and augmented reality in the workplace creates immersive training experiences, simulates working environments, and provides virtual tours, resulting in a more engaging and interactive experience for employees.
Incorporation of interactive digital walls and amenities in the workspace to use technology as a medium of leisure, workplace relaxation, and better brand recall.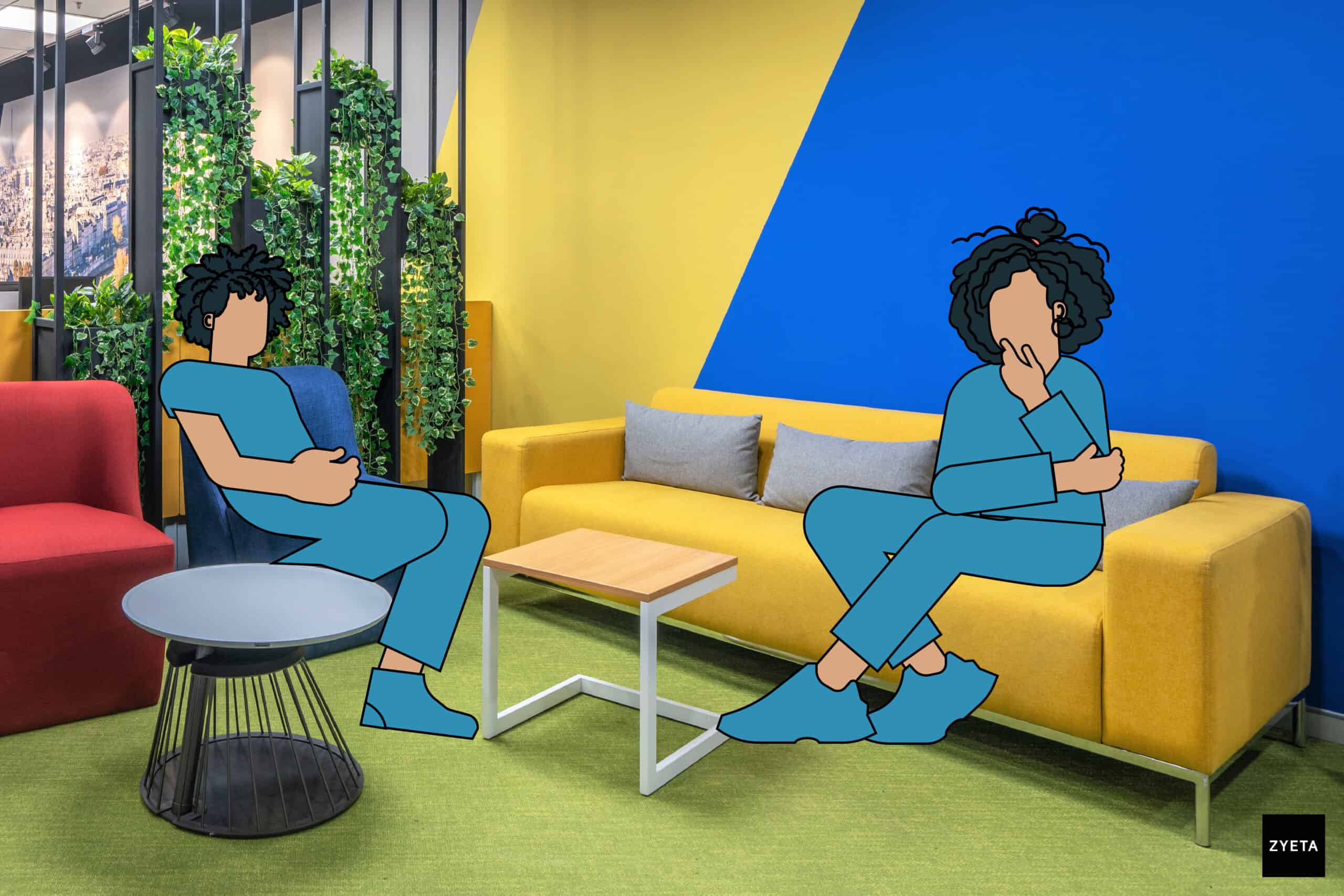 GenZ Values Wellness
GenZ has grown up with a heightened awareness of the importance of mental and physical health due to constant information about wellness on social media and technology. They have seen the negative impact of fast-paced, high-stress work cultures on previous generations and prioritize workplace wellness to maintain a healthy work-life balance, reduce stress, and increase job satisfaction.
How Workplace Design Can Help?
WELL-certified and WELL HSR-rated workplaces are the topmost trends that future-ready businesses are leveraging today to transform their workplaces into hubs of health and well-being.
Apart from these certifications, certain traditional design methods include:
Including elements such as indoor plants, green walls, natural light, and natural materials, this design technique can create a calming and relaxing atmosphere that promotes wellness.
Incorporating color psychology into workplace design can create an environment that fosters wellness and productivity.
Using acoustic panels, white noise machines, or sound-absorbing materials to create a more peaceful and comfortable environment, reducing stress levels.
Infusing hospitality amenities into the workspace to create a more luxurious, wellness-oriented experience.
In Conclusion
The GenZ workforce has unique expectations when it comes to workplace design. By incorporating flexibility, technology integration, sustainability, personalization, and wellness into the workplace design, employers can attract and retain the best GenZ talent.
Make your workplace compatible with the needs of GenZ. Let us transform your office into a hub that attracts, retains, and nurtures top GenZ talent.
Related Reads:
Evolving Workplace Design: From Generation X to Z
How Inclusivity Will Bring Out the Best in Your Organization
As both an Architect and Architectural Journalist, he thrives on building unique content, with words and thoughts--as his brick and mortar. A natural-born explorer, he puts no limits on things he's passionate about diving into, be it cuisines, cultures or books. An avid fiction reader and a chronic over-thinker, he still finds enough time to be happy-go-lucky and easy to approach.