Why is Rebuilding Human Connections Important in the Hybrid Workplace?
Just when the world thought the pandemic had ended and people could return to normalcy and workplaces, new variants of Covid-19 brought new twists. The back-to-office plans were halted, and remote work policies were extended. But this also helped employers and employees find new possibilities. The advent of the hybrid module helped pave alternate paths and make businesses more resilient. Moreover, the past two and half years are evidence that the hybrid module has been bridging the gap in the new normal, thus, helping deal with uncertainties.
Hybrid is the way forward! Thus, it is time to align our policies and practices to this module. While our IT systems and HR processes have undergone a significant transformation, facilitating both remote and hybrid work, our culture and work environment still need to adapt to this working mode. Hence, we need to rebuild human connections at the workplace to make way for a conducive work environment, adaptive policies, and a hybrid-ready workforce.
The Need for Rebuilding Human Connections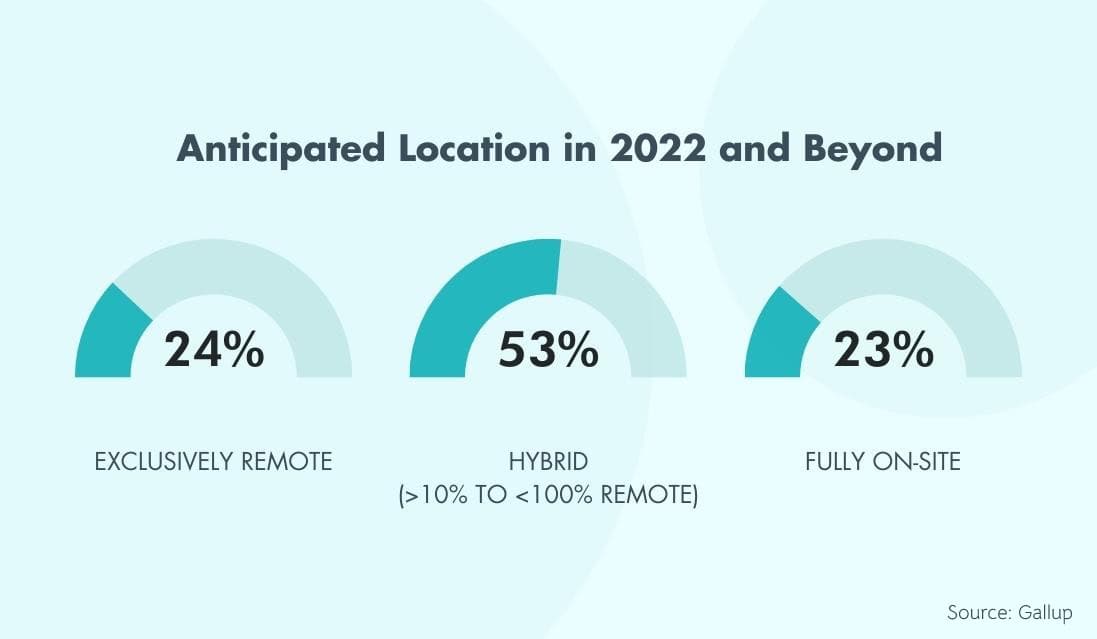 According to research on employee work modes and locations for 2022 and beyond, 53% of the workforce will work in a hybrid setup. While on the one hand, 24% of the workforce will work remotely and will not be a permanent part of the physical office, 23% of the workforce will have to work entirely on-site, depending on the nature of the work. Though technology and innovation can take care of keeping people connected and aligned in this varied setup, do you think it is enough?
At the end of the day, a business is driven by people. Undoubtedly, processes can be automated, and meetings can be virtual. But the workforce will have to use these technologies and drive everyday business. Is it possible to have a conducive work environment when the workplace and culture lack human connections?
No matter what the platform is, people are going to be the medium. Thus, be it in a physical office or in the virtual world, the lack of a human-centric environment will lead to a decline in the business.
Consequences of Lack of Human Connections at Work
It is a human tendency to identify ourselves as our immediate groups. The lack of human connection at work can lead to workforce fragmentation with no cross-functional collaboration and a majority of remote workers working in silos. This fragmentation will adversely affect business communication, and the brand vision will suffer.
Moreover, this will lead to bias among employees, identifying those out of their social circles as the 'other', leading to an increased time spent on decision-making processes. These factors can lead to a decline in employee engagement and an increase in workplace burnout. Furthermore, with a lack of connection and communication between teams, the leadership levels cannot inculcate the brand mission efficiently in the other levels of employees. This can create a lack of trust among the employees in the brand. According to data, an alarming 54% of employees working remotely want to look for other jobs, whereas 38% of hybrid employees feel the same.
Thus, in this age of The Great Resignation and The Great Reshuffling, an environment that fails to encourage human connections will only add to the issue of employee retention.
The Solution?
Now that we have understood the need for human connections in the hybrid workplace, let us have a short glimpse of how companies can rebuild it:
Image courtesy – Udaan
Nurture a Workforce Community
The solution requires widening the identities of the people associated with the brand. Building a workforce community and orienting the teams toward commonly shared goals can help. We, as humans, connect with other people better when we affiliate our goals with theirs. The more we feel part of a tribe, the more efficient we are at working with the tribe.
Recreate a Safe Space
The pandemic has had a long-lasting impact on all of us. Whether on-site or remote, helping your employees get rid of the old baggage can help create a safe space for them, not only physically but experientially, where they feel safe to share and care for each other. Teams are stronger and well-knit when they acknowledge each other's vulnerabilities and sensibilities. We need to nurture leaders to be approachable and empathetic.
Invest in Employee Growth
With the new normal, there is a need for new technology, new skills, and new roles. It is not the time to lose employees over skill gaps but rather to invest in their growth. It is time to help them upskill and to help them contribute to the brand's growth.
Stay tuned for our new blog, where we will discuss the different ways to rebuild human connections in the hybrid workplace.
Key Takeaway
A lack of human connections and flexible work arrangements can lead to a significant risk to the brand regarding employee attraction, engagement, performance, well-being, and retention strategies.
As both an Architect and Architectural Journalist, he thrives on building unique content, with words and thoughts--as his brick and mortar. A natural-born explorer, he puts no limits on things he's passionate about diving into, be it cuisines, cultures or books. An avid fiction reader and a chronic over-thinker, he still finds enough time to be happy-go-lucky and easy to approach.