3 Myths to be Busted Before Implementing an ABW Plan
Before the pandemic, a typical workday for employees meant spending the whole day on assigned desks, cabins, or cubicles. But, with the inception of the new normal and the new age of working, the workplace is bound to undergo fundamental shifts. Moreover, even before Covid19, the work and workplaces saw seismic changes owing to the newfound technology and new ways of business. Thus, taking an account of all these changes, it is evident that the typical workday is bound to change as well.
As brands think of effective ways of getting the workforce back to the office, the most thought areas include the basic tenants of the workplace and space usage patterns. Companies are thinking of hybrid models, optimizing in-office workdays per week, and trying to build a virtual workspace as well. While these are proactive steps toward building a resilient future workplace, the most doable and quick upgrade that workplaces can undergo is shifting the typically process-driven workplace to a people-driven one, implementing an Activity Based Working (ABW) plan.
But, what is it that's causing business leaders to have second thoughts on ABW?
ABW & the Contemplation Around it
Though the old style of working is outdated, there is a considerate amount of emotional inclination and habit attached to workspaces as well as ways of working. Thus, employers may think of convincing employees to shift to a new system overnight as a tedious task.
Initial resistance is always seen with discomfort and employees are bound to have second thoughts. But a noteworthy fact here is that for a workforce that has worked in silos for almost 2 years now, the need to interact, collaborate and socialize has become an urge as well as a need; and ABW is the most humane approach to bring in a human-centric workspace.
All employees and even employers for that matter need education on ABW and its benefits in day-to-day work-life. Therefore, let us see 3 major concerns and the realities behind these misconceptions about ABW.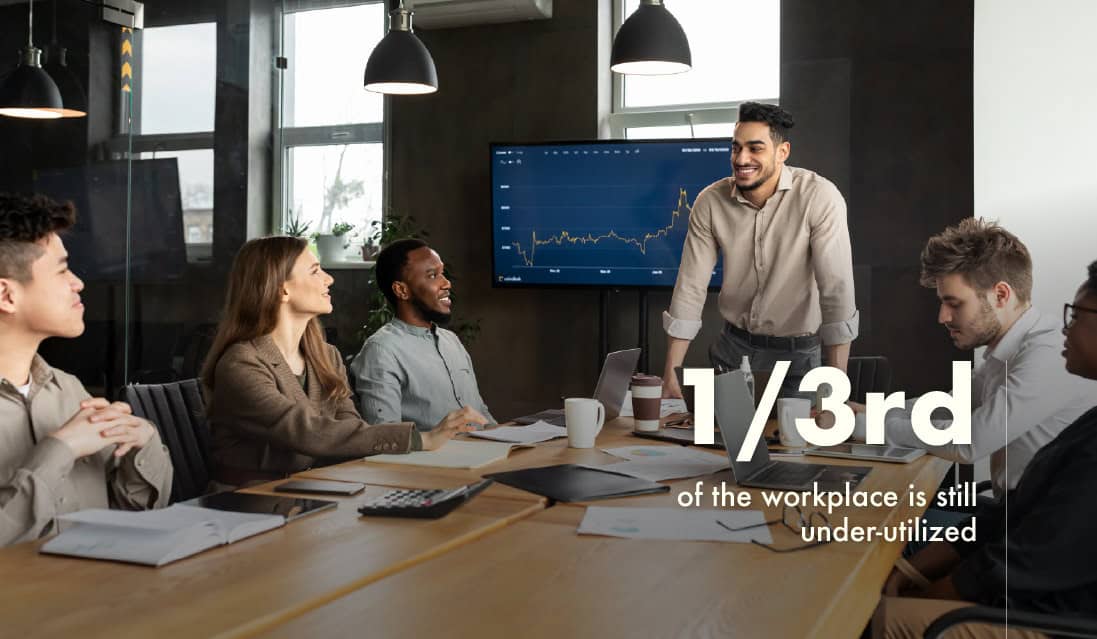 Myth
ABW leads to the conversion of workplaces into an open-plan office leading to decline in private spaces.
Reality
ABW is not an open-plan office! It is just a cohesive arrangement of task-based open spaces, closed spaces, open collaboration, and private spaces. All ABW aims is to add more mobility, accessibility, and visual connection to your workplace. ABW adds 'variety' and 'choice' as an amenity to the workplace, letting employees choose their workspace based on the task at hand and the need for collaboration. Moreover, it not only enables employees to perform internal mobility i.e. moving between closed, open, and semi-open spaces; but also enables proactive switching between remote and in-office working.
Thus, the goal of ABW is to optimize the workspace and not convert it into an open-plan office. ABW can be implemented irrespective of the industry, it is just that the hierarchy of spaces, the ratio, and space allocation differs from industry to industry. In architectural studios, law firms, and brands where interaction between employees is comparatively more, the proportion of open collaboration is more than in workspaces that are labs, research units, or technology and innovation brands.
Myth
ABW will fail to accommodate 100% occupancy in the office.
Reality
Even before the pandemic, workspaces used to have a maximum of 70% occupancy. Moreover, even in companies having strong physical work culture, only 85% occupancy is seen. Furthermore, research suggests 1/3rd of the workplaces are always underutilized. ABW aims at optimizing the workplace better to diversify the space used as per the diverse needs. It also aims to bring 1/3rd of underused space into better usage.
A well-thought ABW strategy starts with a thorough study of the existing usage, flaws in the existing usage, need for future expansion, etc. Further to this, a ratio is decided for traditional seats, buffer seats, provision for expansion, and seasonal spikes. On the basis of this, ancillary spaces like focus areas, agile seats, open collaboration, semi-open collaboration, and work clusters are designed.
The bottom line is, you do not need to design a space to have 100% occupancy seating on desks at the same time. Whereas, you need to design a space envisioning the workforce, their day-to-day tasks, and workflow.
Myth
ABW will increase health and safety risks.
Reality
The health and safety of the workplace is altogether a different strategy and cannot be expected to be a part of a space optimization strategy. But health and safety of the workforce are important and with the Covid 19-led norms, health of employees is now the core business concern. Thus, while ABW does not increase the health, safety, and hygiene risks, it also does not mitigate the concerns like any other space allocation and optimization strategy. To maintain the health and safety of your workforce, you need workplace health strategy.
With workplace health experts, you can design a healthy workplace irrespective of whether it is an ABW or traditional workspace.
All in All
ABW is the first step toward the future of work and to have a business with abilities to fight all the odds and uncertainties, the onus is now on business leaders to take the first proactive step toward resilient workplaces.
Make your business future-ready!
As both an Architect and Architectural Journalist, he thrives on building unique content, with words and thoughts--as his brick and mortar. A natural-born explorer, he puts no limits on things he's passionate about diving into, be it cuisines, cultures or books. An avid fiction reader and a chronic over-thinker, he still finds enough time to be happy-go-lucky and easy to approach.