Must-Have Technologies to Create a Healthy Workplace for IT Companies
This blog is the second part of a two-article series that covers global trends about the future of work, design, and culture of the IT industry. The first part of this series spoke extensively upon design solutions to help IT companies adapt to the hybrid work model. The blog mentioned ideas about workstation arrangements, co-working spaces, and tracking employee movement pattern to achieve healthy and resilient work environments.
This part of the blog establishes the need for technological upgrades in workspace design and workforce skills. We will extensively speak about the future of workplaces for creating healthy offices, flexible work environments, and smart workplaces.
Technology is a key factor determining not only the present but also the future of work. Leveraged the right way, technology offers versatility and dynamism which makes it the center of workplace organization, culture, and composition. A shining example of this was seen during the COVID-19 pandemic when the IT industry seamlessly made the shift to remote working, thanks to technologies such as Cloud Computing, the Internet of Things (IoT), Big Data, and Artificial Intelligence (AI). These coming-of-age innovations enabled the global IT workforce to communicate and share data with ease – all while working from home.
Tech-enabled remote working provides employees with the ability to make choices, have flexible work schedules, and work in secure comfortable environments. Today, as IT employees make the big return to offices, the same technology can be used to make their workspaces equally comfortable, healthy, smart, and inviting as available during remote working. As IT companies reopen their workspaces following the hybrid model, technology can help design more efficient spaces that provide employees with the flexibility and freedom of choosing when, how, and where to work.
Technology for Healthy Offices
The outbreak of the COVID-19 pandemic has strongly established the need for healthy built environments. Designing spaces that promote the physical, emotional, and mental well-being of employees is crucial for creating post-COVID workplaces. Mentioned below are some of the most promising tech-driven healthy office design solutions.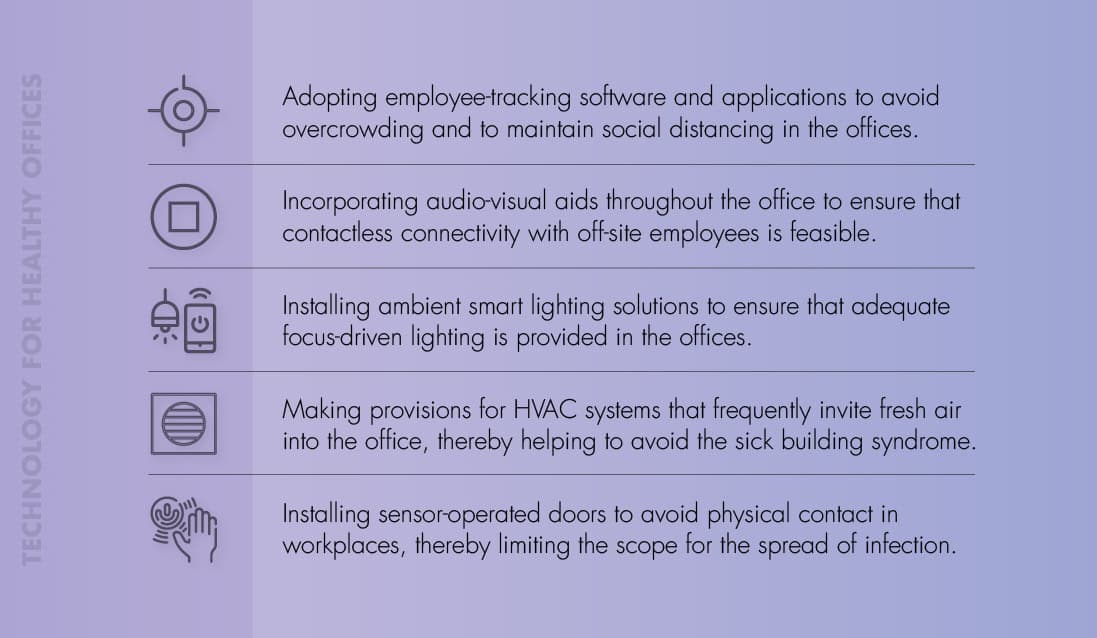 Technology for Flexible Work Environment
Remote working provided people with the flexibility and liberty to choose their work settings, timings, and location. Now accustomed to this freedom of choice, IT employees who are returning to offices have similar expectations about their workplace.
As outcome-based working replaces time-based working, employees will need flexible office layouts and organization to drive creativity.
With technology at its bay, an IT company that champions choice can better adapt to this change of power while making profits.
Giving employees the ability to design spaces for privacy and collaboration at the click of a button using mobile partitions will further accentuate the sense of ownership and authority.
Improving the employee working experience through rewards, opportunities for growth, and work-life balance can help to instill a sense of control and authority. For instance, the homegrown IT company Tata Consultancy Services provides "TCS gems" to employees on their exceptional performance and work completion. While this qualifies as a great incentive, IT companies can additionally think of digitally organizing monthly award sessions and hosting leadership programs to make employees feel acknowledged. This will enable employees to view a bright future in the company thereby helping retain talent.
Technology for Employee Engagement
The expansion of business technology increases the scope for effective employee communication. Creating spaces for collaboration equipped with video conferencing tools can help in the better delivery of ideas between on-site and off-site teams. Through video meetings, employees can understand the expressions, tone, and body language of the speaker, thereby limiting the scope for misunderstanding. Making provision for breakout spaces that foster interaction through AR and VR tools can elevate employee engagement to the next level. VR-enabled conference rooms are also gaining popularity and can be useful to IT companies for engaging third-party employees. Establishing secure informal means of communication through employee engagement platforms such as Slack and Teams can open avenues for the workforce to bond over workplace culture.
Image Credit: The Wild
Enhancing the digital experience for employees and visitors by installing display screens in the lobby can help people stay updated about the latest developments in the company. The screen can also be used to communicate the company vision, brand mission, and principles. Ultimately, laying down a communication chain that is resilient to cyber theft and encouraging employees to frequently use formal engagement channels can help in reducing breaches of data.
Technology for Smart Workplaces
Smart office design solutions are the way forward for IT companies. As we live and breathe, it is no news that technology will not only empower businesses but also govern their daily affairs. While technology is widely used for making work decisions, it can also be used for understanding employee behavior. Designing smart workplaces for the IT industry involves understanding user communication and information through tech-based platforms. The introduction of smart digital twins or the metaverse (as they say it) is the beginning of the creation of such technology-driven workplaces.
Image Credit: Coin Telegraph
Building management, HVAC, and security systems feed the data bank that will consequently lead to the creation of a smarter, more efficient, and desirable workplace.
The generation of data through sensors, drones, cameras, and actuators enables smart office environments to create a digital twin that replicates the behavior of the real world.
IT organizations such as Nvidia have already begun to secure their spaces in the virtual world while also entering into several partnerships for sharing research related to the metaverse.
Technology for Workforce Training
The IT workforce needs to be trained for handling data in a manner that is secure and encrypted. As IT employees return to working from offices after two and a half years of isolation, upskilling and re-skilling will be a must. Designing a workplace strategy that provides employees with the time and place to upgrade their knowledge on a regular basis would help in keeping the workforce relevant. Especially in the case of the IT industry where innovations happen at the drop of a hat, continuous learning will continue to be an integral part of the profession.
Hosting events, organizing team re-bonding activities, and incentivizing skill learning will assist in re-aligning employees with the work culture and vision of the company.
Using digital tools for transforming shared spaces such as lobbies into learning centers will enhance the employee experience post the big office return.
Key Takeaway
Technology is a "handle-with-care" tool because with all that power comes all the more responsibility. While using workforce and workplace data, a company needs to ensure that its cyber security is on par with international standards to maintain the privacy of its people. Having inclusivity, equality, and a diversity-based design approach will help in establishing a workplace culture based on interaction, mutual understanding, and trust which will be essential for thriving in the future of work.
Thus, technology is not an afterthought and must be ingrained in the process of designing to encompass the evolving needs of the workforce and the workplace.
Contact us for more insights on tech-driven designs.
Pragya Sharma, is a talented architectural writer and an invaluable content collaborator at Zyeta. She expresses her thoughts and ideas effectively across various mediums like blogs, social media, web content, and workshops. By joining forces with Zyeta, she creates compelling narratives that amplify the evolving importance of design in today's world.